The solid opening title track includes an intro that's a take on a famous line from the movie The Warriors, "Twisted Sister, come out and play", an aggressive riff and rhythm reminiscent of the album "Under The Blade". Keeping within that metal attitude are 'The Fire Still Burns' which has become a staple in their live setlist since their reformation in 2005, and the grossly overlooked very heavy 'Kill Or Be Killed' (I don't understand why this is never played live?). Two more I enjoy are found towards the end of the album, mid tempo rockers 'Out On The Streets' and 'Lookin Out For #1'.
Elsewhere are the anthemic 'I Believe In Rock N Roll' and 'You Want What We've Got' which are average in the vein (but not as good as) of 'Shoot Em Down' and 'I Am (I'm Me)'. Ballad 'I Believe In You' tries to recapture the power and passion of 'The Price' but doesn't quite make it. Half good, half filler.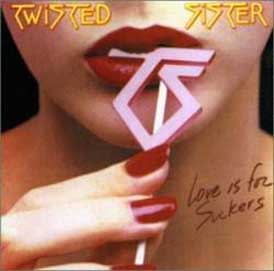 Love Is For Suckers
Originally intended as a Dee Snider solo album, "Love Is For Suckers" is Twisted Sister's last studio album before breaking up until 2001 when they reformed to play the New York Steel benefit concert in New York City. Definitely not the bands best body of work (and most commercial), like "Come Out And Play" (but not as strong) "Suckers" does have a couple good tunes.
'Wake Up (the Sleeping Giant)' is the strongest arrangement on the album and I don't understand why it's not being played live. 'Hot Love', the only single/video was fun, an unsuccessful attempt at cashing in on the melodic hair band formula that exploded in 1987, but from 'I'm So Hot For You' on its all downhill. Clearly on this album Dee, guitarists Jay Jay French and Eddie Ojeda, bassist Mark Mendoza, and Joey Franco (who replaced original drummer AJ Pero), ran out of ideas. And even Reb Beach's (who gets additional guitar credit) talents couldn't save the songs. 'Tonight', 'Me And The Boys' with its subpar riffs, 'One Bad Habit', 'I Want This Night (To Last Forever)', are just terrible. Look, I like a great ballad, and a great ballad should be recognized as such, but 'Your All That I Need' with those poor backing keyboards is just awful. Could it get more lame?...sadly yes with the four bonus tracks ('Feel Appeal', 'Statutory Date', 'If That's What You Want', 'I Will Win'). And I don't know what's worse, Twisted Sister's 'Yeah Right' or Danger Danger's rap spoof 'Yeah, You Want It'?
Clearly there was a reason why they called it quits.