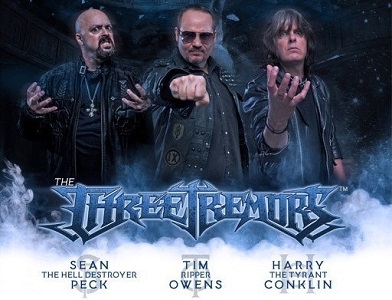 1. When you three decided to move forward with this idea of the Three Tremors, which initially was the idea to be Bruce Dickinson (Iron Maiden), Rob Halford (Judas Priest), Geoff Tate (Queensryche), and/or Ronnie James Dio, did you get any feedback, reaction, blessings, or backlash, from any camp?
SEAN, HARRY, TIM: I thought there would be more backlash, and actually more people don't really remember because its been a while. And we got a lot less of "oh, you stole that idea", we wanted to use the name to celebrate that idea. To make the concept happen in 2019. The original idea was Dickinson, Halford, and Tate. Dickinson said he also wanted Dio in as well. the only people we talked to was the producer, Roy Z, and we know him and he said "well, somebody's got to do it". And he sent us a few horns up for the album actually coming out. And honestly, we don't give a damn if anyone else comments, it'd be nice if someone would congratulate us. Not to be shitty about it. But it'd be nice if this motivated those guys to something.
2. While you three are vocal talents in your own right, do you think this collaboration has received the respect it deserves, even though you three are not as well known, or considered "popular enough", as the original three or four names to be involved under this name?
SEAN: I think we are earning the respect from playing live a lot. The target audience who know us from our previous work love what we have done with the album, and the songs live. And any doubters who have come to see us live have changed their minds for the better. Look, some media are trying to trash it, it's going to happen. But the music and performance is getting the respect it deserves. The attention has been great, magazine covers, journalists around the world speaking to us, European countries coverage, even here in the US Billboard put out the video for the 'Bullets of the Damned' video, and that never happens.
3. There are twelve songs on the album, did you split the writing four songs a singer?
SEAN: No, I prepared the songs ahead of time with my guys from Cage, wanted to make it easy to accomplish, I wrote the lyrics. But Tim and Harry put their own spice on it with their vocals. We wanted to downplay that I was using my band Cage, and let the music speak for itself.

HARRY: Those guys are great players, talented, I'm glad they played on the album with us.

TIM: When I did a solo show in San Diego, we also were making the video, they were my backing band. It was great, they knew my history really well.

4. 'When The Last Scream Fades", I think, is a highlight on the album. the opening build, three part harmonies, goes into an Iced Earth type power metal romp. Is it a favorite for you guys also?
SEAN: That's me and Tim in the beginning actually, that's another example of where Tim puts his own spin on it, and then I redid my parts to harmonize with him, and the guys were saying I was too flat, haha, and out of key.

HARRY: yeah, I dig it too.
5. You have the fantasy artwork on the album cover, and a song title 'King of the Monsters'. Are you Godzilla fans?
SEAN: When it started I had an idea of making it about Godzilla, but then it transitioned into a tribute to Lemmy and Dio, and them being the king of the monsters. And it talks about if anyone will replace the metal gods today. And Tim does a real cool speech about it live.
6. I see the live set only includes one songs from each of your bands, two Priest covers. How are the Three Tremors songs received in comparison?
HARRY, SEAN: The Tremors songs fit perfectly, same genre, some people don't even realize the difference. Especially when we do the drum intro to 'Painkiller', then the place goes fucking nuts, haha. Panties, bras, g strings hit the stage, hahaha.

SEAN: When I asked Tim what Priest he wanted to do he said 'Burn In Hell', because that album, "Jugulator", and those songs are great. And Harry doing 'Black' from Panzer is, Tim said it's a favorite for him. And we are also doing 'Scream Machine', from Tim's Beyond fear band, which is also a great one. And now we are doing the Sabbath song 'Heaven and Hell'. So the live setlist has a different songs or two each night.
7. So has the fanbase, support, via cds, albums, Mp3s, t-shirts, etc. . . improved enough that you guys can make a decent living just making music?
SEAN: We are already millionaires and the album just came out Friday, hahaha. Yeah, the distributor did call us that the first pressings sold out. But Tim, yes, is a professional musician, Harry and I are not. But it is good this has some kind of success early on. We will do another album again soon, we just have to coordinate schedules. Tim has a big tour coming up with the Dio hologram, and Harry is going out with Jag Panzer. So after that we will do some more dates too.

HARRY: First run is already sold out. Its world domination, hahaha. We just have to keep working and promoting the project as much as we can, when each of us has the time. Because we do like working together.
8. If you guys could do an albums of covers, what band would you pick, and what three songs would each of you sing?
SEAN: Britney for sure, haha.

HARRY: I always like to do songs that aren't metal, like 'Hell Is For Children' from Pat Benatar.

TIM: I'd cover the "Jugulator" album, because it's hard to find. I don't know, maybe a Foreigner track, Bachman Turner track, I always wanted to do 'Cheater' (Judas Priest) and beef it up. But even now I always like to do songs from Judas Priest that I have sang before.

9. Any plans to tape a show for DVD?
SEAN: One of these days hopefully. Once we gain some more momentum maybe, we are still getting our groove. But we are putting out three solo versions of the album where each of us sang alone on the whole album.
10. How much touring do you plan on for the year.
SEAN: Really don't know yet, depending how to fit it in, and Tim is the busiest of us all. We are only doing one festival in Spain, but maybe do another festival or two later in the year. And what the main with this was to tour, because so many of these members from different band collaborations don't get to play live at all.

TIM: Our main concern is pushing the record, playing the whole thing live. We also have three promo videos out too which is important to get in the public eye.
11. Closing comments?
TIM: All three of our individual pages are active with all our projects. Spirits of Fire we may do a couple shows, its tough because again the four of us are busy with other music projects.

SEAN: We wanted to do this to support and embrace some true heavy metal, and we will be doing more touring when or schedules align.

HARRY: In May and June I will be doing some shows with Jag Panzer for the summer festivals.
Official Facebook Page: Official Facebook page: https://www.facebook.com/thethreetremors/