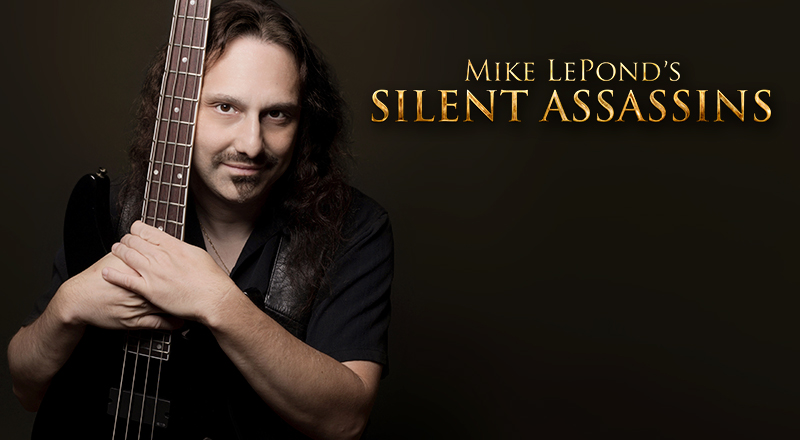 At the beginning of 2018, Symphony X bassist (since 2000) Mike LePond released his second solo album with his Silent Assassins on Frontiers Records, titled Pawn and Prophecy. LePond played bass, rhythm guitar, sang backing vocals, and was again joined by Alan Tecchio (Hades, Non Fiction) on lead vocals. Guest appearances include his bandmates Michael Romeo (drum programming, keyboards, lead guitar on track eight) and Michael Pinella doing some backing vocals, piano, organ also on track eight. Additional contributors are guitarist Rod Rivera -lead on tracks 5, 6, 7, and Veronica Freeman from Benedictum sharing one of the four different voices on the epic twenty one minute closing title track.

Here is what Mike had to say about the recording, writing the lyrics and music, influences, how he gets his Joey DeMaio (ManoWar) bass sound, and more. Also, if not posted already, look for a review of the album by Rich Catino.
1. What's the title Pawn and Prophecy mean? Is there a concept or theme to the album, or are they eight individual tracks?
Mike: Pawn and Prophecy is meant to tell the tale of the great play by William Shakespeare called "Macbeth". It is his darkest play and my favorite. I tried to get Symphony X to do it but it kind of fell through the cracks so I did myself in the 21 minute epic title track. All eights tracks have their own individual concept.
2. Did you write all the music and lyrics? What musical parts did you play, aside from who is credited as contributing?
Mike: I wrote all the music and lyrics and all the vocal melodies. Aside from rhythm guitar, I also played all the acoustic guitar parts. Also in addition to four sting bass, played an eight string bass for the first time on a recording. I helped on all the backing vocals as well.
3. How did you achieve that Manowar bass sound, especially on I Am the Bull?
Mike: To achieve that growling Manowar bass tone I had my sound split between two tracks. One track was a dirty, overdriven sound, on the other track I had a direct clean sound. When you mix them together you get a nasty tone with great clarity. "I am the Bull" was played on the eight string bass that Joey DeMaio is famous for. It gave the riff a really full sound.
4. I can hear several moments on the album you are influenced by the European power metal bands. Which ones are you favorites?
Mike: The European power metal bands had a huge influence on me. I love their epic choruses and classical orchestration. The biggest influence on me was Blind Guardian's Nightfall in Middle Earth, it is so well done. Other bands are Helloween of course, Rhapsody, Hammerfall, Primal Fear and Running Wild, to name a couple favorites.
5. Was it easy for you to separate yourself from the music you play with Symphony X to write solo music?
Mike: It was very easy to separate myself from the Symphony X style of writing. Although I like prog metal, I LOVE classic heavy metal, and I can write that stuff all day long. Many of the tracks on my two solo albums were laying around for years because they just didn't fit on a Symphony X record. I'm so happy I can finally have this outlet to unleash these songs to the metal world.
6. Why the Silent Assassins, when its clearly not silent, lol?
Mike: Back in the late eighties, I was in a metal band . At a rehearsal, my singer mentioned that he was reading a book and one of the chapters was called Silent Assassins. I never forgot that name and I was always determined to use it. You could say that my assassins are my musicians, and someday we hope to break the silence, hahaha.
7. What does Alan's voice bring to the music? Who do you hear in his tone?
Mike: Tecchio's voice is perfect for the Silent Assassins sound. First and foremost, His voice is melodic, but it has tremendous power and grit to it. It's an "in your face" sound that matches the attack of the music. I also write lots of ballad type stuff as well. Here, Alan can convert to a clean tone and sing with heart and emotion. He has it all covered. His voice reminds me of Matt Barlow from Iced Earth.
8. Any plans to play live, and if so who would you like to be in the backing band?
Mike: I regret that I didn't do live shows to promote my first album. This time around, I am working with Frontiers Music, as well as Symphony X's manager to find touring opportunities. It would be a dream come true to perform my music on stage. I would have Alan Tecchio on vocals and Lance Barnewold, who played lead guitar on tracks 1, 2, 3, 5, for sure. The other players would fall into place very quickly.
Official website: https://www.facebook.com/mikelepondssilentassassins/