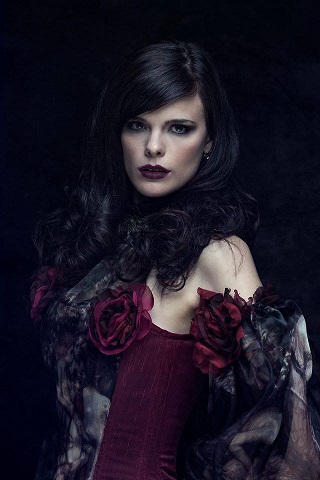 Thanks for taking the time to talk to MetalAsylum.net, Clementine Delauney. Your star is on the rise right now!
1. Let's start off with Exit Eden. How did you, Amanda Somerville, Marina La Toracca, and Anna Brunner come together to form this supergroup?
Clementine: Hi! Well, this all started in a studio where the musicians involved, all metalheads, were exploring their song writing and imagining a way to have pop and metal meet up and enhance each other. So, they started to think about turning pop hits into metal songs! Then, they needed vocals to have a clearer picture and asked Amanda and Anna, whom they are used to work with, to sing on a couple of tracks. When they listened to the result they all believed it was too interesting not to push it further and thought about making a whole album with this concept and forming a band. So, they started thinking in this direction and wanted to make the project bigger than just a regular cover band with one of two singers and chose to add two other voices! Amanda suggested Marina's name and mine and this is how we got involved in the project!
2. Congratulations on the "Rhapsodies in Black" album! It's a pretty great achievement. Can you tell us about how those 11 songs were chosen? Was it a conscious decision to exclusively cover classic and contemporary Pop songs?
Clementine: At the beginning, there was a huge list of around 40 titles that everyone had thrown in! Songs we loved, songs we've always wanted to hear with metal arrangements! The choice was following some criteria: the songs had to sound massive and interesting once turned the Exit Eden way and we wanted the whole album to be diverse and yet coherent. We wanted each song to have its own universe so it made sense to choose songs from a large period of time, from various artists, in order to end up with a rich and complete first album!
3. Do you have any personal favorite tracks from the album?
Clementine: It's hard to tell! "Frozen" is one of my favorite songs of all time so for sure I love the version we made of it! But if I consider our work on these covers, I really like what we made of "Question Of Time", "Unfaithful", "Incomplete", "Fade to Grey". A lot of creativity has been used to end up with this result!
4. Was this a one-off special event for the four of you, or will there be future Exit Eden albums?
Clementine: This band hasn't been created for a one shot. We never thought about just releasing this album. We wanted to create a real band which will have its band life with concerts and hopefully we will be able to talk soon about making a second album. But it's still too early for now as our first album just came out!
5. Tell us a little bit about the video shoots for "Unfaithful" and "Impossible." Was that a fun experience?
Clementine: The whole Exit Eden experience is fun! The concept is fun! Covering songs like some of the Backstreet Boys, Rihanna… and turning them into metal, this is so much fun! Regarding the shootings, it was incredibly cold in this castle in Northern Germany! We shot all the videos during the same time frame, on a couple of days, shooting from 9 am to 2am every day! It was exhausting and stimulating at the same time. We all had to push our limits in many ways and we wouldn't have been able to do that without the amazing team work we experienced. Everyone was dedicated to make the best out of each take and it helped all of us to keep a high spirit and stay focused!
6. It's great to see so many female artist rising to prominence in Hard Rock and Metal over the past decade, building on the work of early pioneers like Lita Ford, Vixen, Heart, etc. What do you see in the future for women in Metal?
Clementine: Women can be artists, singers and musicians, just like men. It's up to them to decide to focus on creating their art and to wish to start a metal band. There is room for everyone and everything if the audience decides to like the music. I don't believe "female metal" is a genre at all. This reduces the creative fields of women so much.
7. Do you have plans to tour with Exit Eden, Visions of Atlantis, or any other acts in 2017-2018? Any dates scheduled in the U.S.?
Clementine: Visions Of Atlantis will tour next year, it's confirmed but I can't tell more for now ;) Regarding Exit Eden, it's too early to tell, we would need some time to work on a tour since it's going to be a 8 musicians production, this requires to be well scheduled in advance! And as for the US, I hope to be able to announce shows there soon but it's not under discussion yet.
8. Your recent work with the legendary Kai Hansen (GAMMA RAY, HELLOWEEN) has been fantastic. How did you get connected with him?
Clementine: Thank you! Well, this encounter was exactly what life if about: a matter of luck and human relationships. We met by chance on the 70000 Tons Of Metal cruise as Siegi, my partner in crime in VOA, knows him and we sat down drinking mojitos all together! We had a nice time and at some point he just told me that he was working on his solo album and asked me if I wanted to sing the parts he wanted sung by a girl! I couldn't believe that offer at first but we kept talking about it after the cruise and eventually I ended up recording my vocals for the album and rehearsing with the band for the Wacken show in their studio!
9. What can you tell us about your onstage experience with Kai Hansen and Friends at Wacken in 2016? It looked like everyone was having a blast!
Clementine: It felt totally unreal to me. On the cruise, I attended the Gamma Ray show, singing "I Want Out" with my friends from VOA, and a couple of months later I end up on this massive stage, singing the same song with Frank from Gamma Ray in the choirs with me and Michael Kiske on stage! I couldn't believe it! Singing these songs was so much fun. I had the feeling of taking part of the fundamentals of metal, taking part of its history somehow and it's a unique feeling. The band behind Kai is composed of very nice people, some became close friends and this totally created a very memorable moment.
10. Which vocalists and musicians have inspired you to sing and make a career in music?
Clementine: There are so many! But Céline Dion definitely, when I was a child, Michael Jackson and Madonna when I was a young girl and when I discovered metal, Bruce Dickinson, Tarja and Tom Englund (Evergrey) were my biggest influences!
11. What advice do you have for young musicians who will look up to you and want to follow in your footsteps?
Clementine: To work on your skills as much as you can. To learn from everyone and every situation. To remember that you'll never stop learning and that you need to stay humble and open. But never to let doubt tear you down, to keep believing in yourself and your uniqueness. Sometimes what makes us special lies in our weaknesses. Embrace yourself as a whole, demand from yourself to improve and get better, as much as you have to be kind to yourself as well. Making music requires that we don't lose our soft spot inside for this is where sincerity comes from.
And then for sure, you have to understand how this entire "industry" works, you have to be a musician but also develop skills to help your career of your band's career: knowing how to introduce and book your band, to organize your band's activities, to manage your bandmates… at an early stage, musicians have to do everything themselves. . .
12. Final question - - (this one from my daughter): Are you a Harry Potter fan?
Clementine: I am a big Harry Potter fan! I was the same age as Harry when the first book came out, I created a very special and strong bond with this story. I was reading the books at every breaks, sometimes during classes. A car almost hit me once as I was reading on the streets while walking and not paying attention to the surroundings. These books were a secure and beautiful shelter!
13: Thanks again for taking the time to talk to MetalAsylum.net! Best of luck to you with Exit Eden, Visions of Atlantis, and all of your future endeavors.
Clementine: Thank you :)
Official website: http://www.exit-eden.com/