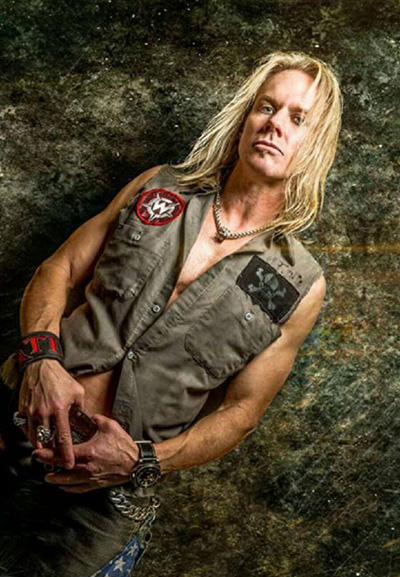 1. This is the second Warrant album with you on vocals, and you have been in the band almost ten years. When did you start to feel like a part of the band?
ROBERT: Well, it was only a few months of me starting to work with the band that I started getting comfortable. But, I'd have to say after doing a couple records with the band its more validating to be more of a member. The fans were receptive pretty early on, and the fans were just happy to hear the songs they know and love.
2. How many songs did you write lyrics for on "Louder Harder Faster? Did you write any music?
3. What are the differences between the last album "Rockaholic" and the new album?
ROBERT: I wanted this album to be a combination of "Cherry Pie" meets "Dog Eat Dog" albums. I think sound wise, we wanted it to have more of a late 70s less processed production. Jeff Pilson had some great vintage instruments and gear in his studio. He worked with us on pre production and was an engineer. He is a real intelligent intuitive guy. And as a great singer, as well as a bass player, he was great to work with on my vocals.
4. The title of the new album, "Louder Harder Faster", is a pretty Metal title. How hard would you say, or Metal, it is?
ROBERT: I don't feel it's Metal really, but its definitely hard rocking. Those words were kind of the bridge between a ballad and taking it up a notch in the live set. And I just thought those words – the phrase, worked well.
5. Do you think the glam and hair metal bands still get a bad rap for the radio and MTV hit ballads and rockers from the 80s? That bands like Warrant are not capable to have variety in songwriting, or rock hard enough, more so live?
ROBERT: We have aspects of 70s pop in our heads, and classic hard rock and heavy metal – and that is part of the formula that makes up Warrant. We stand on the shoulders of giants. I (we) like what we like, and that's the case with all five of us. We love from iron Maiden and Judas Priest to pure pop. We are not a ska or punk band. We make music that we like to listen to. Warrant is hard rock with a metal edge at times, depends on the song. Do I think people are able to see beyond the commercial hits?…if they choose to look deeper into the catalogue. But, there are people who just know 'Cherry Pie' or the ballad 'Heaven'. You can't fault people for knowing the songs heard on radio, TV, or video games. Everyone tries to pigeonholed you – you know how many times a band, Warrant, etc, are associated with the terms "glam" and "hair"?... everyone did that in the 80s. But, real fans look beyond that and deeper into the catalogue.
6. Well, you know, a guy like Kip Winger will get the last laugh, for Winger and himself. And hopefully his achievements will open people's eyes to the talent that comes from Glam/Hair Metal. Because, he writes classical music and just wrote a musical for Broadway called "Get Jacked".
ROBERT: O yeah, Kip and I had long conversations about the misconceptions about both our bands, and how important it is for us to make new music. And what he is composing for Get Jack. I am looking forward to what he will do with the Get Jack musical and the recognition it will earn him.
7. What are some of your favorite Warrant songs that you don't often play live, but would like to?
ROBERT: I really like to play the stuff off "Dog Eat Dog" because, and as you said, its an underappreciated album. We are doing 'Machine Gun' and 'Hole In My Wall' this run, and 'All My Bridges Are Burning' was in for a while.
8. Touring plans? East coast again anytime soon, New Jersey?
ROBERT: Well we usual hit Pennsylvania and Connecticut, NY state, but we haven't been to Jersey. It's a tough area for us…find us a place, hahaha. We mostly do the fly in dates, weekend shows and festivals, and its year round routine.
9. Playing any of the European festivals this summer?
ROBERT: It doesn't seem so this year. Last time we played Europe was before I was in the band.
10. Any reissues or a live DVD coming out?
ROBERT: I think a live show will come out with this lineup.
11. Do you write music for a potential solo album?
ROBERT: Not really, I always write, but mostly for Warrant. Sometimes I do some writing in Nashville. I usually either write music on piano or acoustic guitar.
12. What music are you listening to?
ROBERT: Well, being on the road you meet a lot of bands and people, so you tend to sometimes start listening to their band. I met a few guys from Asking Alexandria and I like what they do. When I was opening for Ozzy (with Lynch Mob), Korn, Life of Agony were new at the time. These days I like the Rival Sons, they have a super cool retro thing going on. Then again I go to the usual Zepplin, Humble Pie, Thin Lizzy, Priest, the Beatles, Stones, the Who… the list goes on.
Official website: http://www.warrantrocks.com