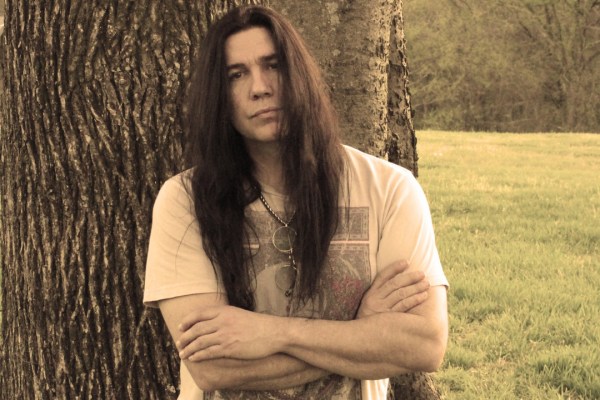 1. It has been almost twenty years since Slaughter has put out new music, and your first solo album was not released until 2015. Was the struggling music business for hard rock and metal music part of the reason for the delay?
MARK: Actually it really just had to do mostly with life keeping you busy. Finally I had some time to sit and write the music. Not so much the climate for music getting in the way.
2. What separates what you write for Slaughter and your solo music?
3. Did you write all the music and lyrics on the forthcoming solo album "Halfway There"?
MARK: Yes, I played guitar and bass, wrote all the parts. Josh Egan played the drums, and Jamie Melard did some bass. I did the whole album here at my home studio. It was a labor of love.
4. You said this solo album was done at your studio. Does that mean when Slaughter works on a new album it could be recorded there?
MARK: I don't know because to get Slaughter to do a record first entails getting all the guys together in one state, Hahaha. We are all over the country and that's the difficult part.
5. How did you hook up with Dave Ellefson (Megadeth) to release the album?
MARK: He is releasing it and distribution deal through his label, May 26th in North America by EMP Label Group/Amped. He heard the music and dug it. We have known each other and been friends for a long time, since the 80s.
6. Are you planning to play any solo shows in support of the album?
MARK: At this point, no. Not that there won't be any. I'd say probably the guys who played on the album may play with me live. Depends on scheduling.
7. How has your voice held up over the years. Can you still sing as high, or how often, as you use to?
MARK: For the most part I do the same amount as I use to. I am pretty lucky, its been a good run. I'm still doing it all these years later. My voice is very different, people either like or hate it.
8. Slaughter's touring schedule mostly consists of weekend dates and festivals. Are there plans to do a full Slaughter tour ninety minute show?
MARK: At this point we are still focused on fly in dates, because you know, my band also plays with Vince Neil. So they are often on the road with him. When they are doing that I am working on my own music, and solo things.
9. Do you still perform with Skrap Metal?
MARK: Yeah, we do it maybe once or twice a year. Again, it comes down to everyone's availability for that as well.
10. Many musicians have to work another day job to pay the bills because the music business is not what it use to be, especially if you are not selling a lot of albums. So you are able to still be a full time musician to make a living?
MARK: Yeah, I am fortunate enough to still just play music. You know, its just life, and I'm lucky not to have to go that route. But then again, you never know.
11. It has been many years since I have heard a song or two from the Slaughter album "Fear No Evil". Because it's a great album.
MARK: Well, of course the majority of people coming to the show are there to hear what they want to hear. So obviously, we have to play many songs from our first two albums "Stick It To Ya" and "Wild Life". Those albums were huge for us. It's not different for these other bands, like Motley Crue. I'd even like to do 'Days Gone By', from the "Wild Life", but its a lot of work to get a piano into the show. But yes, its been many years since we did something from "Fear No Evil". 'Searchin' is a good one from that album, and people even ask "that's you singing"? But its just a different timber in my voice.
12. If you do some solo shows, would you do a few Vinnie Vincent songs? That second album "All Systems Go" has several great ones, like 'Love Kills'.
MARK: O well, thank you. I really like those songs too. I haven't really thought that far ahead, but, yeah, I would do a couple. For a solo show, sure it would be fun, I'd get a kick out of it. I am proud of where I came from.
13. When your solo album comes out, what is the game plan for the rest of the year?
MARK: Just get the music out there, see how its taken, and hopefully if it does, set up some shows.
14. Plans to do a promo video?
MARK: Not right now, but that could change if the album does well.
15. Anything coming out from Slaughter, a song, live DVD – an archival show or something newer?
MARK: Yeah, maybe something live will come out, for now. It's tough, because they are doing the Vince Neil thing, and I'm doing mine, and we are not in the same place. We do have a couple new Slaughter songs we have been sitting on for a while now, and we should go in and record something soon. There are no reissues or anything like that in the pipe, but that could change. It would be something we would work with one of our previous labels.
16. What new music are you listening to?
MARK: Big Wreck, they have been around for a while. Winery Dogs are always good.
17. Any Slaughter dates?
MARK: Those dates can be found at SlaughterUSA.com (www.slaughterusa.com ). We are playing in North Carolina in a week. There are several cities and shows coming up soon. Just keep checking our website.
18. Anything you'd like to add?
MARK: Just give my new solo album a chance, I'm very happy with it. It's not running away from where I came from, but it is still a little different.
Official website: http://www.markslaughter.com/