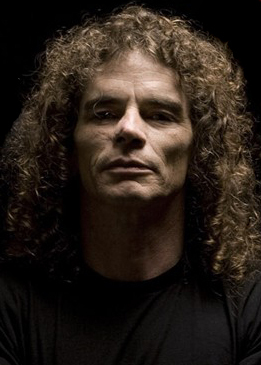 Note to readers – go in to this interview with Bobby's great laugh in your head whenever there is a hahaha. One of my favorite people to not just interview, but just to have a conversation. Mr. Ellsworth is always witty, smart, insightful, classy, and someone who knows his art.
1. Every band says their latest album is their best. After 18 albums, you do you feel "Grinding Wheel" holds up to say a "ironbound", or "Taking Over", "Horrorscope", or a "From The Underground and Below"?
BOBBY: I think it holds up because if I feel the same kind of excitement for the new album like I use to when we made previous albums. If so, then hopefully it does hold up to some of those great ones from our past. If its an album I am listening to in my car, and will still listen to it over the next few months, getting ready for the road, then I think it's a good one. This album is definitely more diverse than our last few, these songs are more epic.
2. How many of the new songs will be in the live set?
BOBBY: Ten, hahaha…Its looking like 'Mean, Green, Killing Machine', 'Goddamn Trouble', and 'Shine On' so far.
3. Do you have plans on changing up the setlist and playing a few different ones? Will I finally get to hear my personal request every time we do an interview, lol…'Electro-Violence'?
BOBBY: Yeah, we will. There will still be a few of those classics that will be in, but we also have to mix it up. It's a new album, new tour. From the start we have to be the machine, get the setlist down. But, after we get in to our groove, sure we will change things up. And yes, I think you have a good chance to hear that one, hahaha.
4. Tell us about the "Grinding Wheel" title track, and was the post solo change with the bass/Iron Maiden worship intentional?
BOBBY: You know, at first I didn't get what DD (Verni –bass) was doing. It had so many changes, the very New Wave of British Heavy Metal feel. DD has never been afraid to take chances, while we still go for a Motorhead theory of production. But the song grew on me, the "whoas" in there, and yes, when I heard it I also said it was very Iron Maiaden, hahaha.
5. Is Ron (Lipnicki) still playing drums?
BOBBY: He did on the record, but he can't do the tour. He has family responsibilities to take care of for now. But we have drum tech, Eddie Garcia filling in.
6. What are a couple questions you hate journalists always ask?
BOBBY: Ones that get into my personal life, that's not really anyone's business, aside from basic things. I try not to talk about my political or religious beliefs, or what I am eating for dinner, hahaha…why does that matter? Also, the personal business within the band, what we handle behind closed doors…that's between us. We were never a band to air our dirty laundry, and I think that has been great for our reputation.
7. Do you read reviews of Overkill albums by journalists?
BOBBY: No, not really. I don't go searching for it. But if I come across something, yeah, I may be curious what someone thinks about our music. More often its a few months or a year down the line I will check something out… or reading material while on the toilet, hahahaha. But its fine, I get it. Some reviews have good things to say, ones that comes from an intelligent place.
8. What Overkill albums do you think could be better, or feel have several songs that are just not good enough?
BOBBY: There are a couple black marks here and there…I think "I Hear Black" had good ideas, but some of the Black Sabbath influence became overpowering and it was not a thrash record. It was our second album with Merritt Gant and Rob on guitars, and first with Tim Mallare) on drums. But there are a couple songs and moments on it I think are great. I think "Relix" could have been better, better production and a few of those songs just don't make the cut.
9. How is the DVD coming along for the show recorded for the 30th anniversary of "Feel The Fire" and 25th for "Horrorscope"? Will you do much post production fixes?
BOBBY: It is coming along slowly. We are focused on the new album and tour right now, but it is being worked on. I think obviously we will try and tweak little things here and there, but won't go in and rerecord vocals or guitars or something like that. It will be as pure as possible.
10. Ever any talks about re-recording 'The Beast Within' and 'death Rider' off the "Power In Black" E.p.?
BOBBY: You said at the beginning of the interview you were not going to try and give me a couple different questions than what most journalists would ask? hahahaha....i just got off the phone with a guy from a New York radio show and he asked me the same thing, hahaha. You know it hasn't been a topic, but I'm not opposed to it. I think we could really do something cool with this lineup and breathe new life into those. We did play them both live at a Sweden Rock festival a few years ago.
11. Any Overkill secret projects in the works?
BOBBY: Hahaha…didn't I already say we don't talk about the family business. Hahaha, you will just have to wait and see.
Official website: http://wreckingcrew.com/Ironbound