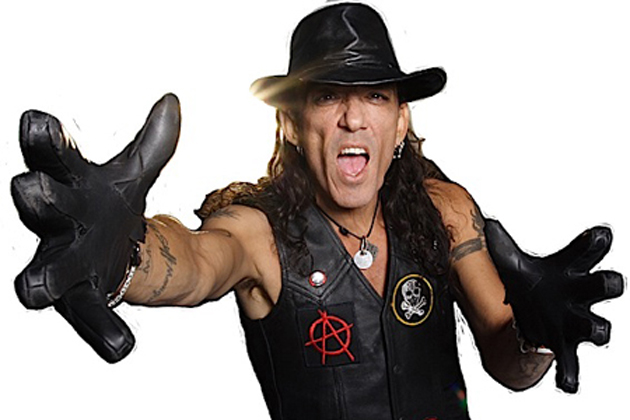 1. This is your fourth solo album. what makes it different from the others?
STEPHEN: Plenty, first off it was a very sober environment, and we spent a lot of time making sure these songs were great – both the music and lyrics. Me and my guitarist, Eric (Ferentinos), worked through twenty plus songs, and wanted to make sure this album was very cohesive, and have a beginning and an end to the album. You know, everyone thinks I can only write Ratt-type songs, and that's great for Ratt. But I am capable of more than that, and that's nothing against Ratt. So I enjoy doing my solo music, its for me. Beau Hill – who produced several Ratt albums, mastered one song – and that gave us a schematic how to mix and master "Smash" – which was myself, Erik, my bassist Matt Thorne. So we took our time and I think the end result is my best solo work yet.
2. Do you write both music and lyrics, by yourself or with someone else?
STEPHEN: I write the lyrics, sometimes music and arrangement ideas. My guitarist Erik pretty much wrote all the music and I did the lyrics. If I write music for a song I come up with ideas on the guitar, I am a guitarist. I know, most people don't know me as a guitarist. But I can play and come up with ideas.
3. A few songs on "Smash" are outside of the Ratt box – 'I Know I'm Crazy' is modern and moody, 'Summers End', and 'What Do You Think' has a country southern vibe. Can you tell us about a couple other tunes?
STEPHEN: Well on 'Ten Miles Wide' Erik literally channeled Robbin Crosby on that one, 'Shut Down Baby' show my appreciation for Led Zepplin. 'Dead Roses' is pretty heavy, 'Lollipop' is just a rock tune its not pop or metal….'Hit Me With A Bullet' – I don't know where the analogy came from for that one, you're going to need to dictionary of old western slang, Lol. 'Rain' is quite different –its about my daughter. And a song like 'Passion Infinity' – where Erik gave it to me I tried to do something different with the arrangement. The subject matter too – its not always about a party and sex, drugs, rock n roll. I also wanted to hit people with the chorus right out of the box.
4. Now that you have reactivated Ratt with Juan and Warren, will you get to play some shows in support of "Smash"?
STEPHEN: Yes. The solo shows start April 8th I believe, until July 2nd on and off. I was also offered a package tour, in between the dust settling from the Ratt situation – which we have our first show on February 11th, and one in April at the M3 festival. So I am not trying to compete with Ratt – that is a different beast. And we will record a new Ratt album later in the year too. I already started demoing song with Juan.
5. I always wondered why Ratt never released a ballad as a single or video in the 80s, and waited until 'Giving Yourself Away' in 1990 from "Detonator"?
STEPHEN: It's not that we couldn't do it, we just didn't believe in releasing a sappy ballad, especially when everyone else was doing it. It wasn't necessary, we were doing great with hard and heavy songs. 'I Want to Love You Tonight' (off "Reach For The Sky") was close to a ballad, 'Giving Yourself Away' was written by Diane Warren and Desmond Child and has nothing to do with Ratt, but we liked it. And on the last album I wrote something too, but we didn't use it.
6. Why has Ratt never released an official live concert DVD with the classic lineup from the 80s?
STEPHEN: We didn't really want to do live records. If you wanted to see us you came to the concerts. Like Zepplin did for the longest time. Like we didn't really do TV shows, we tried not to follow the format. Like Motley, the guys from the first wave, us, Dokken, etc, we didn't release a live show. Like Maiden, Saxon, Priest who came around in 81, didn't put out a live thing till later in the 80s. For Ratt, there are a bunch of bootlegs out there, and we have stuff in the vaults that will come out. We have a show opening for Ozzy in 84, pro shot. Stuff from Japan, in 88/89 around "Reach For The Sky" I wanted to do a compilation of all the live stuff from our personal footage – like Juan was always recording stuff. So many shows. This box sat in our managers office for a long time, and when we left the management I took it. But we never felt to release something live because its better to come see, hear, feel, and smell the show. We aren't in a rush.
7. I figured you have some footage from the 'I Want A Woman' video?
STEPHEN: No, we have bigger shows than that. We have a list of all the footage, stuff from Donington, in England.
8. Because you have so many great songs, if I could pick the tracks for a Ratt "Best Of", aside from the singles/videos, called "The Other Hits". Can you give me a yay and nay on these… a. 'You're In Trouble'.
STEPHEN: Yay.
b. 'Never Use Love'
STEPHEN: Yay. Great song, still shows up from time to time.
c. 'Got Me On The Line'
STEPHEN: Yay.
d. 'Looking For Love'.
STEPHEN: Oh yeah, great tune. We will dig that one out sometimes.
e. 'One Good Lover'.
STEPHEN: Yeah, sure We use to do that one live
f. Don't Bite the Hand That Feeds'
STEPHEN: Yay, great song.
g. 'Heads I Win, Tails You Lose'
STEPHEN: Ehh, nay. Too commercial. I mean it was great to have Jon (Bon Jovi) sing backups, but it was a weird time for us. We were all jacked up.
h. 'Top Secret'.
STEPHEN: That goes back to early Mickey Ratt days in 78/79, and we redid it for "Detonator". The original is better and heavier.
i. 'Can't Wait on Love'.
STEPHEN: That's a Juan tune, yay. That's a good song.
9. Closing thoughts?
STEPHEN: I just want to make sure to tell your readers that I have nothing for respect for all our fans (who I consider friends) who come out to support us, especially with all the turmoil going on the past few years. Ratt fans have been with us for a long time supporting the band. We will definitely be playing a lot of shows this year as Ratt.
Official website: https://www.stephen-pearcy.com