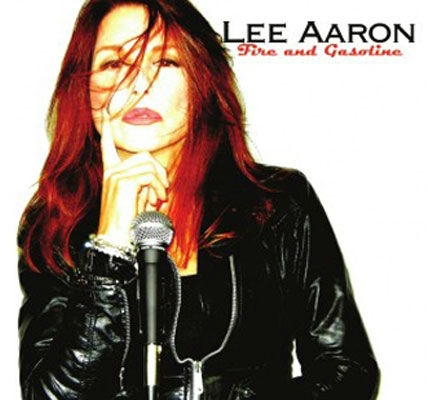 1. If I am correct, "Fire & Gasoline" is your first album of original material in 20 years?
LEE: No, I put out an album in 2004, called "Beautiful Things" which was a pop-jazz hybrid thing because I wanted to explore the roots of rock.
2. How does the music from your first two solo albums (which were metal), and then the following were more melodic hard rock, AOR, impact on the music you write today?
LEE: Well, I'm a girl who still loves a big guitar, Hahaha, but I think "Fire & Gasoline" is still melodic rock, I'm a sucker for a big hook. You know as an artist, as a songwriter its challenging myself, so to write a catchy song that people want to sing along to, then hopefully I've gotten better at my craft. So there are big guitars all over this new album, but I wouldn't classify it as a hard rock/metal album. I think, for me, at this stage in my life… I've been approached by a very successful European record label (who I don't want to say), they want me to do an album with this staff writer they have to make this kind of cookie cutter metal album. And there are just too many other girls doing it better than me, and their heart is in it, like say Doro. Why would I want to compete with that? It's not where I am at personal or professionally. I was trying to do something with "Fire & Gasoline" that just fit into a different niche then they were.
3. The first single and video for 'Tom Boy' has that modern contemporary rock sound. Were you afraid it was too different from what you are known for? That it may affect your fans negatively?
LEE: Well I think there is pretty big guitars in the chorus, but I wasn't concerned because in Canada my greatest success was between 1989-early 90s and the albums "Bodyrock" and "Some Girls Do", and those were commercial hard rock. I became a better songwriter then. I felt maybe I would alienate some European fans because they really like their classic hard rock and metal. So I think with that I am getting a little bit of hostility from the real die hard metal fans because I didn't make another "Metal Queen 2016", but to be honest I would have felt a little foolish doing that. I just don't think people need me singing "we are gonna roocckk!", like, I'm kind of past that. I wanna touch on personal subjects and things that affect the human condition and things that resonate on a deeper level. And that is not a knock at anyone who does that, or the women who do, but its just not the page I'm on.
4. Being from Canada, in the late 80s early 90s, were you aware of Lita Ford, Femme Fatale, Vixen, Saraya, etc…who you shared a similar sound with?
LEE: O yeah, for sure. You had Girlschool too, Rock Goddess, a few others the Brit bands, who I felt were real important and an influence. And now you have this host of these female fronted bands from the European and Norwegian countries, which is great, because now it's become common place.
5. The title track to 'Fire & Gasoline' also has a updated sound and very current rock, a little soul based too?
LEE: Yeah, I think its more groove oriented song, Zeppliny or Hendrix influence. Like bands from that era I was trying to pulling an influence from them on this album. That music has influenced me more heavily over the years. Let's face it, in the 80s, the music industry was huge in the 80s, and it controlled how the product turned out. And a lot of the women from that era, including myself, dictated that 80s production, sound, and definitely the fashion, Hahaha. I mean look at Heart, a band who I love, in the 70s very early 80s they were so stripped down, but in the mid 80s also became very fashionable with the big production, hair, and glitzy MTV videos. There was an expectation for all of us, and a formula to follow. But with "Fire & Gasoline" I didn't want to worry about any expectations, and make an album of music I wanted to make.
6. Do you write music and lyrics?
LEE: On "Fire & Gasoline" I wrote all of the music and lyrics, Six of them I wrote the music as well, five co written with my guitarist Sean Kelly. I wrote these, and I've said this before…I'm a crap guitar player, Hahaha, I'm a rhythm player, I play on stage, and I play in a couple unique tunings. And I don't want to get really good because them I'm going to get side tracked by adding all these other things and too many parts. I like to keep it simple and write the melody on top. A couple summers ago I went to a lake with an acoustic and wrote 'Tom Boy', '50 Miles', and 'Find The Love' in one week. 'Heart fix' I wrote on piano, so that's sort of my process. It's very spontaneous sometimes, other times its something that I think of as a chorus, or verse, or just sing a melody or a catchy phrase, and the songs takes shape afterwards.
7. What's mapped out for the album, promotion, etc?
LEE: Right now we are doing a lot of media, webzines, radio, etc, all around the world. Even talked to a guy in Australia, to the US,…trying to get a grass-roots interest in Lee Aaron again. So if that builds the plan is to try and target some key festivals to get maximum exposure.
8. When was the last time you played a show in America?
LEE: The late 80s on the eastern seaboard. Actually I have a cool story…we played L'Amour, and Iron Maiden was in town recording "Powerslave" and heard of me through the media, and came up on stage and jammed with me…I'm glad we knew 'Run To The Hills', Hahaha. I have played all over the world since then, but in the 80s I was signed to a record contract with Attic records. Unfortunately, contractually my agreement,…its not like they did anything wrong, it's not a boo-hoo me story or how I view the past…but I signed a deal and gave away my rights to the masters. So they had my foreign licensing rights. So If I was to be released anywhere else in the country Attic had to negotiate it, and was contingent on a variety of things. In the late 80s, they wanted to start Attic America and that never happened, but there was interest in me in America. But the label's logic was we don't want to let go of our premier artist, because that will be our leading artist on Attic America. But unfortunately that prevented me from getting released in America. And then when that idea got shot down, a lot of labels wanted a few artists from Attic but not everything, so it was contractual politics and not because of label interest.
9. So how is your back catalogue available? Is it still on import then?
LEE: If you go to Amazon you can find my albums digitally, the company for my back catalogue is called Unidisc, from Canada. But it should all be available.
10. Have any labels, like say Rock Candy who have been doing a lot of reissues and remasters of 80s hard rock and heavy metal music, approached you about reissues?
LEE: Well here is my story…Attic got bought out by Polygram, and then merged with Oasis in Canada, then Oasis became Soundcore, and that became bankrupt as the record industry started to fall apart. So my masters sat in a warehouse for a few years, and the price tag was too big for my five seven albums to buy back. But Unidisc did do a bunch of reissues about seven years ago.
11. Thoughts on the newer female fronted bands like Halestorm, Nightwish, etc?
LEE: Some of them have great singers but its not something I listen to all the time these days. Lately I've been listening to artists that are more different, like Courtney Barnette, she just played Coachella…she's great…quirky, singer songwriter, edgy. And she's writing so cleverly. I really like things that are different.
12. Closing comments?
LEE: Well this new album is really my first to be officially released to America, right. The physical cd or digitally, and I am dying to get down there to play. I hope we can hit a couples festivals in 2017.
Official website: http://www.leeaaron.com