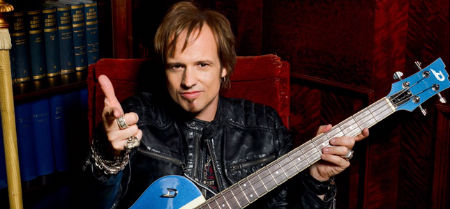 1. When you released the first Avantasia album, "The Metal Opera", in 2001, was it always part of the plan to make more than one album?
TOBIAS: Yeah, there was plan to do two albums, and we recorded the first two albums pretty much at the same time. And after that we were going to call it a day. Then we finally revived the project in 2007 for the "Lost in Space" (Part I &2) EP, and for "The Scarecrow" album. it was never supposed to be a touring entity, and the juggernaut and the creature it has become, haha. It was supposed to be ambitious, and I was back then. But it wasn't a plan to be talked about all around the world years later, I just wanted to create something where I could work with people who inspired me. To do an all-star project, but not mainstream stars, people who were stars in my twisted little heavy metal world, hahaha. I wanted to do a metal opera, a story of its own…like Andrew Lloyd Webber's Phantom, like a musical. But, later in 2006 when I revived the project I had made so many more contacts and more experience, so we wanted to do it again, and at the time Wacken Open Air were asking us to headline one night. I mean usually bands like Iron Maiden, Rammstein, Ozzy headline that festival. So I said if I turned this down I shall be cursed for throwing away such an option. And at the time, I had no idea how we were going to do it. And then, others all over the world wanted the show…the Sweden Rock, Masters of Rock a festival in the Czech republic, and Def Leppard were playing before us…things like that you can't imagine. That's when I said " Look what has become of this two album little metal opera."
2. "Ghostlights" is the seventh album. What are the new instruments or ideas you added to make it an individual amongst the other six?
TOBIAS: Well, I never see it that way…like the Olympics…where you have to compete with your own past. I see it completely individual from the start, and I don't even care what I have done before. But, there is something in my DNA, the songwriting, how I write melodies, how I use certain instruments…but I just wanted to enjoy making new music. I don't think " I have to do it this way, in order to impress people". I never see it that way. It's the quest that is the purpose…to create a great melody…a great song. Have a glass of red wine, sitting at the piano, and just coming up with ideas. Then you start to arrange instruments, then record a demo, think about who the right vocalist may be. I see writing a song comparative to building a model train…where men go in their basements to build trains…I build my own music metal world. And I will go to my hard rock and metal record collection and say "O, its gotta be Dee Snider (Twisted Sister), or Geoff Tate (ex-Queensryche) on this song." That's something that is beyond imagination, and the ultimate high.
3. You have had some well known talented singers on every Avantasia album so far. I have read you also have a wish list who you have yet to work with: Bruce Dickinson, Paul Stanley, Jon Bon Jovi, and Steven Tyler. With your body of work and respected history as a musician, is it easier now for you to approach these people to get them on your albums?
TOBIAS: Yes. But, as I have yet to work with them, so I would say no, hahaha. But, if I may speak in metaphors…I may now be in the position where I may get to call the secretary of the manager, of a certain person named. You know, but in the past whereas maybe I wouldn't have been able to. With Bruce Dickinson I would have had a realistic chance for this album, but then he had that terrible cancer diagnosis, and of course his focus had to be his full recovery. But I have no clue if I will have any chance to work with any of those people. Nine years ago I never would have thought Alice Cooper would be part of Avantasia. But, my friend Eric Singer, you know he plays drums for Kiss, and use to for Alice, he asked Alice, and that made everything a lot easier. He is such a great guy. Working with Klaus Meine and Rudolf Schenker from the Scorpions, having Klaus in the video…a lot of things have been beyond imagination.
4. I have read you will play a two to three hour show when you play NYC. Since Dee Snider is a local New York guy, will he come out and sing 'The Haunting'?
TOBIAS: Actually, up to 8 seconds ago, I didn't think of it, hahaha. But I like the idea. But from what I know Twisted Sister may also be doing their farewell tour…40 Years Fuck It, tour, hahaha, or something like that. Haha, it's so Dee Snider. But I'd love for him to come out.
5. Will you record any of these shows for DVD?
TOBIAS: I don't think so. I'd love to. But last time the record company didn't make an offer to afford it. And they have the recording rights for those songs, so if you don't have a good budget I can't even sell it to someone else, because they have the rights. If they don't see the necessity to do it, I won't. Because I can't release it on my own. And I can't afford it.
6. As a fan, there are a couple songs I'd like to hear. Curious on your thoughts?
a. 'Final Sacrifice', or 'Memory'?
TOBIAS: No, and no. O, so you're not going to come, hahaha.

b. 'Toy Master', and 'Scarecrow'?
TOBIAS: No, and yes.

c. 'Wicked Symphony', and 'Runaway Train'?
TOBIAS: Well that's not a fun game, because you are ruining the whole mystique, hahaha. I don't like this game, hahaha…

d. Ok, one more…'You're Love Is Evil'?
TOBIAS: No, but a great song. It's so difficult to sing, it's very demanding. I'd maybe do it if I had a show, then a day off, or something before the next show. But I don't think not too many people are fans of it because it doesn't feature a guest vocalist.
7. What is your perception of the European Power metal fan base in America? Is it better, and has changed?
TOBIAS: I have no clue because I haven't been there for a while. I think it is sometimes hard to reach an audience, and sometimes it is a little more difficult to reach an audience in America. But great music always finds its fan. I think a crap power metal band will have a hard time finding an audience, and a great jazz band will be easier to find fans, as opposed to shitty power metal. I don't really know.
8. As successful as Edguy and Avatansia have become, why have neither band been able to open for an Iron Maiden, Judas Priest, or a Kiss in America?
TOBIAS: Because I think it is a political thing. You have to be in their system, or be with the same agency, or record label.

And it also has to make sense, like when Edguy comes over we are playing from 300 to 1,000 people, that's not big enough especially if you are with a different family, so to speak, when it comes to a company. For instance, if a band with Universal music tours that is being booked by Live Nation, you have to be connected with one of those to be supporting them, if you don't want to spend a fortune. Then, it also helps if you are a band who are selling out 2-3,000 seat theaters yourself. So unless you are doing that by yourself, there is no reason for those bands to take you out…unless you are AC/DC and take Anvil because it doesn't matter who supports AC/DC, because its AC/DC.
Official website: http://www.tobiassammet.com/eng/index.php