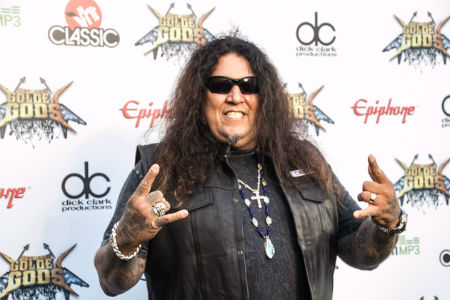 1. It has been 4 years since "Dark Roots Of The Earth" album. How are the new songs coming along?
CHUCK: Slow, haha, but it's a work in progress. We actually started working on the songs for the new album a year or two ago, but we have had a lot of great opportunities to tour behind the "Dark Roots" album. So the process has taken longer than expected. But we plan on getting it out this year. We have about eleven songs. I just about have all the lyrics set. And Eric just had Gene (Hoglan – drums), in the studio because we are trying to release a single for the Slayer tour. And while we are on tour we will fine tune the vocals, and then right into the studio after the tour to record.
2. I have read this new album will have similarities to "The Gathering"?
CHUCK: Yeah, think this will be a thrashier record…I don't know if it will have those kind of blast beats, but will have the aggression.
3. What differentiates "The Gathering" from "The Formation of Damnation" and "Dark Roots Of The Earth"? Because there are many similarities and common music threads across all three albums.
CHUCK: Well "The Gathering" is a culmination of what we had done up to that point. That record we went out of the box and added the blast beats and death vocals, but still was melodic vocally. At that point it was comfortable, and that's where we felt we found our style. And you are right, it has rubbed off on the last two albums, more so on "Formation". On "Dark Roots" I think went in a little different direction because we had the reunion of the old lineup together for six/seven years, and we toured a lot together, and really felt comfortable in our shoes as artists, performers, and just bandmates again. So I think those songs were written with even more confidence. And it got a great response and was our highest charting album.
4. Will Steve DiGiorgio (bass) and Gene Hoglan be on the new album?
CHUCK: Yes.
5. Will you do more live dates after the Slayer tour?
CHUCK: Well we have some shows planned in Europe. So we will start recording right after the Slayer tour, have it mixed and ready by June. We need to get in there, stop second guessing ourselves, and just do it.
6. Is there a concept or theme for the new album?
CHUCK: There is a little bit, but I don't know if I want to say too much yet. I can tell you the songs are about the planet and the earth again, about my cancer recovery since I did a lot of native American healing. I am also interested in (born Catholic), ancient healing programs, and aliens. Connecting those topics. I think the artwork will reflect this too, secret societies and stuff. We want to be creative, but combine that with reality too.
7. Last year, when you played the first two albums, "The Legacy" and "The New Order", hopefully a show was recorded for DVD?
CHUCK: We did, but we are going to wait to release it since we just put out the "Dark Roots Of Thrash" tour DVD. Maybe put it out in 2017, when the right time comes. We did have the bootleg series of concerts that was sold on our website, and I'm sitting on some more of that stuff. So maybe we will include a little from those too.
8. I see in recent shows you added the song 'Dog Faced Gods' from "Low". Do you think you may add something else from "Low", or "Demonic"?
CHUCK: I don't know for the Slayer run, because we only have limited time for like eight songs. There were a couple different ones we had added for the Cannibal Corpse tour that we'd like to bring back during a headlining tour.
9. When you can do a longer set, have you considered revisiting the album "Souls Of Black", and like 'Face The Sky', or something from "The Ritual"?
CHUCK: O yeah, I'd love to do 'Face The Sky' or 'Falling Fast'. I recently listened to that album again and there is some great stuff from that album we haven't played in a while. Same with "Demonic", which Gene played on, we don't play those songs often either.
10. Are there any Testament songs you really dislike?
CHUCK: No, not really. There are some that are really tuff to do live, like 'Dog Faced Gods', which I really like, but I have to switch between the high and low parts. But there are also a few songs that have a lot of lyrics that don't allow too much time to breathe.
11. Plans to remaster any of the older albums?
CHUCK: I would really like to remix the back catalogue, but unfortunately the first two albums are gone, the masters, can't get a hold of those. The other albums we have the master recordings, so we could remix and remaster those. I hope we do. With today's technology I would really like to remix "The Legacy" and "The New order" and make those sound better. They are very tingy with no bottom end. The only thing we can do is Eq those albums, but can't remix better drum and guitar tones and sounds.
12. What are a couple of the biggest successes Testament has had in its career?
CHUCK: I think our own success was when we got back together in 2005 with the original lineup. Most bands split up the original lineup and can't get it together again. When we split up, Alex (Skolnick) just chose to play other music because he played heavy metal since he was fifteen. And Louie (Clemente) left for his own personal reasons, and returned for some shows, and is on the "Live in London" DVD reunion. But since, Louie has not been part of any new music. So when Alex and Louie left, we (me and Eric), with Greg (Christian-bass) for a short time before he then left, just kept making music. We weren't mad at each other, things change and happen. So over time we finally just worked it out and talked about doing Testament again with the original lineup. Any little issues we did have we didn't talk about it, just moved forward, and it worked out great.
13. What else would you like to see Testament achieve that the band has yet to?
CHUCK: Win a Grammy, at least be nominated. I've known Metallica forever, would like to be asked to tour with them.
14. Doing any side projects?
CHUCK: I'd like to, I just did the Metal Allegiance record which was cool, but that was somebody else's stuff, more challenging, not as comfortable. I'd like to do a solo album, make some music that is not heavy metal. But when I do sing on somebody else's music, you think vocally what you would do if it was your song. Because they might not chose the same direction I would.
15. How do you feel about your voice as you get older. Are you comfortable singing this kind of music the same way when you were younger?
CHUCK: I feel real good about it and I think my voice is stronger. I have much more control now, I can sing longer, and I can still hit both the highs and lows. When I was younger I did party harder, didn't get enough sleep…and now I am more focused on taking better of myself and my voice benefits from it.
16. There is always a debate about "live" albums, and how "live" they really are. How honest can you be with us how live the "Dark Roots Of Thrash" DVD is?
CHUCK: It is live, all the instruments are. The vocals there are a lot of vocal overdubs. I wasn't feeling good that day, I admit it, it's a reality, and I went in the studio and re-recorded much of that, live in the studio. It was with a fresh voice, and not a touring voice. You know, it a hard thing, when recording live shows, because you pick a show before the end of the tour, and everyone is really tight. But that is also when my voice is a little tired and not at its best. So for that show we still recorded it, went with it. And all I did was go in the studio and sang off the cuff. The rest of the band is still all live, maybe a couple corrections in the riffs and rhythms. Drums and bass are all the same. You know, there are days when my vocals would have been spot on, at that show the rest of the guys were great. I just wasn't.
17. Plans for the 2016 year?
CHUCK: The priority is getting the album recorded and released sometime this year after the Slayer tour. Plus, the guys in the band live in different parts of the country, me and Steve are the only ones who live close together. So it's a bit of a production to get everyone together. But once we are on the road it's a perfect time to get the music and vocals recorded. So the album will be released this year, it has to be, haha.
Official website: http://www.testamentlegions.com