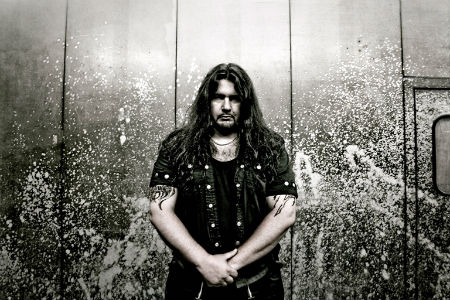 1. The first Brainstorm album was released in 1997. It is almost 20 years the band has been making music. What were you trying to achieve with the new album "Scary Creatures"?
TORSTEN: We just try to write the best songs for the album, and if the fans like it we are lucky. There's no real plan when composing, aside from recording new songs at that time for that album, instead of using something left over from a previous album. But of course you always try not to copy yourself, even if say a song becomes a favorite to fans, for example the third song from our last album "Firesoul", 'Descendants Of The Fire'. We didn't want to write another like it.
2. How involved are you in the songwriting process?
TORSTEN: It is always me with Milan Loncaric, the other guitarist. Then we meet up with Andy and he submits lyrics, and then we start arranging.
3. When you are making the music for Brainstorm, what are the basic ingredients?
TORSTEN: Well the most important thing is all of us have to be involved, and the song also has to be played and worked on many many times. We have known each other for such a long time, it just comes naturally for us to know what works and what doesn't. The core to our music is always two guitars, bass, and drums, and then adding other instruments later like piano, strings or something we think about to enhance a part of the song.
4. Brainstorm are considered a Power Metal band. How do you feel about that?
TORSTEN: Well people feel the need to categorize music to give a band a certain direction, but we feel we are just a heavy metal band. But we do have some power metal songs on each album, but we also have just hard rock, thrashy songs, and ballads.
5. Have you seen growth in the band's fanbase with each album, and are you happy with the band's progress?
TORSTEN: Yes, I am happy with where we are at. We are such a long running band now, and seen so many bands come and go over the years. We always just wanted to be Brainstorm and always worked for that.
6. Touring plans behind "Scary Creatures"?
TORSTEN: We are doing a co headlining European tour with Primal Fear (and Stryker from Canada) in February until March. That's the plans for now. We'd also like to come back to America sometime soon, since we have only played three festival shows – BWBK, and ProgPower twice. But you know as much as I do, its hard for a European band to do a tour in the States for a few weeks because its expensive.
7. How many promo videos will you shoot for "Scary Creatures"?
TORSTEN: We have one for 'The World To See', and a lyric video for 'We Are'. And then we will do one more for the summer, not sure what song yet.
8. Other bands you like who are similar to Brainstorm?
TORSTEN: Well not similar to Brainstorm, but I like Scar Symmetry, but I also like to go back to the classics as well like Sabbath or Rainbow.
9. Do you work on side projects?
TORSTEN: No, because I thoroughly enjoy what we do with Brainstorm.
10. Is there anything you would like to do with the music in Brainstorm that you have yet to do?
TORSTEN: We would like to do a world tour. We really want to do some shows in your great country, so we hope to, if not with this album, the next, or the next.
11. How in touch or aware are you, of your fan base in America?
TORSTEN: Yes I am, because social media makes that very possible. I know our sales number over there as well. We hope to get a promotor to give us some offers sometime soon.
12. What has been the biggest help, or opportunity, for Brainstorm's career?
TORSTEN: Well there was a very important man, Michael Trengert, who helped us since the beginning, but unfortunately he passed away. He was one person who was dedicated to helping us, and music in general, it wasn't about money. Every day with him was a great day. The world needed more people like him. He believed in the passion for music, and that was where the success came from, and so many things can happen. In the beginning, he was just a friend, then he became managing director of the record label at the beginning of the 2000s.
13. Closing comments?
TORSTEN: Our goal is to do a US tour asap. And we have been around for such a long time, released eleven albums, and have so many dedicated fans who support us. It is more than many many other bands don't have, and we are very appreciative and thankful. So there is no reason for us to complain.
Official website: http://www.brainstorm-web.net