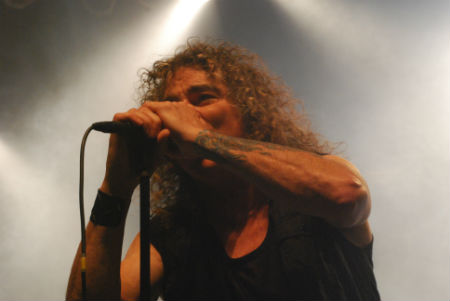 1. How did the tour go with Symphony X?
BOBBY: It went really well, I was happy with it. It was different, going out with a prog band. But we've known these guys for years, talked about it for years touring together, and they have rehearsed at DD's (Verni) studio for years, so we are friends. It was good because it wasn't just a thrash metal package. I heard a story at one of the shows some kid was standing behind our light guy (Eric), and he was going "boo, you suck, bring back Symphony", and then by the end of the show he was in the Overkill chant (laughs). So this plan did work. We have the same jeans as the Symphony guys, we have the metal gene, and we are from Jersey and have the same work ethic.
2. Unlike many hard rock and metal bands from the 80s, Overkill has seen an increased interest in both your new music, and live shows. Your observations?
BOBBY: I have said this before, I appreciate the past to know where you are to know where you are going. But we just don't want to know what we were, its all about being as relevant in the present day. And you could see that at the Terminal 5 show, these old guys are here to kick you in the teeth. Any of the accolades we get, when they are based on the day, instead of just the past, and not hearing how the past was great, that's when I get the boost of adrenaline and a hard on (laughs). I don't think you ever go in the studio to fail, and we are a great representation of what is happening in the thrash scene, but we've always done what had to do done when it came to this music. We have always been in this to win. Overkill has always been identifiable, regardless of what is happening in music at the moment..
3. As we do the interview, a press release just came out today about Overkill playing a special show in Germany in 2016 where you will perform "Feel The Fire" and "Horrorscope" albums in their entirety. Can you tell us more?
BOBBY: Hahahaha, speaking about what was, and what is, hahaha shit did I just get caught, hahaha. You know, the thinking was we weren't going to do this as a tour, we were going to do only one record, but then we had the opportunity to celebrate two milestones. Plus, it was an opportunity to celebrate what this lineup could do with those records. This Is a dice rollin, beer drinkin lineup, who likes to hang out and work together. And what the Rock Hard magazine guys were doing was doing a 30th anniversary of the "Feel The Fire" album, and we thought that's where it started for us overseas, touring on buses. So to do one show was not going to change our "in the day" type plan. So its one show special show for a country who in the beginning embraced us like they embraced their own. So its cool to celebrate two records instead of just one. It was kinda both our ideas from both camps before we knew it. This is our thing, we are the promoters for it. We are hoping, and really bettin its gonna be a winner.
4. Since you will be playing the entire "Feel The Fire" album, will you be bringing back any of the stage set from that tour, like the dungeon under the drum rise?
BOBBY: You know, haha, that was one of the contentions while talking to the German journalists. Haha, they even asked if we will bring out the vampire capes. You know what's funny, I did find some of the stuff, but I don't know about fifty six year old men in spandex pants, hahaha. But we may bring a few elements from the stage, back drops and such, LED screens.
5. Will you dust off any other songs for these special shows?
BOBBY: Well we will be on the road prior to this, so people in Europe will get to experience some of these songs prior to the German show, plus newer songs from "Ironbound" on.
6. Since you will be recording the "Feel The Fire"/"Horroscope" show for DVD, will you be able to include the show from the Metal Hammer Roadshow 1986 VHS?
BOBBY: I'd like to, but that's not ours. It be great to, to show then and now. But I think its still manufactured on some level overseas. Since ourselves, and Anthrax who were also on that video, still are active they don't wanna let it go.
7. The "Historikill" box set was released in October. Are there plans to remaster the back catalogue, from "Feel the Fire" up to "I Hear Black"?
BOBBY: That's a tough question, because when you signed with a label like Atlantic records, at the time, people were throwing money at bands, it was the age of access. So back then, you signed in perpetuity – which means its hard to get your hands on this shit when you are an active band, especially when you are touring, no one is giving up anything. Even if they say they will give you a percentage of it, but you kinda get caught like a rat in a maze because one guys says one thing to another guy, who hasn't worked at the label in years…I'm not saying its totally impossible, but it is not an easy task to talk to someone from Atlantic records as Bobby Blitz from Overkill…cause they are like "who"?
8. Is it any easier for "Feel The Fire" and "Taking Over", since they were on Megaforce?
BOBBY: But they are also in perpetuity. "Taking Over" went to Atlantic, the first E.p. which precedes "Fell The Fire", we can get our hands on that. Megaforce is still active and they don't wanna give up "Feel The Fire". Even this DVD we are going to record, they (the label) probably see it will help sales for the old albums.
9. You thoughts on remastering the older albums, to go back and adjust levels, balance the mix out?
BOBBY: I'm truly a firm believer in keeping the mistakes and trips to keep it the way it was. I know DD Verni, and Dave (Linsk – guitar), are big studio guys and would love to get their hands on them. I'd like to have this lineup re-record those albums, just keep the original arrangements in tact. But I think there is a charm to the mix of the old albums for that time, it was the 80s and you can hear that.
10. Overkill has put out three albums of new music in the past five years. Thinking about new music anytime soon?
BOBBY: Yeah we are thinking about it. We do like to work on a two year clock, hoping to get a new album out by the end of next year.
11. For the next album, are you guys thinking outside the box at all, adding in maybe a little orchestral, or acoustic elements, or something else different?
BOBBY: You know, its funny, on some level we don't even really communicate about this stuff, its almost like a nod and a wink as to what is put on the table. But somewhere in there we still need a couple surprises, when the record is done it should still feel like Christmas morning when you are a kid. But it still needs to be a heavy metal, Overkill record. You know, I like when we can add in more melodic elements, singing. The first sounds I remember as a kid is my mother singing, and I appreciate it. So when I can nail something melodically, that's a highlight. When I can take it from aggressive thrash, to a melodic valley, like the song 'Soulitude' off "Horrorscope", its fun for me. Like what we did in the center of "Ironbound", or in 'Drop The Hammer' when Dave sent me it to me I said it is orchestrated beautifully.
Official website: http://wreckingcrew.com/Ironbound