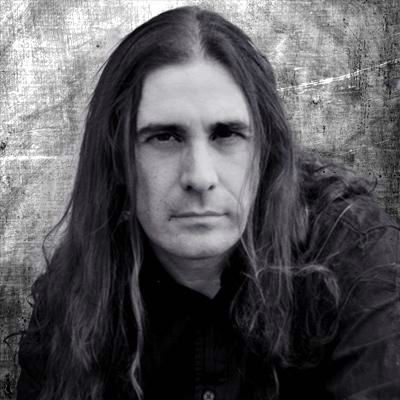 1. After six albums, what were the goals for "Reign Of Darkness"?
ZAK: We knew we wanted to do an album that long time Circle fans would want to hear, but try a few different things. Keep it progressive, still have a classic metal sound, a little modern, and of course with my voice it will always have the Savatage comparisons, can't help it. When we recorded this album it was half way between 2014 to the end of the year, and its just coming out in the fall of 2015, because the label wanted to try and tie it in with the Savatage Wacken reunion show. But during the writing of this album we found out about the Wacken reunion, then we had the idea to try and do a few songs on the "Reign Of Darkness" album that would remind folks of Savatage. Hopefully it's a nice transition or connection for fans of Circle II Circle and Savatage, but we also wanted to get aggressive, dark at times, on this "Reign Of Darkness" album. With album #7 it was important to do something different so it doesn't become redundant and boring, so hopefully we can expand what we did with the album in the future, plus retain what fans enjoy from our past.
2. How involved are you in the writing process of the lyrics and music?
ZAK: I write all the lyrics, some ideas on arrangements, melodies, and I choose which songs make it to the album. Christian David Wentz (guitars) has great production chops and I said to him go for it on this album, and he works with our friend Ron Keeler (assistant mixing engineer). Christian also helped me out on some lyrics too. But with this album it was much more of a team effort with all five guys writing for this album at times. Before, it was Mitch Stewart (bass/vocals) and I would get together. Our friend Craig Blackwell – executive producer, helped me and Mitch write a few songs on the last album "Seasons Will Fall", and Christian got his feet wet with 'Diamond Blade'. So with "Reign Of Darkness" it was me, Mitch, Christian, and Marc Pattison (guitarist) a friend from California who lives near Christian who works great with him. Bill (Hudson) always submits a few ideas, and our drummer, Marcelo Moreira, didn't get to contribute too much because he came late in the process, but his style is great for the more aggressive stuff we were doing with this album. I've got the drummer I've been looking for. For the first few albums; "Watching In Silence", "Burden Of Truth", "Middle Of Nowhere" I played drums because it was fun and kept me in with my drum chops, but later it became less important and more important to be handled by the players I needed to work with. With this current lineup I hope we can go some places musically we have not before.
3. In this day and age, are you still able to make a living making music?
ZAK: Yes, I can because I do multiple things, and Circle II Circle is finally at a point to where we can make some money. Also, you know I sing with the Trans Siberian Orchestra and we will be going out in a few weeks for the winter tour. And Circle II Circle guitarist Bill (Hudson) will be also in TSO, so that will be cool, we can work on Circle II Circle stuff on the road.
4. Circle II Circle were supposed to do some shows in Brazil with Blind Guardian, why were they cancelled?
ZAK: We had trouble with VISAs, and they (the country) are having an economic crisis with the Real, and it became real expensive, and the ticket prices for the show became too expensive. So we just had to realize with flight expenses, and VISAs that were pushed to the last minute, we just didn't have enough time and it just was too expensive for only a few shows. But we will reschedule the shows and come back asap at a better time for their economy. I mean, even in America ticket prices are expensive. I went to see Def Leppard at the Colonial Life Arena in Colombia and those seats were 100$ because of illegal music downloads for free and artists cant make money off selling records. It's just the way it is. But, at least TSO and Paul O'Neil tries to keep the ticket prices low and reasonable for the TSO shows. And, at least with live shows, and Broadway, you can't illegally download a live show, haha. But from what I understand they are working on software to prevent illegal downloading.
5. Jersey native, Jack Frost, was supposed to be on second guitar for these show. Is he still part of your "circle" for future Circle II Circle dates?
ZAK: Yes he is. At the time we knew Bill was busy in another tour, and he is also in TSO now. You know unfortunately when he (Jack) was in Savatage I was not, so I was hoping to be able to work with him in Circle. So its all part of the family, and we are lucky Jack can step in and help out, he's a great guy. So I hope we can make these rescheduled Brazil shows happen, plus other dates around the world.
6. How was the Savatge Wacken show?
ZAK: It was so amazing, everyone came in with a great attitude, and it was the most important show of my career. It was great to be with the guys again, there was alota love in the air between us, and hopes for the future of Savatage. The rehearsals went great for this show, pre planed really well. Our dress rehearsal happened the night we played because of bad weather the day before. It was recorded for DVD, and I saw some of the footage and it is amazing to see both Savatage and Trans Siberian Orchestra playing together, at the same time, on two stages side by side. I think this Wacken show was called a reunion for a reason, a new beginning. Its not the end, it's a beginning, that's how I look at it. We have options now.
7. What are your five favorite Savatage songs to sing live that you didn't record with the band?
ZAK: O, man, so many great Jon Oliva songs to pick from…'Power Of The Night', 'Gutter', 'Tonight He Grins', 'Mountain King', 'Summer's Rain'. And, even though everyone gives the album a hard time, I even like a couple from "Fight For The Rock" album, I could pick one or two from if I had the song list in front of me.
8. Future plans:
ZAK: Circle II Circle tour in Europe in early 2016, South America, US shows in the summer with two or three other bands we are working on getting for a great package, a few European festivals.
9. Are your part of the ensemble, or do you sing a lead song(s) with TSO?
ZAK: No, I am a lead vocalist on one or two, maybe more. Have to see.
Official website: http://circle2circle.net