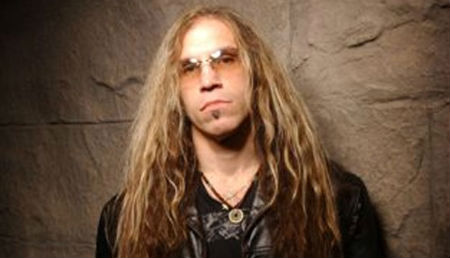 1. Every two or three Seven Witches albums you try something different, pulling in different influences from hard rock and heavy metal music. What direction did you wanna take "The Way Of The Wicked" in?
JACK: I don't really think of it that way, it's just the way I feel at the time. I think, my drummer Johnny (Kelly – Type O Negative) was busting me about this too, I've been listening to a lot of old Badlands, Adrian Vandenberg's Moonkings record, and I'm a big old Whitesnake fan and John Sykes, the Motley Crue self titled album with Corabi, and over the years my playing has changed. My love of old hard rock is coming through more, I'm still focused on riffs, but its more Bad Company feel. It's not a conscious thing. I make music for myself, not for anyone else, and I don't want people to take this the wrong way. Years ago people were making big money, making albums and labels figured one record was a success and made money, and then the labels wanted everyone to follow a formula. For example, its like Nickelback, and I like the band, but every album is the same. I couldn't make an album for someone who wanted me to make music they wanted me to make that I wasn't feeling.
2. Since you are the founding member of Seven Witches, are you always the songwriter and lyricist?
JACK: Most of the time I am writing the music, definitely the riffs. As far as lyrics, you can't make a singer sing what you feel, I have ideas a lot, and I help the singer come up with the chorus'. I'm an 80s guy, so I love Journey, Foreigner, Styx…that's where I come from. So I love hooks. So I gotta let my singer sing what he feels, and I have been real lucky when it comes to singers – Anthony is amazing, James Rivera, Alan Tecchio was just sick with wording, so these guys are it, I'm not that guy to come up with big words and create interesting phrasing. I am the guy, who's that guy who used to work with Bon Jovi…Desmond Child, hahaha, I am the Desmond Frost of Witches. As for the music, I have written 75-80% of the music, but there have been times Rivera (James) wrote music, Mike Lepond (Symphony X) write some stuff, Ronnie (Parkes – Bass) wrote some stuff for the new album. Everyone is more than welcome to bring music to the table. On each album everyone is always credited. With this new album everyone played and contributed in some way, so all music is by Witches.
3. Which songs are credited as just you for music and lyrics?
JACK: Probably my favorite song of all times is 'Passage To The Other Side', which is about my brother who passed away. There are a couple others too I wrote lyrics to, but I don't think I'm a great writer. It has to be something I really connect to in some way in order to write.
4. What are the challenges of making an album of new music in 2015?
JACK: O, wow, definitely something new and different, fresh, while still maintaining something people recognize you for without becoming redundant. If you're a band like Priest, Scorpions, Tesla…how do your write another 'Love Song', or 'Living After Midnight', without sounding like your just doing yourself over again. If people can say "this record is not this or that", or "I only like this album because it's got such and such songs on it, or so and so is part of it"…well that means you are doing something that works. Its challenging because as you get older you ask "how do you write better music"?, how do you match yourself and what you did in the past that may be considered a classic or fan favorite"? That's a great question… I just write for me and think I'm a better songwriter now than I was.
5. How does the music industry, the business, affect your work and the process of releasing music? Because so many artists now have to record, or produce, distribute, promote, etc, their own music.
JACK: You know what, I've been the luckiest guy around because I've always had a label who backed me. The first Frostbite record up till now, I've always had a label who believed in me. It hasn't always been a lot of money, but I never had a label say "you gotta make an album like this". I've never had to feel I needed to do crowdfunding or anything like that, and I don't know if I'd wanna go that route. Luckily I have a studio in my house, and I've had a great teacher and friend in Joey Vera (Armored Saint), who has been collaborating with me for years. For the most part I can record my music on my own. I'd rather work like a dog, and take a part time job, than do crowdfunding.
6. Are there any touring plans at this moment in support of the new album "The Way Of The Wicked"?
JACK: We did a few shows already with Armored Saint and Saxon this past spring – the new album is getting a great response – it came in at #3 on college radio with Iron Maiden and Slayer, so that's amazing for a band that's still underground in America. But for this day and age its great. For now, I am a special guest guitar player for Circle II Circle on their shows in Brazil with Blind Guardian, and Johnny will be playing drums with Danzig in Oct/Nov, and Ronnie is going out with Bonfire. So its good, let the album sit for a few months, I can still do promotion for it, do interviews, and then we will hopefully go out later in the year.
7. If you could pick two other bands to tour with, who would they be?
JACK: You know that Armored Saint/Saxon bill was cool…I'd love it to be Whitesnake, John Corabi doing the Motley Crue album, and Seven Witches opening. Or, if the new Royal Hunt does well and they do some shows in America I'd love to tour with them.
8. Two most important Witches records and why?
JACK: I'd say the debut because that's the first time I went to Europe and worked and learned how to record an album. Like if I wasn't there to step up and do my parts maybe someone else would have. It was kind cut throat. Like if warren De Martini (Ratt) wasn't there to lay down the riffs and solos, someone would come in and get it done. And I'd also say the new album too because it's a fresh start, and first album with the same lineup for two albums in a row.
9. Doing anything else besides the new Seven Witches and Circle II Circle shows?
JACK: I'm working on some new music for another solo album. Witches will do the Rock N' Skull festival in Chicago next year. I might do some stuff again with David Reece (ex-Accept). My solo album will come out on the same label (ILS Group) the new Witches has. And I think the new solo album will be more of a band thing, very AOR.
10. What new music are you listening to?
JACK: Well the new Circle II Circle, for sure, haha, which a few of those songs would have been great for Savatage. New Symphony X is amazing. I keep going back to Adrian Vandenberg's Moonkings album, the Sweet/Lynch (Michael from Stryper and George from Lynch Mob)album.
11. Thoughts on the Savatage reunion at Wacken?
JACK : I'm very happy for them, and I was lucky enough to be part of that band's history for a couple of years. I'm real happy for Zak to see him back on stage with those guys, he kept that band alive when Jon left, and the albums with Zak were amazing also. Jon (Oliva) is a legend in itself. No matter what anybody says I was lucky enough to play all those amazing songs Criss and Jon Oliva wrote. It's just unfortunate I didn't get to work with Zak when I was in Savatage, but now…it's a circle (haha), I get to play with Zak in Circle II Circle. I'm such a huge Savatage fan anyway, so to work with these guys is an honor. And working with Caffery…I have to thank him also because he taught me a lot too. I hope they get to tour America, love the band and music, and I will be the first guy at the shows…Oliva, Middleton, love those guys.
12. Plans to reissue any of the Seven Witches back catalogue?
JACK: Not right now, everything is still available. Even like the Speeed record I did. I'm pretty lucky, like the first few Kamelot records are hard to get after Noise Records, Sanctuary stuff got lost or put to the side. But luckily I learned a lot from DD Verni (Overkill), he always told me to keep your masters, keep an eye on your stuff, because records get lost, especially when labels go under and get bought out.
13. Get any offers to play the European festivals in 2016?
JACK: I hope so, we trying to get on a few. Have to see how the new album does, and what kinda offers come in.
Official website: https://www.facebook.com/Seven-Witches-185545834901482/timeline