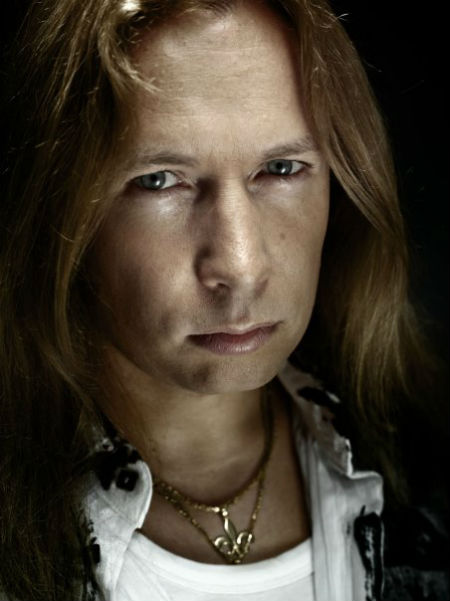 1. After twenty five years of Stratovarius making music, what were the challenges and goals of "Eternal"?
TIMO: Well we worked on recording this album since February, doing a little at a time, and started working on it a year ago. Plus, we were doing the shows playing the "Visions" album in its entirety in between. It's been pretty hectic, kinda of a stop and start process
2. How many of the ten songs did you write?
TIMO: I wrote three of the songs with Jani Liimatainen (ex- Sonata Arctica, Cain's Offering), and lyrics for eight with him. Working with him I come up with some melodies, and being the guitar player he comes up with the riffs and so on. It works pretty well. He lives in a different part of Finland so we will get together as often as when can when its time to do writing and composing.
3. What are the differences you see with post-Tolkki Straovarius music?
TIMO: I think, compared to the self titled Stratovarius album, this new lineup has more energy. Especially live. I think we have more variety with songs because we have more writers, five now. And Matias is more flexible with his guitar playing, more modern, which is different than Timo's style. Then with Rolf (Pilve) on drums, he is more modern as well. Lauri is a versatile bass player as well. But these guys still know how to play to what Stratovarius needs, because they respect the band's legacy.
4. What songs from "Eternal" will be added to the live setlist?
TIMO: I was just talking to Matias while I was driving, and he seems to wanna play a lot of new songs. I'd say we will rehearse eight, and switch em in and out as the tour goes. We will probably do 'My Eternal Dream', we just did that on this Full Metal Cruise, and 'Shine in the Dark' which has a lyric video.
5. You are the longest standing member of the classic lineup. What are a couple of your favorite Stratovarius songs the band has yet to play live yet?
TIMO: Wow…that's a tough one because we have done so many. There are so many albums, you caught me off guard here, haha, I don't remember all these songs off the top of my head. 'When the Night Meets the Day' is a good one, funny, I did an interview with another publication and he suggested 'Uncertainty', which I wrote, and we did that a couple times in the past. I would like to do the title track to "Elysium", but that's eighteen minutes long. Its hard to pick because we have done almost everything at some point because whenever we put a new album we try to play several songs from it.
6. What do you think are the three best Stratovarius albums, and why?
TIMO: Definitely "Visions", because that was a landmark in our career, just about every songs has been played live at some point, and we did shows last year where the album was played in its entirety. I think "Fourth Dimension" is important too. "Infinite" was great as well. But then again, "Nemesis" is really good, we think it is, so do the fans, and critics liked it. I would hope "Eternal" would also be one of those. But it's too early to say.
7. Is there an album you'd like to go back to and fix or change?
TIMO: Not really, maybe revisit "Fourth Dimension" because it was my first album with the band, and at the time as soon as I was in the band, I was recording an album, and they had gigs coming up. But then again, all these albums are a snapshot of that time, so maybe I wouldn't change anything.
8. Touring plans for "Eternal", and does it include America?
TIMO: We'd like to come back there, it just all comes down to demand, work Visas, and who is going to book us. Right now, till the end of this year, we will be in Europe.
9. Nightwish and Sabaton did a successful tour earlier this year in America, and Nightwish will be back with Sonata Arctica in the new year again. And this fall, Blind Guardian and Grave Digger will do an American tour. Will Stratovarius get in on a similar double bill?
TIMO: You know we would love to be part of something like that. It all depends on several factors. I mean, all of those bands are friends, so that would be a very nice thing.
10. Were the "Visions" shows recorded for DVD?
TIMO: No, we honestly didn't think they would be that successful and unfortunately didn't plan ahead. We did record the audio, and may use some tracks for a bonus thing somewhere.
11. There are three older Strato songs with Tolkki singing that I think would fit well in the setlist. What are your thoughts on doing 'Wings Of Tomorrow', 'Twilight Time', and 'Dreamspace'?
TIMO: You know, I think that is a good idea. We have done 'Hands Of Time' in recent years, and that one is special for me because I sang that for my audition. You know, you should be our manager, haha, I like those three songs. Good ideas.
12. Plans for Stratovarius till the end of the year?
TIMO: The album "Eternal" comes out in September in Europe and America. Then we will do two weeks in Finland, then Norway, than a few weeks in Europe. In the new year we may do South America and Asia in the new year.
13. How involved are the band members interacting with fans, Facebook updates, Twitter?
TIMO: A little bit, but we should be more involved. We do some things on Facebook, pictures, etc. But as far as sending out tweets that not something I do, but maybe should more to keep fans informed what's going on. But aside from our website the Facebook page is probably the most immediate for current news. But we don't wanna post something everyday because people will get bored. It is great to see though that we have so many likes on Facebook. On the "Eternal" tour, we will have meet &greets in Europe which will cost no extra money for the fans. All the people who bought the ticket can have a chance to win to participate in the meet & greet.
Official website: http://www.stratovarius.com