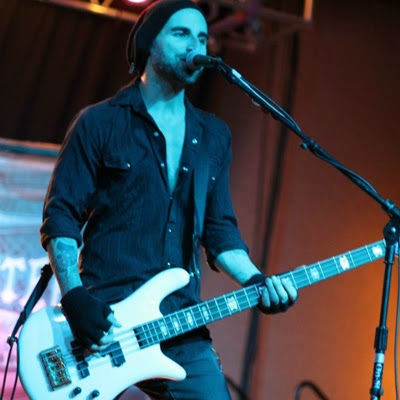 1. Trixter reunited in 2008 and started touring again. You then released an album of new music, "New Audio Machine", in 20012. How does the latest album, "Human Era", compare?
P.J.: Really I haven't heard anything bad, yet, haha, but its really just coming out as we speak. I think it shows some growth. "New Audio Machine" was good and we were happy with that. I think this album has a similar feel to that album, but maybe we are showing off a little more as players. This record maybe is more fun, at least it starts off that way; 'Rockin To The Edge Of The Night' and 'Crash That Party'. 'Midnight In Your Eyes' is a little different for us, think we still have some of those harder edged riffs also.
2. Are the four band members still living in New Jersey? If not, what was the recording process?
P.J.: Me and Steve (Brown-guitar) are. Gus is back too. Pete (Loran) has been living in Arizona for many years. So me, Steve, and Gus will write and jam together and we send it to Pete and he adds the vocals. So the process is still very old school, only file sharing is what we have to the music to Pete.
3. Even though the Trixter debut album wasn't released until 1990, and the band was playing shows since the mid 80s, did Trixter every release a demo, or E.p., that fans bought, or copied.
P.J.: Yeah, there is one, it was a 45, but it was more to send to labels. We did another demo but that was more for just friends in our immediate circle, not sold at shows or anything.
4. What are you r feelings on being called a "hair band"?
P.J.: I came to terms with being called that a long time ago. It doesn't bother me, it is what it is, and we are part of that sound. What sucks though is when we just started becoming successful with the debut, and going into the second album, "Hear", is when the whole fallout happened for hard rock and heavy metal and the "Hear" album got caught in the eye of the storm. So that album really didn't get the attention and respect it should have, because I think it is great.
5. What side of Trixter's songs do you connect with more; ones with more of a metal edge, the radio rockers, contemporary, or ballads?
P.J.: Really it all depends, every song is different, I'm kind of a deeper guy, but each one I have a different attachment to, because of the mood I'm feeling from it.
6. Why did you rerecord 'Always A Victim' (acoustic), and 'Road Of A Thousand Dreams'?
P.J.: Well you know the label always likes to put a bonus track or two on the Japanese and European editions. So we thought doing 'Victim' acoustic would be cool, and 'Thousand Dreams' is a demo from the "Hear" sessions.
7. Plans to release the pro shot concert from Lafayette Louisiana on DVD?
P.J.: Not that I know of, because we don't own it. But you can see it Youtube. We do have a couple other pro shot shows, one from the club Myth in Minneapolis, and one from The Palace in 1991, but its got some questionable audio. But we have a ton of footage and I am working on some stuff.
8. Plans to reissue, or remaster the first two albums?
P.J.: No, but we would like to do something for "Hear" because it didn't get a chance at the time it came out in 1992.
9. Touring plans, does it include Europe?
P.J.: You know we never toured Europe, when things started happening after the first album came out we were just touring in America. We almost went to Europe to open for Bon Jovi, but that was a buy-on, it was real expensive and the label was willing to pay. But, Extreme came in the eleventh hour and coughed up a little more money. This was before we toured America with Kiss for the 'Revenge' tour. We have received a couple offers to do the Firefest festival, and Frontiers festival in Milan. So we will see for next year. But no, we haven't been to Europe yet. We were always touring in America. We start doing a few U.S. shows this summer, we just do weekend shows, like many bands from our genre, at this point. It could change though.
10. Was Trixter asked to play the Food Truck and Rock Carnival festival in New Jersey this September?
P.J.: Not for this year, think we may next year.
11. Do you do any side projects?
P.J.: I do cover and acoustic shows during the week, Top 40 stuff, mostly all east coast.
12. What hard rock and heavy metal do you listen to?
P.J.: I listen to a lot of Serious XM radio so I can get a nice variety and listen to old and new music. I like the Winery Dogs, Nothing Moore, Beartooth, Sarasin, but I can go from Black Sabbath to Hall & Oats.
Official website: http://www.trixterrocks.com