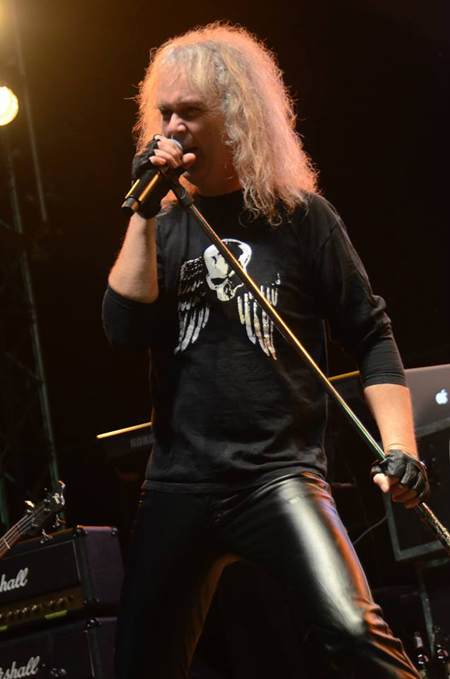 1. It is great to hear the new Grave Digger album return to the dark fiction and horror topics like on "The Reaper", "Heart Of Darkness", and "The Grave Digger". Why did it take so long?
CHRIS: It's like fine wine, hahaha, sometimes it takes time. Well I guess we have done so much with the concept thing, and using keyboards and other instruments on those albums. When we were working on the last album "Clash Of The Gods" I was thinking of going back to individual songs, like on "Heavy Metal Breakdown" and "Witchunter", back to the roots of Grave Digger., so that's how the writing started shaping up for this album.
2. On the new album, "Return Of The Reaper", there is a song called 'Season Of The Witch'. Have you ever thought of including that in a medley with 'Circle of Witches' and 'Witchunter'?
CHRIS: Hmmm, let me think about that…good idea. I think on this next tour we will just do 'Season' as is for now. 'Circle' and 'Witchunter' are different stories, but I do like the idea.
3. On "Return Of The Reaper" what are some of the songs about?
CHRIS: Many of them are about the reaper, and sarcastic too, kinda funny in a dark way. Even 'Grave Desecrator' it has a dark lyric but very upbeat and positive vibe. Look, I don't wanna bring a message to the people, just be creative and people can make their own interpretation out of it.
4. Speaking of upbeat, I also felt 'Tattooed Rider' and 'Dia de los Muertos' had that vibe like 'Grave Desecrator'? they all feel like they could have been on the "Symphony Of Death" E.p.?
CHRIS: Yeah I agree, you can feel the power and freshness of those songs. Like 'Tattooed Rider' you can feel the wind on the bike and the dust kicking up on the street.
5. This is the third album with Axel on guitar. What does he bring to the table?
CHRIS: A lot of good riffs, haha. He's been in the band for five years, did a lot of touring with him. He comes up with the riffs, I come up with melodies.
6. You released a video for 'Hell Funeral'. What's your choice for a second?
CHRIS: Probably 'Tattooed Rider'. We are already thinking about it now. It will very Grave Digger like 'Hell Funeral'.
7. Does your setlist change now since the new album is not a concept?
CHRIS: We will see, these immediate shows this year will be like a "best of" set because we have a lot of classics to play. When the tour starts we will do three or four from the new one too. I don't know, we haven't decided yet.
8. How about adding 'House Of Horror'?
CHRIS: Yeah its possible, that's a good one.
9. What are the touring plans? Will it include the US?
CHRIS: Hahaha, I knew you would ask, we don't know yet. We would like to come back. It all depends on how the record does. For now we will be doing the 70,000 Tons Of Metal cruise.
10. Since Running Wild have not played North America since the 80s, have you ever considered doing a tour with them? /p>
CHRIS: Yes, actually I have mentioned to Rolf about doing that, but he is not very receptive. I'd like to do a co-headline thing with Running Wild, and maybe bring over Rage, and Gamma Ray too. I think it would be very successful and pack venues.
11. The Grave Digger "25 To Live" DVD is region free, but does not play on NTSC DVD players. Do you know if it will be released in a format to be playable of American DVDs?
CHRIS: Really I don't know because Locomotive put that out.
12. Any plans to reissue any of the older Grave Digger albums, possible Digger "Stronger Than Ever"?
CHRIS: Yes, trying to make more of them available digitally through iTunes and Amazon. The Digger album I don't have the masters to, unfortunately.
13. Anything Grave Digger has yet to accomplish?
CHRIS: We haven't played Rock In Rio yet, that is a dream of mine.
Official website: http://www.grave-digger.de