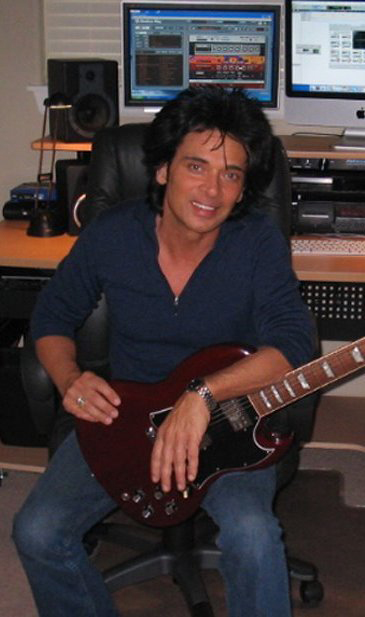 1. When did Autograph break up?
STEVE: 1989. We were at the end of the 80s when hard rock and metal were still doing well but right before things started to change with the Seattle and alternative scene. It was after the album "Loud and Clear" and tour.
2. How did you guys get back together?
STEVE: The bass player, Randy, and I ran into each other at the NAMM show in 2011 and kicked around the idea of getting back together. We really missed playing together. I've been running a music school for many years, and Randy's been doing a leather business. We talked to the original drummer again, and he was really into it but was having a difficult time playing like he use to now being older. The original singer, Steve Plunkett, wasn't interested because he's got his own publishing business and that works best for him. Our new singer, Daniel Simon, is from the band Jailhouse. And the new drummer is Marc Wieland. It's only been since Sept 2013 that the band has been playing together. It's been working out so well.
3. After Autograph broke up in the late 80s you continued playing guitar?
STEVE: I started doing a lot of clinics. I moved to Florida, did a solo album but it was hard to shop because I was known as a 80s hard rock guitarist. Then around 1995 I started teaching guitar in Seattle, and started a music school in 2005. I like doing that, and it was great to know I didn't have to struggle making a living post-Autograph, but I missed playing live.
4. Has it been difficult rebuilding the Autograph name?
STEVE: Not at all surprisingly since we've been gone so long. People still remember all these songs, it's great. I had no idea. But we were lucky too with a few hit singles/MTV videos, and had a few songs used in movies during the 80s like 'Dance all Night' and 'She Never Looked That Good for Me' were in Like Father, Like Son (with Dudley Moore and Kirk Cameron). "My Girlfriend's Boyfriend Isn't Me" was in Secret Admirer, and we had a couple songs in the Miami Vice TV show. And getting 'Turn Up The Radio' in the movie Hot Tub Time Machine was a nice surprise because I got a check in the mail and didn't expect it. That song was also used in the Grand Theft Auto Vice City game. See what we did was make all our songs public domain which no one has to ask our permission to use any of our stuff, as long as we get paid because of the writing credits.
5. So how does that work since the original drummer and singer of Autograph are no longer in the band?
STEVE: Only myself and Randy are Autograph. Steve and Keni Richards are still credited as writers, unless they sold their share. Our keyboard player Steven Isham sadly passed away in 2008.
6. When you started playing guitar in the early 80s, was your technique influenced by Eddie Van Halen? How did you paths cross?
STEVE: I started playing in the 70s, was influenced by Hendrix, Jeff Beck, and Jimmy Page, and did a little bit of the two finger tapping then. But there was a guy here in Seattle, Steve Buckinton and Harvey Mandel, I was influenced by. 73, and 78 is when I went to the Guitar Institute and within the first few months, Emmet Chapman, the inventor of "the stick", did a clinic. He played with both hands on the figure board, one plays the bass lines, the other the melodies. Its like a piano and a guitar. So after the clinic I spoke to him and gave him my guitar, and he showed a few things to incorporate what he did with how he played on "the stick". So I started writing everything down I was learning, scales, arpeggios, triads, modes, two handed. And I actually compiled a book and released it in 1979 and it took off. Eddie was the first one to obviously popularize the tapping technique. I did not know who he was at the time I was developing my style. My style is different than his, I use all four fingers, I was influenced by Emmitt Chapman. Ironically, our (Eddie and I) tapping just so happened to have many similarities. I already had my technique by the time I heard him. So there was no connection, other than when we toured with Van Halen in 1984.
7. When Autograph released the debut, "Sign In Please", in 1985, you guys were one of the first to really incorporate keyboards into hard rock metal music. Only a couple bands, probably Rainbow are the best well known, had the keyboard out front with the guitars. And again, your paths crossed with Van Halen and the "1984" album which also featured a lot of keyboards. Does Autograph get credit for that?
STEVE: Yeah, I'd say so. It made us more melodic, and it was very popular in the 80s, but keyboards have been used keyboards since the 70s in hard rock music. I'm a 70s guy and more influenced by bands from that decade. I'm a little older than most of these guys were in the 80s when Autograph got started. When "Sign In Please" came out I was already thirty. I was older than the guys in Motley Crue and all those guys in that scene, I'm even older (by a week) than Eddie Van Halen.
8. Autograph's original keyboard player, Steven Isham, passed away. You don't use keyboards live correct?
STEVE: Yes, we don't use keyboards live, and are tuned down a whole step. We are playing a lot of the keyboards parts on guitar, and it works because in many of the songs the keyboards always doubled what was played on the guitar. We did talk about having a keyboard player, but also I learned how to sing so we have three part harmonies now too.
9. If Autograph records new music will you incorporate keyboards?
STEVE: I think if we do it would be a guitar synth, I think we will keep the songs guitar based. We are doing some writing on the road now, and are writing a song about the fans and traveling on the road because the fans have been so great to us. And we may add a new song or two to the set soon. But first we are sticking to playing the classics because we just got Autograph back on the road. Our first gig was in January. We started so late in the year, and the festivals are booked so far ahead. So we got on a couple for this year, and will do many more next year, in America and in Europe. Our new singer is from Rio and speaks Portuguese, the drummer is from Switzerland, so its cool now we have international ties.
10. What will new Autograph sound like?
STEVE: We are heavier now, and our singer plays guitar too. It's still going to be melodic. Simon was a fan of Autograph before and wants the new songs to be melodic too. You could only get a certain level of hard or heaviness out of the production in the 80s, especially if you were melodic like us, because the production was so sleek and polished.
11. Any Autograph songs you dislike, or wouldn't play live?
STEVE: Let me think…we have fourteen songs in the set now. We are thinking of adding 'We're An American Band' because everyone (ourselves and fans) really liked that cover the way it came out. We kinda listen to what fans want to hear when we pick the songs.
12. Any pro shot Autograph shows from the 80s?
STEVE: I don't think so. But we plan on doing that now. We have good footage from the Monsters of Rock Cruise, and the M3 festival. And we plan on recording a couple more shows over this summer, and will pick and choose songs from all the shows. Do a compilation for DVD.
13. How long of a set are you playing when you do some shows this summer with Slaughter?
STEVE: I think 45 – 60 minutes. I'm not sure yet. I'm like the manager, accountant, etc, for the band, trying to keep everything as compact as possible. We do have management but still call all the shots.
14. I know the first three albums have been reissued/remastered. Tell us about the "Missing Pieces" album?
STEVE: Those are mostly all demos, unfinished songs, and I'm kind of upset Steve (Plunkett)released that stuff because I wrote several of those songs and he didn't ask me permission. I wanted to go in and remix some of that stuff. Those demos were for Epic Records because we had a deal with them for three albums. But then when the music scene started to change I didn't want to do more music for another five years with Autograph.
Official website: http://www.biggtimeinc.com/autograph.html