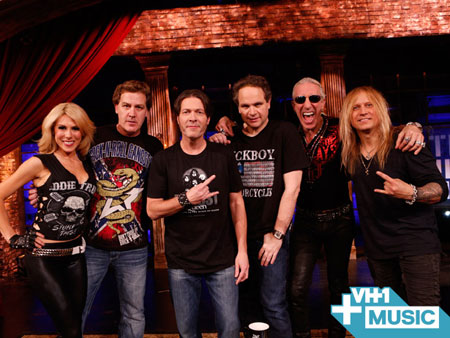 One of the newest additions to the show's format has been musical guests for a couple seasons, today Chris Caffery who plays guitar for Savatage and the Trans Siberian Orchestra. Chris gave updates on both bands, talking about TSO's success being a Christmas holiday themed band, having recently played to over a million people for New years in Berlin. TSO also play a few Savatage songs in their live set and even added a few more for their 2013 European shows. On the Savatage front, Chris let fans know the guys (who are members of TSO) want to get Savatage active again but it's a matter of time and scheduling because of TSO's success.
The Take It Or Leave It segment of the show focused on the "This Is Your Life" CD, a great new Dio Tribute album for a great cause where the proceeds go to the Dio Stand Up and Shout Cancer Fund. The album features guests and collaborations by the likes of Anthrax, Scorpions, Doro, Metallica, Doug Aldrich (Whitesnake), Biff Byford (Saxon), Lemmy (Motorhead), Rob Halford (Judas Priest), Oni Logan (Lynch Mob), Glenn Hughes, and Cory Taylor (Slipknot). The TMS Top 5 List (according to Ed, Don, and Jim) topic was "Scariest Songs". On the Metal Modem singer Glenn Hughes checked in with an update on his newest band called California Breed.
Dee Snider of Twisted Sister gave updates on his current projects that includes a clothing line Saints Sinphony, his ongoing House of Hair radio show, and a musical he wrote called Dee Snider's Rock n Roll Christmas Tale that's debuting in Chicago which he hopes to come to Broadway. Plus, Twisted Sister will continue to play live and do the European festivals over the summer. Dee ranked the Led Zepplin albums, and when Don struggled to deliver the line to the intro for the segment The Throwdown, between Twisted Sister's "Under The Blade" and "You Can't Stop Rock n Roll" albums, he hurled a vinyl into the air and hit an audience member. All in good fun and everyone had a laugh. Both the Zepplin and Throwdown segments, like Stump The Trunk, shows the chemistry between the three hosts and the crowd. Informative and fun at the same time that is never short on the "ball bustin" if someone makes a mistake or doesn't know an answer to a question.
Thanks again Don for the tickets. Till next time.
Post show Interview with Don Jamieson
1. Tell us about your new comedy album "Hell Bent For Laughter" and how it differs from the first one?
DON: The title is a play on words, a tribute to Judas priest's "Hell Bent For Leather", like my first album "Live and Hilarious", as Thin Lizzy's "Live And Dangerous". So since Thin Lizzy didn't sue me I figured I'd try again with Priest (laughs), but seriously I like to pay homage to the bands I love. Material, I feel my penis jokes have become a lot more focused, hahaha. I'm like AC/DC, I know three cords and what works, just play em differently each time.
2. On "Hell Bent For Laughter" do you still have some heavy metal music related jokes like on the first album?
DON: Yeah I do, and there are a few more because of the hard rockers and metal fans who have supported me and That Metal Show. Plus the usual sex jokes and my limited knowledge of politics and social issues, haha.
3. That Metal Show has just finished its 13th season and is successful. Did that change anything in your comedy show?
DON: Its great the metal fans come out to the show more, and now other fans who are not really rock or metalheads know me more from the TV show now. So its great, That Metal show has given me more exposure.
4. After That Metal Show wraps up this newest season, will you go out and tour to support your new comedy album?
DON: Well it's a little different for a comic, because once you put out an album that's kinda it for that material and you want to go on the road with some new jokes. But I will use a lot of this material throughout this year while I do some live appearances. Its cool because a fan who comes to see your show a couple times will say "hey, I like that _ _ _ _ _ _ joke you do", so that's when you know the material works and keep it in for a while.
5. You have taken your standup show to metal concerts as an opening act. Will you do that this year in 2014
DON: Yeah, I'm doing Rock On The Range in Ohio this May with Jim (Florentine), on the bill with Guns n Roses, Black Label Society, Slayer, Exodus. That's a crowd most comics would say "you couldn't pay me enough to get in front of that crowd", but those are our people. I'm comfortable as long as I can survive the two minute grace period before the crowd starts throwing things at you, haha. You really have to bring it at these shows. When I performed at Metallica's Orion Festival that was like the greatest moment in front of like four thousand people, got introduced by Lars (Metallica). And then the following week I performed at a pizza place in Jersey, haha.
6. Metal Blade Records is behind "Hell Bent For Laughter". How does that benefit you?
DON: I've done both my albums on that label, and really had no interest in releasing one until they were interested in putting it out because its such a great label, and I knew they wouldn't try to sensor my material. Plus, they are a heavy metal label and one of the longest running in the business. It's on Itunes, in stores, Metal Blade.com. It's easy enough to get.
7. That Metal Show just finished taping and airing the 13th season. What next for the show?
DON: VH1 Classic will get back to us. Nothing is changing or in the works yet as far as new ideas for next season. We are gonna do a comedy show though down in Mexico and South America.
8. If you, Ed, and Jim, could make a couple decisions about what to do next with That Metal Show, what are your ideas?
DON: We just want it to be more and more diverse, even include more classic rock stuff, and have on more newer bands. In this day and age anyone playing hard rock and metal you wanna support them.
Official website: http://www.donjamieson.com