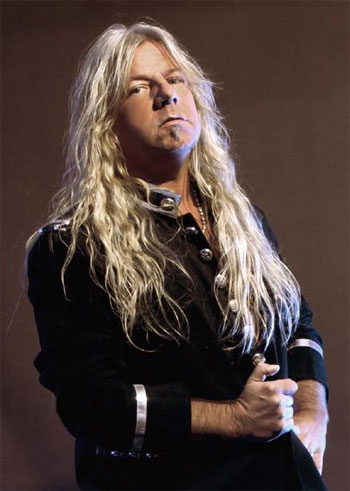 1. For someone unfamiliar with your musical history, tell us what the differences are between Sinner and Primal Fear?
MAT: Well Sinner is a hard rock band, primal Fear is Judas Priest style heavy metal. Sinner is more based on melodies, more rock n roll.
2. After 30 years of making music with Sinner, and 16 albums, why now did you re-record several songs from the albums in the 80s for "Touch Of Sin II"?
MAT: Because what I wanted to do a remix of the old songs but the owner of all the original tracks said they were lost, or burned something like that, several years ago, which made this impossible. And the original label those albums came out on, Noise Records, the rights they were going through different hands and labels, SPV or whatever, now with Universal and they distribute those albums anymore unfortunately. You can only get these albums for insane prices online. And we still play all these songs live, so our record company AFM said why don't you re record several of these songs with an updated production and better quality, so I said ok. These songs were recorded with the current members of Sinner and the arrangements are the same as the originals. It was also a big challenge because so many people know these songs. The songs were selected from "Danger Zone" up through "Dangerous Charm". I didn't pick anything from "Wild n Evil" or "Fast Decision" because I felt those were just demo albums with unfinished songs. They were released later by the record company, Noise, because we had a buzz on the scene. I know Universal has bought the rights to the old Noise albums, which includes other great German bands like Destruction, Helloween, Running Wild, Grave Digger, etc, but I don't know what the label are doing with all this music.
3. How many Sinner albums were released in US? Plans to have any reissued, or any of the more recent Sinner albums getting reissued?
MAT: All the albums that came out on Nuclear Blast and AFM were released in the US, the other older albums I can't tell you if they were released.
4. Talk about the three new songs recorded for "Touch Of Sin II"?
MAT: Yes, they are 'Blood On The Sand' and 'Heat Of The City' are great songs first written in the early 90s and never used them, and I have some more from those days. So we rearranged them, and the other is a Thin Lizzy, Phil Lynott song where I did a new arrangement with a well known guy from Dublin Ireland and made a lyric video for as well.
5. Who is in the current lineup of Sinner?
MAT: Well I'm on bass as always, Christof Leim, Alex Scholpp, and Alex Beyrodt (also from Primal Fear) are our three guitarists, and Andre Hilgers on drums from the band Rage.
6. Sinner have only played in the US a couple times. Are there plans to return, and would you with Primal Fear?
MAT: So far next year is looking very busy for me, I'm working on a new Primal Fear album and it will hopefully be released in January, also I'm working on an album for Michael Kiske (ex-Helloween), and I'm collaborating on a classic rock album with Russell Allen from Symphony X called Level 10 and that comes out in March I think, Roland Grapow from Masterplan is on guitar and Randy Black on drums. Then I'm touring Europe with Primal Fear, and then I do this project called Rock Meets Classic where it's a symphonic orchestra meeting a band and a choir, and we've had these legendary singers join us like Ian Gillan from Deep Purple, Paul Rogers, and Alice Cooper will be joining us next March for twenty shows, I can't wait. Then Primal fear will be in the US in the spring, hopefully May, Australia and Japan too. Hopefully I can do some shows with Michael Kiske and Amanda Somerville which I really want to do.
7. Since it's not often traditional and European Power Metal bands like Sinner and Primal Fear don't tour North America often, have you ever looked into joining forces with someone like Blind Guardian, Gamma Ray, Grave Digger, Edguy, etc, for a tour to make it more appealing for fans and promoters?
MAT: Well that always depends on what your agencies and the promoters are interested in doing. We are all friends so of course I would like to do this. But in the end it's not always that easy.
8. Are there any pro shot Sinner shows from the 80s or 90s that could be released on DVD?
MAT: I don't think there are but sometimes it's difficult to find them, especially since our old label(s) lost or misplaced our classic recordings. It's a shame.
9. You already spoke of your busy schedule next year, any other goals for Sinner in the coming year?
MAT: We will play a few 30th anniversary shows next year that we will record and play some special songs we haven't played for a long time.
10. Any new hard rock and heavy metal you are listening to?
MAT: Well I am listening to the new #1 album in America, hahaha, Avenged Sevenfold. I mean it must have been a challenge for them to try and sound like the Metallica black album. But I enjoy it.
Official website: http://www.matsinner.com