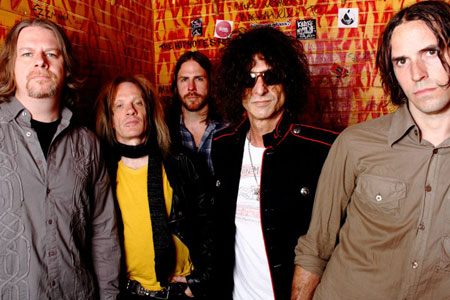 1. Any story behind the name of the band?
STEVE: The guys took part of my first and last name to come up with Venrez.
2. What is the band currently up to?
STEVE: Playing a show September 19th with The Babys, their first live show since 1981, then planning to be on tour in late October for the rest of this year.
3. I was listening to your music on your website. A couple have an Alice In Chains feel, some have a heavy groove, overall they are straight forward hard rock. Anything else you'd like to tell us about the music?
STEVE: Jason Womack writes the music and I write the lyrics. We get some comparisons to Alice In Chains due to the two part harmonies between Jason and I. Jason was influenced by The Jesus and Mary Chain along with all the other bands influenced by them. We may be some new hybrid of The Jesus and Mary Chain meets Tool but I feel we created a new genre altogether.
4. Who would you say Venrez sound like?
STEVE: I think we sound like us. You think we sound like it's familiar then you say to yourself its something new.
5. Filming a promo video in support of "American Illusion" what was that like?
STEVE: We toured with Slash in July of this year and our drummer Ed Davis always sets up 5 Go Pro cams on stage to film our shows. So we used that tour footage, and he edited the promo himself. Eddie does great work with a camera and editing, not to mention being a monster on drums.
6. What type of touring has Venrez done besides dates with Alice Cooper and Slash?
STEVE: We toured Europe 2010 for our first tour in support of the then Tracii Gun's LA Guns, toured with Fuel in January/February 2012 which had some big shows that included the Super Bowl Village show in Indianapolis, IN a few days before the Super Bowl for over 50,000 and a tour ending big show at the Hard Rock in Biloxi, MS.
7. What has been the most successful route for gaining fans?
STEVE: Touring and engaging our fans through social media.
8. Do any members have any connections to another rock band or collaboration?
STEVE: Jason Womack and Ed Davis play in the band Petty/Cash. They formed that project after leaving Julliette Lewis & The Lick's and before joining Venrez. I love that band and am a big fan along with many others.
9. New music you are listening to?
STEVE: My new discovery who I really dig is The Black Angels.
10. Plans for the rest of 2013 and the new year?
STEVE: Like I said, we will play the gig with The Babys September 19th at the Roxy Theater in Hollywood then plan on touring the rest of the year, beginning in late October. We will continue to tour in 2014 as well as record another album.
Official website: http://venreztheband.com