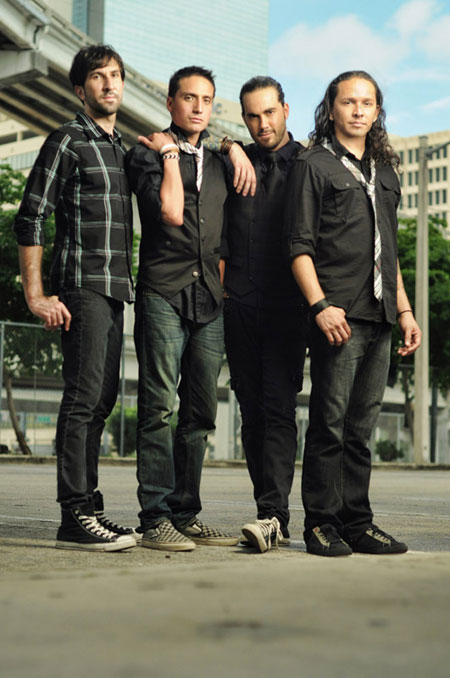 1. Any story behind the name of the band?
Jandre: It was originally the title of a song. It only seemed natural to us to name the band with all of us being sci-fi fans.
2. How long have you been making music together and what genre or market is Message to Venus targeting?
Jandre: We have been together since 2008, we have all known each other longer than that though. We're targeting mostly the female audience. We're not trying to be a certain genre or style. We're just going with our instinct as we go along.
3. I understand the band just concluded a tour in the US. Who were you on the road with?
Jandre: We shared stages with now good friends Dead Fish Handshake, Novus Dae, Undisclosed, Cupids Victim, among bigger names like Taproot, Red Line Chemistry.
4. Being a hard rock/heavy metal music website, how would Message to Venus appeal to our readers?
Jandre: Our new album "Victims & Villains" is very heavy yet melodic. You can listen to 'Cold & Grey' on iTunes.
5. The band is originally from Puerto Rico I understand? Now two members also live in Florida. How does this change how the band records, tours, and does promotion?
Jandre: In the next few months we will all be located in the Fort Lauderdale area. We are all from PR but the music scene is limited there. Of course being an airplane away changes and complicates everything and having that said we have managed to still develop a good following. We are hard workers and we get things done.
6. What has been the avenue to gaining fans, MP3s, Facebook, Tweeting, touring, radio?
Jandre: Playing shows is the only way to really gain new fans, but using the Internet resources allows you to be more international. Like I said, we have all been working very hard on getting our music on all radio forms. Sometimes you just have to give your music away so people get the chance to hear it.
7. Are the four members hard rock, and/or heavy metal listeners?
Jandre: Yes, my favorite band as a kid was Pantera. I had to hide "Vulgar Display of Power" from my mom. Haha, some of us love progressive metal, I also went through a big thrash metal phase. Now we also love bands like Tool, Periphery and Deftones.
8. Plans for the rest of 2013 into 2014?
Jandre: We will release our new album and continue to work hard on getting our music out!
Official website: http://messagetovenus.com