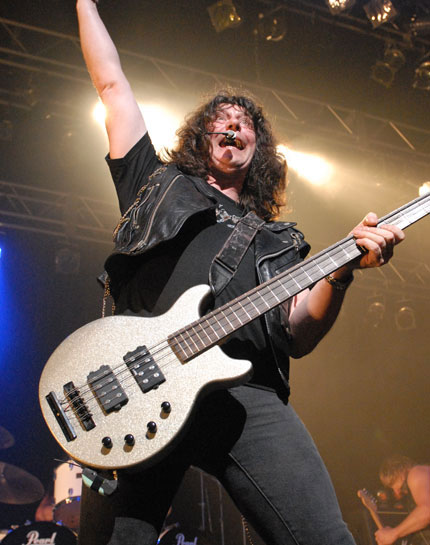 1. How much of the live footage from the forthcoming DVD Rock Until You Drop is pro shot?
JOHN: Almost none! Well...that's not quite true, Chicago 1983, the 2010 Rock Hard fest, the 1995 Japan footage... a lot of the live footage is fan shot / bootleg style....that's what we know the fans wanted, the real stuff, not a 24 camera arena shoot where everything is perfect and smells of "look at all our expensive shit!!" This is underground, gritty, realistic & kicks ass!
2. What else is included on the DVD; interviews, all your promo videos, TV appearances, etc?
JOHN: Yes, interviews with all three of us for the DVD, and with producers Steve Thompson & Michael Wagener, also interviews with Lars Ulrich, Dave Ellefson from Megadeth, Chuck Billy (Testament), Dee Snider (Twisted Sister), Craig Locicero etc, etc, etc...and promo videos for 'On & On' and 'Lay Down The Law', lots of studio footage from "Nothing Exceeds", and "One For All" and "Everything Louder" and various pieces of pure comedy through the years, even some footage of us on morning TV in Bolivia! It tells our story of how a bunch of working class kids from Newcastle started a band and against all odds made it happen! We dug deep & collected all the historical stuff we could find & built a narrative around it.
3. Raven were very important and influential to heavy metal music in the early 80s. Are you happy with the level of success the band reached? And if not, what do you wish Raven should have, or deserve to, still achieve?
JOHN: Yes, I am happy with what we have achieved, but know there is so much more music in us, that's what is important, that and continuing to kick ass on stage!!! It's gratifying to know we have influenced a lot of bands/musicians and especially now we get to hear that from bands when we are at festivals/on the road. Very cool to know we played a part in their musical make up.
4. What are three of the most memorable or important moments for Raven in the 80s?
JOHN: That's easy...three kids from a northern town got to record a single, then an album, then tour the world!!! That was literally beyond our imagination that this would actually happen.
5. Talk a little bit about playing shows with Metallica.
JOHN: Back in 1983....oh.. you want more?? Well...we were told "the biggest band in San Francisco will be opening for you!" And we said "Who..Y & T????" and were then told "no - Metallica!", and we said ..."who?", and then we heard the demo...which sounded like Motorhead on crack and we said...."ok - this will work!" So off we went, bands and crew, seventeen people in a 6 berth camper touring the wilder parts of the USA.. Bald Knob, Arkansas anyone? It was their first tour, they were young, crazy guys & we all had a blast bringing metal to the heartland!
6. "Stay Hard" has seen mixed reviews over the years, it has the energy and edge from earlier albums, yet more commercial in the single 'On and On'. What are your thoughts on the album and do you think it has aged well?
JOHN: It still holds up, we have actually been playing parts of "Stay Hard" in our live jams and the crowd loves it! There is a slight commercial edge but the songs rock, we still play 'On & On'...and 'When The Going Gets Tough' and 'Extract The Action' are great songs...we did experiment with "Pray For The Sun" & 'The Bottom Line' and think we pulled it off.
7. Why is "Stay Hard" out of print? Will it be reissued? Remastered?
JOHN: Blame WEA.....an indie company bought the rights to reissue on CD back in the '90's but it was a sloppy job. Hopefully it will get redone at some point.
8. Was Raven really "back" for "The Pack is Back" album?
JOHN: LoL, the title was a whole play on the American football /Packers thing, unfortunately we looked more like poncy hairdressers on the cover! And the music...well...this is why we have not played to a click track ever since. There are a few good songs but it's just over commercialized, its kinda "Raven on ice".
9. What other Raven albums are hard to find?
JOHN: I dunno..I have them over there on the shelf..no problem for me!! Probably a lot of them at this point, we own the rights to only 4 or 5 and will have them out again eventually.
10. "Architect of Fear" is a strong album and has several good songs. Are you guys happy with that album and do you play anything from it live?
JOHN: Yes, it's probably our darkest/heaviest album. We occasionally play 'Architect' & 'White Hot Anger'!
11. Touring plans for 2013 into 2014?
JOHN: Phew..US east coast in September with Mpire of Evil opening, then double bill with Diamond Head on US West coast in October, then Nov/Dec in Europe with Girlschool opening for us. Working on Australia/NZ/far east for January/Feb & then South America for March.
12. The two most recent Raven albums, "One For All" and "Walk Through Fire", how do you feel these tunes hold up to what Raven recorded in the 80s and 90s?
JOHN: "One For All" is a good album but I feel "Walk Through Fire" is our best album next to "All For One". We really nailed the combo of good songs/good playing/good feeling and sounds on this. We'd been away due to Mark's accident and really needed to deliver. I think we did and can't wait to get into the next album!
13. What Raven albums do you feel are overlooked and underrated and should be revisited by fans and critics?
JOHN: Probably "Everything Louder". The live in the studio feel is killer, the playing is great and on the edge, and just great songs. Also the "Glow" album. A lot of more experimental stuff but I love it!
14. Anything you'd like to add?
JOHN: Thanks to everyone out there - check out the DVD & we hope to see you soon on the road.
Official website: http://www.ravenlunatics.com