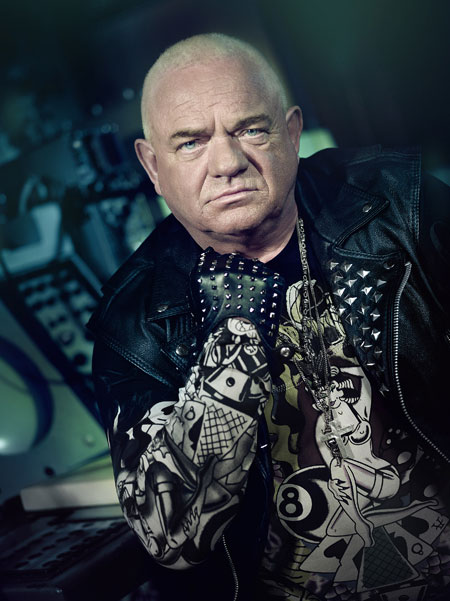 1. You have not toured North America with the U.D.O. band in many years, correct?
UDO: Yeah I think its around twelve years.
2. Since it has been so long will you play possibly at least one song from every U.D.O. album?
UDO: Not every album, no. We do try to make it a good mix of U.D.O. and Accept songs, plus a few U.D.O. songs we haven't played in a long time.
3. What U.D.O. songs have you dusted off for this string of shows in the U.S.? Is this part of the "Steelhammer" tour?
UDO: Well this is not the "Steelhammer" tour yet, we don't play anything off the new album. We never played 'Timebomb' and 'Burning Heat' from that album. Plus we are doing a couple again from the first album "Animal House", "Faceless World", 'Break The Rules' from "Mean Machine", nothing off "Solid" this time, the title track to "Man and Machine" album.
4. With the new album "Steelhammer" long time guitarists Stefan Kaufmann and Igor Gianola left the band. Did that in any way change the outcome of the new album?
UDO: Of course, this time Stefan was not involved in producing and writing. He left the band for health reason, nothing bad was going on between the members. So I worked with our bass player Fitty to write all the songs, this was a little different not in Stefan's style. Then producing is a bit different, working with Fitty. Our new guitarist Andrey Smirnov did all the guitar work, and in a way this album has more of a live feeling and the basics of U.D.O. For me it was important to work with the members in the studio face to face. Stefan was more into computers and recording that way.
5. Did the new guitarist contribute anything to the new album?
UDO: No, the album was written by the time Andrey joined and it was not planned that he would do all the guitars. What happened was when it came to recording the album and I wanted to do everything in the studio, but it didn't work out for Igor's schedule. So in the end Igor had to quit the band because U.D.O. was becoming more busy and with the touring. I didn't want him to throw away fifteen years of being in the band, but it didn't work out so we then found Kasperi Heikkinen from Finland. He did not play at all on the album.
6. Will you shoot a video for the single 'Metal Machine'?
DO: Yes, we are still waiting for the final result. First cut was ok. We hope to get the video online by the end of April.
7. After 20 years of music with U.D.O., did you try anything different with "Steelhammer"?
UDO: Yeah a couple things, there is a piano on a song, I sing one song in Spanish. One has some orchestra on it, but we still maintain the basic elements that makes it sound like U.D.O.
8. here are fourteen U.D.O. studio albums. Is there an album that didn't quite turn out the way you wanted it?
9. Is there an album that "Steelhammer" reminds you of?
UDO: Hmmm…good question. I think in a way each album has its own sound to it, different production sound. I would say maybe reminds me of 'Man And Machine".
10. If you had to pick the five strongest albums, which ones?
UDO: Definitely "Animal House", "Faceless World", "Timebomb", "Mastercutor", and "Man And Machine", and "Thunderball".
11. "Mastercutor" is one of my favorite U.D.O. albums. The single 'Wrong Side Of Midnight' was in the set on previous tours. Will it return for this tour?
UDO: It will not be in the setlist for America. When we start touring it will be in the setlist. There are a lot of good songs on that album.
12. You have played the Accept song 'XTC' (off "Eat The Heat") with the U.D.O. band. It's a great song that Accept doesn't play (as of yet). Would you do it again?
UDO: Maybe I don't know because I try to play less Accept songs because I have so many U.D.O. albums to choose from. But from time to time I do like to include an Accept song you don't expect, like 'XTC'.
13. Working on anything outside of U.D.O.?
UDO: Yeah I'm working on a biography, my bass player Fitty is working on a professional studio and I want to work on a production company with him. and maybe in between work with young bands.
Official website: http://www.udo-online.com