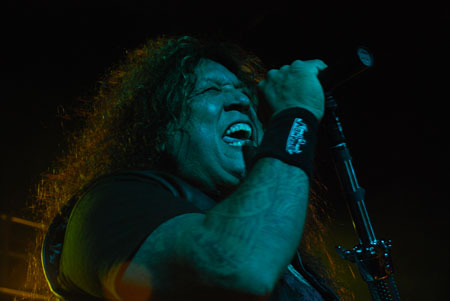 1. At the time of this interview the new Testament album "Dark Roots Of The Earth" landed at #12 on the U.S. Billboard Top 200 Chart (as well as on several other charts around the world). Your thoughts?
CHUCK: Yeah, we just got back from doing some festivals in Europe and I just heard that. Aside from us making a strong record I gotta give a lot of credit to our label Nuclear Blast and the campaign they put together. Everything has been like clockwork, right on time. This is the best campaign we ever had and this is our highest charting album ever. For where we are now at this time as a heavy metal band and getting that high on the chart is a great accomplishment.
2. How does this change things in the world of Testament?
CHUCK: I don't know how things may change, with each record you make you have the highest hopes for. The record business works on timing, and this is a great time for heavy metal music and improved sales. The fans are hungry and support the music, and actually go out and purchase the album. And we've been gaining a lot of new fans with this album, and the last one "Formation Of Damnation". We are real fortunate to be making music that doesn't sound like a band that's been around for almost thirty years. We still sound current. That has a lot to do with it as well.
3. Do you think "Dark Roots Of The Earth" may be Testament's most varied but yet cohesive album to date?
CHUCK: I think the difference is we wrote this one more for ourselves. I think in the past you always have in the back of your mind if it's the right material or the right song, for instance we haven't done a ballad in many years and when Eric came up with the riff ('Cold Embrace')it didn't even cross our minds what the fans would think. We just did it. I think why it happened is because since the original lineup got back together in 2005 things have been a combination of the confidence and the joy of having a second chance with the guys we started this band with. Its more confidence instead me and Eric just carrying the band, now we are all doing it now. That was a big part of it when writing the record. Consciously I wanted to sing a little more, be more melodic, go back to like 'Practice What You Preach", "The Ritual", or the "Low" album. And sonically we wanted to make the vocals be more understood and have more clarity as opposed to previous albums where my voice was saturated and set back in the mix. I guess you take what you learn over the years and apply it to what you're doing now, and Andy Sneap our producer working with us for the last few albums really understood what we were going for.
4. I think the last album "The Formation Of Damnation" is just as strong as "Dark roots", just a little more thrashier, more related to a combination of "The Gathering" and "Low". Would you agree?
CHUCK: Yeah I would say so. With the vocals because on the new album are more mid paced songs where I'd naturally go to my death voice to try and think its gonna make it heavier or something. Where this time I went against the grain and tried to make things more vocal melody based, like with "Practice What You Preach", "The Ritual", and parts of 'Low".
5. Did Eric (Peterson – guitar), work more closely with Alex on the guitar parts?
CHUCK: Well Eric pretty much wrote everything. Alex did a lot with structure and incorporating his style. Eric is more aggressive, Alex focuses more on playing the note instead of trying to compete with Eric's rhythms. That's the key to how they work well together. Eric worked with Andy Sneap in England for a couple weeks and when he came back had about twelve songs skeletons demoed up and that's where we started from. Alex came in helping with the arrangements.
6. Having Gene Hoglan playing drums, did that change anything with how a particular song(s) turned out?
CHUCK: Big time, Gene is just a monster, hahaha. When Eric went to Europe he put some of the drum parts on the demo stuff, and Eric likes to focus on how that should turn out, but of course we wanted Gene to take the structures and do what he does. Add his style. There are pretty intricate things Gene does on the album where working with some other drummers on these songs its not the same, the other guys do a great job and are going for it, but Gene makes it look effortless. 'Rise Up' he really turned into a steamroller, but I think he went outside the box for himself as well, because its not so focused on what he does, like 'Cold Embrace' is a ballad and he's not use to that in other bands he's worked with.
7. What's the setlist looking like for the Anthrax/Death Angel tour compared to when Testament goes out on their own?
CHUCK: We are definitely playing four songs off "Dark Roots". Funny thing is in the last couple years we were leaning heavy on the classic early first four albums. Now its kinda flipped around where now we are playing four new ones, plus a couple off "Formation Of Damnation", and a couple off "The Gathering", and then a couple classics. And I think it's a good thing cause we are seeing younger more current fans who know us from "The Gathering" on. Both old and new fans like it all. When we go out as headliners we do 18-20 songs and can really mix it up. We just did some festivals over-seas and the setlist went over great, and we are real comfortable with it.
8. Speaking of the tour and the setlist, there are a few songs I'd like to hear return to the set that I haven't heard (at least when you come to the NY/NJ area) in a while.
a. Eerie Inhabitants.
CHUCK: Actually we were doing that when Alex first came back in 2005. In the headlining set I'm sure it will come back.

b. 'Trial By Fire'.
CHUCK: We are playing that.

c. 'Alone In The Dark'.
CHUCK: Not in the Anthrax run but it will be in the headline show.

d. 'Seven Days Of May'.
CHUCK: I don't know, haha, that's a little obscure. Maybe we would do 'Falling Fast'.

e. 'The Legacy'
CHUCK: I think we wore that ballad out. We were playing it. I think we will do either 'Trail Of tears' or 'Return To Serenity'.

f. 'Low' and/or 'Dog Faced Gods'.
CHUCK: 'Dog Faced' I know Eric really wants to get it.

g. 'Burning Times'.
CHUCK: That's another one Eric really wants to get in the headline set.
9. How bout yourself. Any songs you'd like to put back in the live setlist?
CHUCK: I like 'The Evil Has Landed', I don't know why it fell out of the set. 'Down For Life' from "The Gathering" is another good one. 'Henchman Ride' from "Formation" is another good one. Its really hard to put together a setlist.
10. Any plans to remaster/reissue the older albums?
CHUCK: Well "The Legacy" and "The New Order" the masters are lost. So no chance to do that but we were talking about just re-recording those two, like what we did with the songs on "First Strike Still Deadly". I was never really the biggest fan of the sound of those records anyway, they are very thin. With today's production those songs would sound killer. "Practice What You Preach" and "Souls Of Black" we have those masters, so we could remix those, that's a possibility.
11. Any pro shot concert footage from that period that could see release on DVD?
CHUCK: We had a bootleg series that we sold through our website, but I have a ton of shit. I have a show from the American Carnage tour that we did with Megadeth, a twelve camera shoot.
12. I've read you guys worked with outside writers on 'Dark Roots Of The Earth". Who were they and why?
CHUCK: Well I've working with Del James from the last fifteen years on lyrics. We met in the 80s, he was the chief editor of Rip Magazine and he came out on the road with us and we became friends. He understood and conveyed my ideas to paper better than I was able to do and we started this relationship. I kinda wrote them all but wanted some other ideas.
13. Anything you want to add?
CHUCK: Yeah, did you see the video for 'Native Blood'? That was great, exciting because we filmed it on my family's reservation. The tribal council, police, fire dept, family and friends I had never met all came together for it. It worked out really well. It really brought community together.
Official website: http://www.testamentlegions.com/site