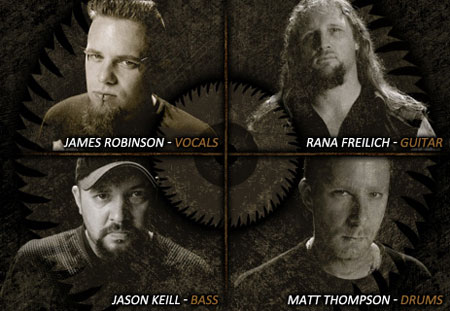 1. Last Man Standing is your second album. How long did it take the band to get to this point where you are now able to tour with well known bands such as Gwar and Fear Factory?
RANA: It's taken Legacy Of Disorder just over 4 years to get to where we are now. The Gwar tour was our first real international tour and it couldn't have worked out better. We will be back in the U.S in October 2012 for another awesome tour so things are looking up for the band.
2. The first album was engineered by Sterling Winfield whom worked with Pantera/ Damageplan. Tell us about how you were able to get such a well known name to work on your debut?
RANA: We had recorded the full album as a real good quality demo prior to recording the album with Sterling. We wanted a great production quality so our manager came up with some names and one of those names was Sterling's. Several of us are avid Pantera fans so knew all about Sterling and his work and were very keen to work with him. Our management organised it and several months later we were on the plane heading to Dallas to record.
3. Speaking of Pantera, How much of an influence were they on Legacy Of Disorder?
RANA: For the majority of the band they've definitely been an influence. But hey for a lot of bands they've been an influence somehow. They're pretty good right?
4. What other bands have shaped your sound?
RANA: Between the members of the band there are a lot of different influences. James (vocalist) grew up on the slipknot buzz, where as Jase (bassist) loves his heavier stuff and death metal such as Cannibal Corpse among many others. Myself and Matt (drummer) grew up on a lot of Priest, Maiden and Pantera and Slayer. We all dig some Lamb Of God, Hatebreed and Devildriver the list really goes on and on and once you tour with Gwar you kinda become a fan for life. We like to think we have our own sound but I guess you've got to leave that up to the listener to judge.
5. Your music is contemporary, hard and heavy groove/hardcore metal. What bands of today would you compare Legacy of disorder to?
RANA: I'm not too sure on that one. I guess once again I will have to leave that up to the listener's and fans. I do know we would love to tour with the likes of Lamb Of God, Devildriver and Hatebreed. So maybe that's saying something.
6. Prior to the tour's with Gwar and Fear Factory, what other major acts have you opened or toured with?
RANA: Not really any other big names. We've done a lot of touring but the Gwar tour is what has kick started us touring with known bands, and from that many new doors are opening. We believe we will spend a lot of time on the road.
7. What is your impression of the metal scene today? What newer bands do you like?
RANA: I feel the metal scene can do circles but never goes away. For sometime in the mid 90's to the early 2000's I found you really had to search to find the goodies. I believe the current scene is alive and kicking and a lot of bands are going back to their roots and keeping it heavy again, as for sometime the metal was becoming fluffy so to speak. I enjoy a bunch of newer bands but admit I tend to dig the metal out of the U.S over the past 10 years such as Lamb Of God, Hatebreed and Devildriver but enjoy too many bands from around the world to mention. I guess I'm so involved with Legacy Of Disorder that sometimes I may lose touch of what other music is happening. I'm always going to love my Maiden, Priest, Pantera and Slayer.
8. Have you had the chance to experience the difference between playing in front on American and European crowds? What are the differences?
RANA: We have yet to play in Europe. I cannot wait to tour there though. So unfortunately I cannot comment on this.
9. Plans for the rest of 2012 into 13 with your new album coming out September 11th, 2012?
RANA: We have lots going on. We have some work to do regarding ' Last Man Standing's' release in September, but we have many great people working towards this to make sure all is well in place. Legacy Of Disorder is rapt that Megaforce Records Mri Inc is releasing and distributing the album. We have an awesome tour beginning in October ( I can't say too much regarding the tour until the headliners announce the tour themselves ) But I will say we couldn't be happier! it's going to be kickass! I'm sure the fans will be more than happy with the lineup. Also the album release and tour couldn't have had better timing with the album being released just a month prior to the tour. So all in all things are really moving along for the band, we can't wait for the album to be released and then to follow it up with another brutal tour.
Official website: http://www.legacyofdisorder.com