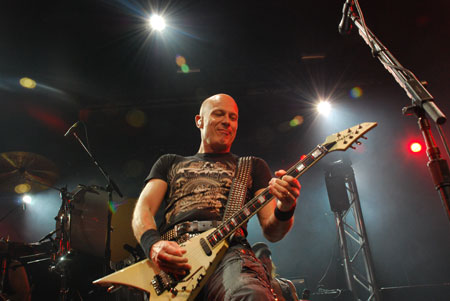 1. The new album,"Stalingrad", is an excellent follow up to "Blood Of the Nations". Were any of these songs written at the time of "Blood Of The Nations"?
WOLF: No, maybe snippets here and there. Maybe the main riff to 'Shadow Soldiers' was there but it didn't have all the other parts. Everything else was brand new. We really don't have much stuff left over when we work album to album.
2. Why the title "Stalingrad"?
WOLF: Its an interesting historic story at the turning point of World War II, and from the perspective of two soldiers who meet each other on the battlefield and their last dying moments (which is why the album has the subtitle Brothers In Death). This is just the topic for this one song, its not a concept album, just a collection of songs and "Stalingrad" was a real strong title for the album.
3. What did you try to do different with the music on this album?
WOLF: Nothing really, we wanted to keep the same vibe and energy we had on "Blood Of The Nations" without repeating ourselves.
4. If you had to compare "Stalingrad" to an older Accept album which would it be and why?
WOLF: It could have come out in the 80s I'd say, could have come right after "Balls To The Walls" and "Metal Heart". I think these last two albums, with Mark Tornillo singing, are as strong as they are is because we know where we stand as a band and know what the fans expect from us. What we are really best at. And Andy Sneap (producer) really helped us out going in the right direction.
5. Has the rebirth of Accept met or surpassed your expectations?
WOLF: O my god, surpassed definitely. I really prepared myself for the worst coming from the fans and critics when we decided to reform the band without Udo singing. When we first announced it we had this first negative wave, but I felt strong about this lineup with Mark singing and if it was ever going to work again now is the time.
6. What has been a highlight?
WOLF: Playing unforgettable shows, like our debut in New York city, opening for AC/DC in from of 80,000 people, great headlining shows, winning awards.
7. Tell us about the setlist for the tour and if you will add anything different?
WOLF: We are gonna play a few new songs, definitely keep in a couple from "Blood Of The Nations", and then of course the classics.
8. How would you feel about adding…
a. 'The Beast Inside'
WOLF: Ooo, that's nice. I like that one, the thing is we just never have enough time to do everything we want. And I really like doing more these obscure songs. And I'd like to do more stuff from those albums in the 90s. Even that album with David Reece singing, there's a few good ones on that.

b. Well, speaking of, how about 'XTC'?
WOLF: Yeah, that's another good one. We definitely could and should. And Mark likes these different ones too. We should definitely consider it.

c. 'Too High To Get It Right' or 'Screaming For A Love Bite'.
WOLF: Again, yeah…there you go. 'Love Bite' is a good one, very catchy.
9. How many are you playing from "Stalingrad"?
WOLF: We did a European show a couple months ago and did three songs, the title track, 'Hellfire', and 'Shadow Soldiers'. We'd also like to play 'The Galley'. We have this tour coming up in the fall in the U.S. with Kreator and I think its gonna be great. So we will see how much time we have, should have enough time for three or four new ones for that tour.
10. Was it your (Accept) idea to tour with Kreator?
WOLF: Yeah, it's a strong package, the German theme and they have been in the business so long too so it will be a great bill.
11. Shooting any promo videos for "Stalingrad"?
WOLF: Yeah we are trying to. You always have to think about these things because you don't want make anything that looks cheap, especially after the couple videos we did for "Blood Of The Nations". Plus, there is no real outlet for heavy metal videos, so you're just like giving away to YouTube. So that comes into play when you have to think about the expense. 'Shadow Soldier', 'Hellfire', 'The Galley' are options.
12. Releasing a DVD? Concert?
WOLF: We will, its not set in stone but we are working on something. Its not the Bang Your Head Festival but we will use stuff from that. When I do a DVD I want to put different stuff on their from different shows, not a repeat of the same setlist for a show or two.
Official website: http://www.acceptworldwide.com