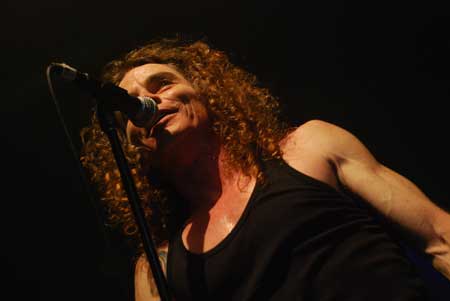 1. Tell us about the new album 'The Electric Age" and how you carried over the consistent energy and songwriting from "Ironbound"?
BOBBY: Well you know there was a good success with "Ironbound", but we didn't want to make a carbon copy of it. I think it just happens to be the same creative chemistry, plus we were touring in between recording which transferred into the studio. And you know it helps that we all get along well and that helps in the process as well. Ron (Lipnicki – drums) brings in this backbeat energy, Dave (Linsk – guitars) loves playing on top of that, and everything falls in place from there. It wasn't like we were on a time limit working on the album, between demos and delivery it was 8 months. We had done so much touring for 'Ironbound" that we were talking about these songs while on the road. It was really chemistry, time, and touring that lead to these songs on 'Electric Age".
2. The last few albums before 'Ironbound" and 'Electric Age" ("Immortalis", Relix XIV", "Killbox 13") all had good songs but overall not as strong as these latest two. Do you have any insight as to why those albums have their spotty moments?
BOBBY: Well "Immortalis" was that's Ron's introduction to the band, it was released in 2007, Ron joined in 05, so that was his first recording with us. I think to some degree nobody put a leash on him, but we weren't all 100% comfortable with each other. And prior to that album, "Relix" and "Killbox" were an end of a chemistry with Tim Mallare on drums, and that's huge because the drums are where it all starts sometimes, and comes down too. You can have a great song or performance but unless the drums have the right energy, that's the foundation of the house. And I think on the last two records we've had some high results in the drum area.
3. There are a few different riffing things going on that are really cool, even more retro-Overkill sounding. Was that Dave's idea for any of those riffs or is DD still coming up with them?
BOBBY: DD is still the riff master but Dave has a bigger and bigger influence on how the songs are presented at the end of the day. These guys really worked on the record from a technical end than a writing end, and I think the record is a little more tailored, more power packed and geared toward Dave's type of playing and lets him shine in regard to the riffing. But I think this album is a little more thrashy than "Ironbound".
4. What topics are you talking about on 'The Electric Age"?
BOBBY: Simple emotion, I tried to stay out of politics and social events, I don't want to tell people how to think (laughs). 'Old Wounds, New Scars' is about the moment when the lights flashing before your eyes and how frightening that can be but enjoying that moment. And I think it's the second time I use the word Jersey in it. 'Good Night' is kinda satirical tongue and cheek thing, emotion about what people are goin on at this time. Like the guy around the corner who hasn't worked in 18 months, these are real emotional issues. This is a guy I know, I'm actually sitting in my backyard looking at his house and he's always worried about losing it. Just trying to say how it is. 'Electric Rattlesnake' is just down and dirty rock n roll lyrics.
5. 'Black Daze' is one of my favorites, it has such a great mid-tempo romp to it. Are we gonna hear that one live?
BOBBY: You know I heard that riff from DD, when we were sitting there talking about the new album over a cup of coffee I said to him "well…what about the new record?", and he said "well, we aren't going to reinvent the wheel here" (hahaha), that was the entire discussion, hahaha. So I heard this riff for 'Black Daze' and I said he did something unique, it was like Deep Purple on steroids, and I wanted to give it my best with my voice crossed with Ian Gillan. I think its just got a great hook in the riff and the chorus. Its somewhere between the speed of 'Rattlesnake' and the pounding of a "Horrorscope".
6. Is there anything different in the world of Overkill since the success of 'Ironbound" and now most likely with "The Electric Age"?
BOBBY: Well its business as usual for a long period of time, but since the release of "Ironbound" in Feb 2010 its offered us more touring opportunities lasting almost two years. And our last show was on the 70,000 Tons of Metal Cruise and that was a great way to end the tour, on a vacation boat with a drink in the sun before getting on stage, it was great (laughs), almost takes the edge right out of ya before hitting the stage, hahaha. The success of the album also offered us shows in Australia, did some show in South America where we never played before, but now there is interest from the Pacific rim like China, Malasia , Indonisia.
7. How many songs off "Electric Age" will you play live?
BOBBY: This record is screaming to be played live, 'Come and Get It', 'Electric Rattlesnake', 'Save Yourself', 'Black Daze', at least those four. Maybe 'Drop The Hammer'.
8. What songs would you like to see from the back catalogue back in the set that haven't been played before?
BOBBY: There are some I'd like to see put to sleep too, hahahaha. Normally we do change things up, like during the "Immortalis" tour we through in 'F.U.C.T.' and 'Shred'. I think we will do 'Skull and Bones' again, 'It Lives', something off "Killbox" because I think that's a heavy piece of real estate.
9. Being a long time fan, there are a few songs I'd like to hear back in the setlist. What do you think?
a. 'Raise The Dead'
BOBBY: A ha, a ha, is that ours? Hahaha…I'm getting to that Lemmy (Motorhead) stage where I'm like "What album is that on?" I don't think that one is a possibility.

b. 'Electro-Violence'
BOBBY: That's a possibility. I like that one, has a great vibe to it.

c. 'Brainfade'
BOBBY: Not one of my favorites.

d. 'Who Tends The Fire'
BOBBY: I can do that one, that was a great record for ending that portion of the band, the departure of Bobby Gustafson and DD and I taking over the songwriting. It would be cool to do.

e. 'Live Young Die Free'
BOBBY: No, not a chance, hahahaha. The funny thing is when we did a song like 'Pagan Stomp', remember that one it had a good groove, but every time I could never sings that fucking song and I ran out of air, hahaha, I just didn't know to sing that kind of groove. To some degree same problem with 'Live Young Die Free'.

f. 'The Wait'
BOBBY: That one is actually being considered.

g. 'Long Forked Tongue Kiss'
BOBBY: Not being considered at this point, but I would do it.

h. 'The Rip and tear'
BOBBY: Another great one, maybe I will add that one to the list, hahaha.

g. Anything off "I Hear Black"?
BOBBY: We are talking about doing 'Spiritual Void' again.
10. Now that I mentioned "I Hear Black", what do you think is the most overlooked Overkill album?
BOBBY: Well I don't think "I Hear Black" is overlooked, people have strong opinions about that album since its not thrashy, it sold as much as "The Years Of Decay" did, and "Horroscope" sells as much maybe better than those two. I think the most overlooked album may be "From The Underground and Below", and I mean overlooked by the public, not me. I say that because the timing of it, we released that in 1997 which is why. That's why "Ironbound" did so well, the scene wasn't that healthy for "Underground and Below" at that time. Release "Ironbound" then and maybe that wouldn't have done well. The album would have just sustained us during unhealthy time. I think "Underground and Below" is one of my favorite records, its very cohesive and has no filler.
11. When Metallica, Megadeth, Slayer, Overkill, Testament, etc, retire, who do you think is going to take your place?
BOBBY: Hahahaha, I really haven't thought about it because its not in my nature to think about retiring, I think more about what I'm doing Wednesday…which is why it has worked for me. Singing for Overkill is not a burdening type thing for me, it's a day to day job I love to do. But I would think maybe some kind of new genre may take over once Metallica goes away because what they achieved in a metal genre is outstanding, they changed the rules. I think some of the younger bands, Warbringer, like Evile who are making a stamp on their stuff and becoming recognizable with their sound, taking on their own personalities. Maybe you start off emulating something and then grow from there, creating your own identity. Overkill took Evile and Warbringer out of the road and both bands have come a long way. And Havok are a very cool band, you introduced me to them. You talked about that band in the last interview we did for 'Ironbound".
12. You shot a video for 'Electric Rattlesnake'. Tell us about that?
BOBBY: Its done, shot it at the Paramount Theater in Asbury Park. It's a six minute song and since we don't have to worry about MTV and other channels cutting it on time (since they don't play music like this anymore), it gets the exposure on Youtube now. The video combines the band performing with a story line, we used Kevin Custer who did the 'Bring Me The Night' video, and I'm hoping the footage of the priest, convict, warden, all come together.
13. Touring plans?
BOBBY: U.S. in the spring till the end of May on the 12th at the Best Buy in NYC. Then off to Europe for some short runs and festivals like Wacken. The fall will be a European tour. In the beginning of 2013 a second U.S. run with a few good bands to make this a bigger event. Then another European run, some show in Mexico, maybe back to Australia that was cool when we went there.
Official website: http://wreckingcrew.com/Ironbound