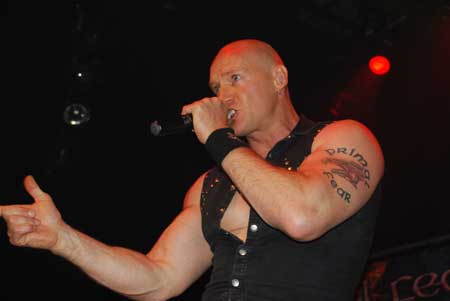 1. "Unbreakable" is Primal Fear's 9th album. Where are primal Fear in their career with this album?
RALF: The new album is great and doing really well. It charted in several countries including the U.S. I think we are somehow closing the circle because you can hear more guitars, its more aggressive, this time around. That's the vibe from the very first few albums to "Nuclear Fire", "New Religion" and "Seven Seals" were a little more experimental but that was totally meant that way. But this time we didn't change the way we actually write songs, but something like 'Where Angels Die' you can compare to 'Diabolus' or 'Black Rain' on the "16.6." album, we just replaced the piano and orchestra (which are still there in a couple songs) with guitars. (laughs) I mean everybody wants to be more successful but we are really happy where the bands is now and we just keep looking forward, I mean we entered several charts with the best numbers so far.
2. The last album "16.6" was back more to the band's classic sound pulling back on the orchestral elements used on "New Religion" and "Seven Seals". The same has been done on "Unbreakable". Looking back, how do you feel about those elements used on those two albums?
RALF: Still very good there is no way to complain about it. We are real happy with every phase of the band and what we recorded and the what we were going through at that period. Just adding those sounds on those two albums expanded possibilities for the music. It's not like we were changing our style. And you know always someone is always bitching, people who liked what we did on "Religion" and "Seals" think we are taking a step back. So we always have to make sure we make music we want to make at that time, you know?
3. What songs do you plan on playing live from "Unbreakable"?
RALF: Well we are just about to make a setlist and I think there are about five or six we will rehearse.
4. How involved do you get in the writing process for both the lyrics and music?
RALF: Well its shared amongst Mat, Alex, Magnus, and me. Everybody is involved at some point 25%. Songs like 'Born Again' maybe I contributed more in the lyrics.
5. The guitarists in Primal fear have been a revolving door. Do you see Magnus and Alex sticking around for a while?
RALF: Well I hope so. Now there's news that Magnus can't go on tour with us again because he has three kids. But he will always be a part of Primal Fear, either recording or if possible doing some shows and now we have to find a replacement for him for this tour. And you know it's a bad thing because its like "why can't Primal Fear stay together?" but that's the reality of it because we all have private lives and sometimes you can't dedicate anymore time to the band. But Mat (Sinner – bass) and I, and the other guys, are totally dedicated to Primal Fear. Magnus will continue to record with us, a lot of people think this is our best guitar team and they adapted to Primal fear's guitar style while adding their own ideas.
6. Did you see the Power metal episode of Metal Evolution which features some interviews with Mat Sinner, and what did you think of how the genre was represented?
RALF: No I have not seen it yet. I know a couple years ago they were at Mat's house speaking to him.
7. You sing on a great cover of Loudness' 'Crazy Nights' done by Therion. How did you become part of that?
RALF: Wow that's a long time ago, really there's no story behind it, they just got in touch with me and asked if I'd like to sing on a couple of tunes. It was cool, that's a good tune.
8. Over the last couple tours you didn't play any songs off "Black Sun". Any reason?
RALF: No, because we are playing one from the album on this tour. You know how it goes, with so many albums its hard to always play something from every album and it just worked out that way for those couple tours.
9. In a related question, there are a few songs I'd like to hear live. Ones that I've never heard in the U.S. What do you think on my additions?
'Church Of Blood' and/or 'Play To Kill'?
RALF: 'Church' was played in the earlier years, good song. 'Kill' I don't think so.
'Eye Of The Eagle'
RALF: We have played it during that tour for "Nuclear Fire" and its on our tentative list for this tour. So maybe an encore.
The return of 'Armageddon' or 'Fear'. Or maybe the addition of 'Cold Day In Hell'?
RALF: Those aren't on the list but we are doing the song 'Black Sun'.
'Sea Of Flames'.
RALF: That we've done at some festivals. Right now I have a list of suggestions for the setlist but it's not on it.
'Suicide and Mania'.
RALF: No. not at this time.
'Now Or Never'.
RALF: No, but I like that one, it has a great shuffle. See its tough because not only do you have the others guys in the band who have their opinions but also what songs fit together amongst the others. They all have to have a flow.
10. Plans to return to the U.S. in 2012?
RALF: Definitely but nothing is confirmed. We love to play America we are trying our best to come back as soon as possible.
11. Would it be possible to tour America with another European band like Edguy or Hammerfall since they also have new albums out?
RALF: Never say never but I don't think it would happen with those bands because usually when you tour the States you have local support. It just works out that way.
12. How did things go with your solo album and would you want to do another one?
RALF: It went well, I worked on it for a couple years to collect my ideas, and Mat Sinner helped out with the music. Initially the idea came up in 2007. Its gonna take a while before I do another one because this year is dedicated to Primal Fear
13. Are you involved in any side projects?
RALF: I'm singing stuff here and there for different bands, maybe a duet or something but it's a little too early to talk about it.
14. Doing another promo video for "Unbreakable"?
RALF: There were negotiations of maybe doing something with a guy here in Germany who does big budget action films.
15. What is Primal Fear's plans for 2012?
RALF: First we will do a European tour end of March. Then maybe Scandinavia, summer festivals, dates in North and South America. And maybe Australia for the first time.
Official website: http://www.primalfear.de