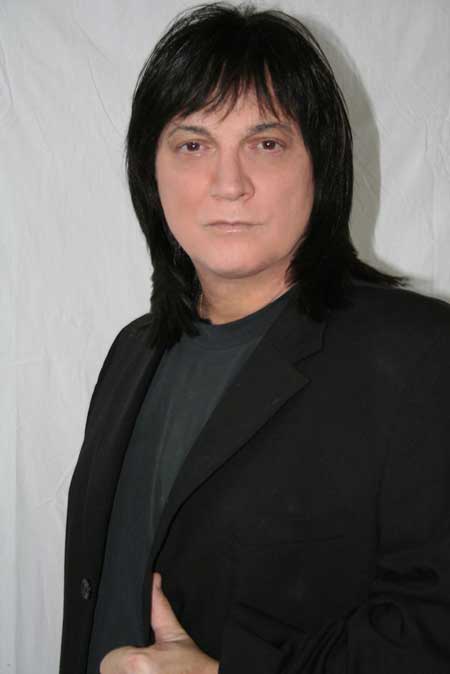 1. How does the new album, "Big Money", stack up to the last three albums?
JAMES: I think it stacks up very well. I think consistency has been one of our strong points and that we always try to stay on par with what the last release was like if it was good, but it's all up to the listener and what they are into.
2. Are you happy with how "World Upside Down", "Come To My Kingdom", and 'Cartesian Dreams" turned out?
JAMES: Oh absolutely. I really like the new more guitar driven direction of the group. We are in 2011, we can't stay in the 80s but we still have the melodic sense of our old albums.
3. When you started writing songs for "World Upside Down" was it hard to recapture the classic sound?
JAMES: No because after "The Power And The Myth" (2004) I knew exactly what had to be done. The band was on the wrong course on that album and that's why the record company asked if I could get House Of Lords back on track. But I couldn't do that with the lineup we had at the time because everyone's taste had changed so dramatically. And it seems I had found the right guys for the last three albums.
4. When you started writing the songs for "World Upside Down", "Come To My Kingdom", and "Cartesian Dreams", you were writing the music with the new members in the band?
JAMES: What we do is we use Jimi Bell to create all the riffs and then once they are done then it's a matter of putting the right melodies on them. Jimi's riffing style is a lot different than what we were use to in the past, its a lot darker sounding. And with these melodic melodies it works great on top of those heavier riffs.
5. Since the sound of House Of Lords was very keyboard based in the 80s of the first three albums (House Of Lords, "Sahara", "Demons Down"), were keyboards ever the starting point to any of these newer songs with the new lineup?
JAMES: Really none of the songs off the first three albums were really written with a keyboard, it was more acoustic guitar. Singing a melody and finding something that really works. Keyboards were added later and an important factor to our sound. Now with Jimi we lean more toward the guitars.
6. Tell us about "Big Money" and if there was anything you tried to do different with the music?
JAMES: Yes, not really differently with the music, but the production we wanted to sound less polished. I remember listening to Led Zepplin records and how raw these records were, how could almost hear them in the room. So I wanted to recreate some form of that, I mean its impossible to recreate something like that sound but "Big Money" is an edgier record. And for people who want to listen to a band that's sometimes the best way to listen without the candy and sugar coating that goes on top. Its easy to polish a record but hard to give it a vibe. How it relates to other people is another story.
7. With the title "Big Money" is that a theme for the whole album or just that song?
JAMES: Just that song, 'Big Money' was a song written and had all the elements of being an opening number, it drew you in opposed to a title that doesn't mean anything. It means a lot in society today.
8. Is the lineup the same from the last three albums for this one too?
JAMES: Yes. Well one tour we had a different bass player because Chris McCarvill couldn't make it.
9. When picking the live setlist which songs are always in from the first three albums?
JAMES: 'Pleasure Palace', 'Slip Of The Tongue', 'Love Don't Lie', and 'I Wanna Be Loved'. From the second album 'Sahara' and 'Can't Find My Way Home'. I'd like to do more from that album like 'Kiss Of Fire' but we have other stuff from the newer albums that are very similar. Things like 'Pleasure Palace' we have nothing like that in our newer stuff. From "Demons Down" we never did the title track because it's the same format as 'Can't Find My Way Home'. 'What's Forever For' we played a few times but already have 'Love Don't Lie' and a couple other ballads from the newer albums and you don't want to do too many ballads.
10. Why doesn't House Of Lords play more shows in the U.S.?
JAMES: (laughs) Well that's a good question. Sometimes it's hard to find venues suitable for what we do with good PA's. but in Europe it's a whole different animal, people still love this stuff, it's like you never went away. I mean there are diehard fans who still come see us in America when we do play shows, just tougher because this music style is just not as popular as it use to be.
11. Has it ever been discussed to have House Of Lords be part of a package tour in the U.S. with similar bands?
JAMES: Yeah, we did that once I think with LA Guns, and we did it three years ago, it wasn't LA Guns but someone similar, it worked out ok but its always a financial thing. When we go to Europe we actually make money.
12. What are House Of Lords top 3 accomplishments?
JAMES: For me, to make consistent records, make great videos, and play some great live shows. When we did Rocklahoma that was cool, played to a lot of people. But most festivals, and the best, are in Europe.
13. What's House Of Lords fanbase like today in comparison to in the 80s and early 90s?
JAMES: Well in the 80s we did huge tours with Scorpions and Ozzy, you name it. Its smaller now but not so small where we can't have a good record deal with a company like Frontiers, I mean we are one of their top selling bands considering they have quite a few artists.
14. What is the fan and critics reaction to House Of Lords today compared to the 80s?
JAMES: Well there was a lot of skepticism when "The Power And The Myth" came out and then I made a change in musicians. Many said it would never work until they heard "World Upside Down". People who were fans before are again fans now.
15. What are three of your favorite House of Lords rockers, and ballads?
JAMES: One from "World Upside Down" is 'Rock Bottom', "Come To My Kingdom", 'One Man Down' from "Big Money", and 'Desert Rain' from "Cartesian Dreams". Ballads, 'Sweet September', 'The Next Time I Hold You' , and 'Your Eyes'.
16. Speaking of ballads…I really liked 'The Train'. Why was it a bonus track on "Cartesian Dreams" and not on the album from the start?
JAMES: Believe me that song I had to fight to get on the record, and a lot of people like that song. The thing is if you look at a European market it doesn't have that sound, its more Americanized, it's hard to explain, it's more of a style, and 'The Train' has almost a country feel. So the record company said if you put it on it has to be a bonus track. We have some people in Europe who don't like 'Searchin' off "Big Money" because it's a groove shuffle that's not their thing.
17. On "Cartesian Dreams" 'The Bigger They Come' has a very Gamma Ray/ Edguy feel to the galloping rhythm but it has a very House Of lords chorus. Are you influenced at all by any of the European Power metal bands?
JAMES: No, actually when I did that song I was thinking more of heart's 'Barracuda' than anything. Maybe Jimi is influenced by those bands a little.
18. House Of Lords plans for 2012?
JAMES: We are doing some festivals in Europe after some shows in February. After that I go in the studio to finish my wife's record. After that onto House of Lords new music. I think we are inviting a couple of old members back to work on a few songs, bring back a little nostalgia on the next album.
Official website: http://www.jameschristianmusic.com/home.html