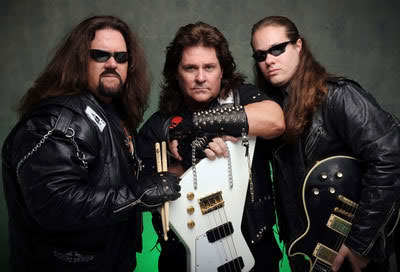 1. Give us a little history behind the band?
JAMMER: My brother and I started a band shortly after high school. We had originally started out as a cover band, but could not find an adequate singer. After listening to Killed By Death from Motorhead, we decided that I should try to sing and go from there. We would just mold our style around my vocals, like Lemme. We soon started landing gigs, but as we were just getting going, we got an offer to become professional wrestlers, so the band was on hold. Did the wrestling thing for 15 years, decided to try the acting avenue because it seemed like the right time to try something new. Moved to LA, had some moderate success with national commercials and some smaller budgeted movies. The last couple of years in the industry have been slowed by strikes and a slow economy, thought we should pick up the band again and see how far we could go. And that is where we are right now. A long road to getting back to something we have always wanted to do and loved.
2. Why the name?
JAMMER: Because that is who we are, in wrestling and in music. We are big powerful guys and that reflects in our music and when we wrestled.
3. Having two ex wrestlers in the band, Slammer (Drums) and Jammer (Bass/Vocals), how does that effect establishing a fanbase?
JAMMER: It only helps, wrestling fans are wild and crazy just like music fans. They like it loud and aggressive and that is how we play. So it helps bring the two worlds of fans together.
4. Being ex-wrestlers what type of reviews do you get? Are you perceived as serious musicians or this being more of a fun garage band?
JAMMER: We have gotten nothing but great reviews on our EP, even though we know there will always be some haters out there. We worked with Bob Kulick, a guitar legend and Grammy award winner, do you think he would work with a "Garage Band"? Of course not, and if we have his approval that is good enough for us. Just because you have not heard of us before doesn't mean we haven't been playing, but when we come to your town, check us out and see what you think.
5. Do you want Brute Forcz to be taken seriously?
JAMMER: That is probably the dumbest question I have been asked so far. Good job, do you want your journalism to be taken seriously? Make sure if we ever meet, have us show you how to do a neckbreaker !!!!!!!
6. I hear more punk/hardcore in your music than anything else? Would you say that is your style?
JAMMER: By most, our style is called old school heavy metal, and that is just fine with us. We come out blasting and turn up from there. We are heavily influenced by Motorhead, and they sounded punk when they first came up. Not comparing us to Motorhead, but we will take the comparison.
7. Brute Forcz has opened for Wasp, Y&T, Michael Schenker, LA Guns, and Loudness. Was their crowd receptive to your music?
JAMMER: Oh hell yeah. That was one of the benefits to us, to get our music out to established crowds. We have gotten a lot of new fans because of this, and all have had a great head-banging experience.
8. Plans for the rest of the year?
JAMMER: We want to tour as much as we can, anywhere we can. Fans need to experience Brute Forcz. We also plan to go back in the studio and finish our first album, with Bob Kulick.
Official website: http://www.myspace.com/bruteforcz