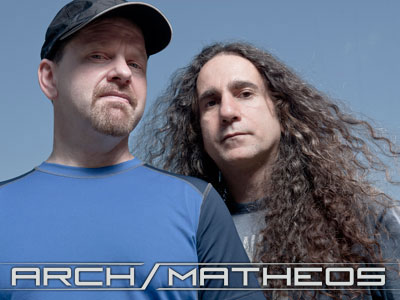 1. When you started working on these songs for "Sympathetic Resonance" with Jim Matheos, did any of them feel like the music you sang on those first three Fates Warning albums?
JOHN: Not Really, The compositions themselves were different and also the vibe was different as well. Being away from the actual band experience, where I have not been immersed in music rehearsing and performing consistently, really dulls the senses and confidence level, so the "feel" at the start of this was more of intimidation of the task at hand.
2. Did you and Jim ever consider putting this out as a Fates Warning album? It worked for Savatage when Jon Oliva came back to the band singing and Zak Stevens was their current vocalist too.
JOHN: It was talked about at first, and it certainly would have been easier and identifiable to the fans, but for reasons including a conflict of contractual obligations among other reasons, we thought better of it.
3. Why the album title "Sympathetic Resonance"?
JOHN: Jim and I spent months hashing over album titles, and there were a lot of them, but in the end, this tongue twister of a musical term really sums up the meaning behind the lyrics and the intensity of the music. When slightly tweaking it's meaning to run in parallel with the human emotion the bigger picture of the connection we make to each other through empathy is realized.
4. Before working again with Jim on this album were you still involved in the music industry? If so, what have you been doing?
JOHN: Music once again slipped out of my hands after my Ep "A Twist Of Fate", again if you are not immersed in it, it can easily become something you just daydream about.
5. How involved were you in the songwriting process on "Sympathetic Resonance"?
JOHN: Very, much in the same manner Jim and I had worked together in the past, Jim composes the musical arrangements and I study them and add the lyrics and melodies. It is very much a democracy, we don't always agree, but there is an infinite number of possibilities, and we are usually happy with the outcome.
6. Any plans to play live?
JOHN: Thus far the only show is the KIT festival in Germany.
7. Looking back on "Night On Brocken", "The Spectre Within", "Awaken The Guardian", what are your thoughts on those albums, good and bad? "Spectre Within" and "Awaken" have become considered classics.
JOHN: Well, I think I have learned to accept things for what they were at the time with all the variables taken into consideration. There are certainly things that are painful for me to listen to now, but as a whole, with all it's bad production, sour notes and rawness, it is a part of growing as a band and musician and you take the shining moments and try to build on them.
8. Are you familiar with current progressive metal music? If so, who are a few of your favorites from the last 10-15 years?
JOHN: I am familiar with the more visible bands Like DT. Opeth , Tool... etc and have heard bit and pieces of a myriad of up and coming bands, like Trivium, Between the Buried, and I am blown away by the technical ability of these guys, I still remain a big fan of good melodies which leaves me partial to bands like Kings X ,Uriah Heep, I dare say Tori Amos. The sad thing is I know there are so many bands out there I would love, but just haven't heard yet.
9. Did you keep up with Fates Warning's music since you left the band?
JOHN: Of course, been a fan of every era of Fates and I have always wished them well .
10. Plans for the coming year?
JOHN: Practice.. Practice.. Practice
Official website: http://www.archmatheos.com