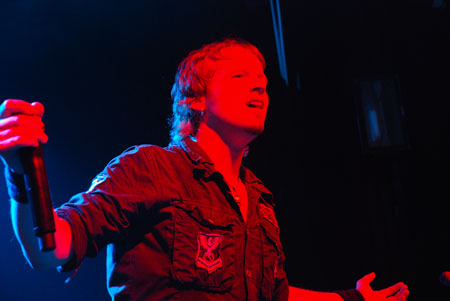 1. The last album "Tinnitus Sanctus", in style and delivery several of the songs had a more contemporary Americanized feel. "Age Of The Joker" definitely feels more like a cross between "Mandrake" and "Rocket Ride". Do you hear this as well in the songs?
TOBIAS: I can't really judge at this point. People who have heard our new album "Age Of The Joker" say that we're kind of moving back to the roots in some way. Even if that would be the case, we definitely didn't anything like that on purpose. I still love "Tinnitus Sanctus", it was brave, ballsy and we enriched our metal sound will several exciting new details, while in my opinion we maintained the spirit of Edguy. "Tinnitus" was an outstanding album but when we started working on this new album now, we reset everything to zero and started from scratch. Our only goal was to do the best Edguy album possible, to maintain our trademarks and still keep things exciting. We had never tried to sound American or European, we had never tried to sound like anyone or anything else, we just wanted to do the best possible record. And in my opinion "Age Of The Joker" is a very very strong album. I am really proud of it.
2. When the songs were written for "Tinnitus Sanctus" were Edguy trying to break in to the mainstream American rock market?
TOBIAS: Not at all! It would be stupid to try to break into a certain market by adjusting your sound, because if you follow others, you will be always late. I never had the feeling that the songs on "Tinnitus Sanctus" were that much different. Maybe we had a state of the art production, maybe even modern, but to me the songwriting was typical Edguy. Most songs were over five minutes longs, had lengthy guitar solos and bombastic choirs, I don't think this kind of music is mainstream anywhere on this planet. We could have had a hit with 'Ministry Of Saints', but we are on an independent label, and especially in the USA we don't get radio airplay, let alone the marketing budgets to draw the attention of the mainstream. No, we never thought of any market. We just believed in the record, and I still think "Tinnitus" and "Rocket Ride" were better than anything we had done before.
3. Why pick 'Robin Hood' for the first single/video? What was option #2?
TOBIAS: 'Robin Hood' is a light hearted, easy going, good time Heavy Metal anthem, it's tongue-in-cheek, plays with cliches and it's got all Edguy trademarks. When the record label suggested to shoot a video, who am I to get in the way of such an opportunity? It was great fun, watching my bandmates in really ugly green tights, it was hilarious and we had a great time. Of course, 'Robin Hood' is not the kind of song that will receive major radio airplay here in Germany, nor anywhere else in the world. But I guess this band can afford to not care about airplay. We believe in the song, we thought it's a great idea, millions of people have watched our previous video clips on Youtube, even MTV don't get you bigger exposure. So our fans will get to see the video, they will tell their friends it's worth checking out and word of mouth will do the rest. It was a gut decision to make 'Robin Hood' the single, although the length of the track, even the edited version and the fact that it's a traditional old school Heavy Metal song doesn't really make it an economically reasonable decision for a radio single. But who cares? Option 2 was 'Two Out Of Seven', we have shot a clip to that one too, but it's kind of a boring clip, still a great song.
4. Something like 'Pandora's Box' is different (and cool) for Edguy with that southern feel to the guitar. Did you go into writing songs for "Age Of The Joker" with the intention to create something unique not heard on a previous Edguy album?
TOBIAS: I guess that's something you strive for subconsciously. Really, I don't think too much about what to do and where to go, because at the end of the day it's art, and art has to be heartfelt, so I try not to analyze things. But of course, you have that instinctive urge to keep things exciting for yourself, so we don't get bored. I have a certain way to compose, we have a certain sound as a band, but of course with every additional year of experience you develop more and more a hunger for discovery. We will always sound like Edguy, we have a distinctive sound as a band and I guess I do have an instinctive sound as a songwriter. But still its great to keep things exciting by spicing them up with little new bits and pieces. We maintain the core of our music, we always have done that, but we are always interested in adding new colors when painting the surface.
5. 'Faces in the Darkness' and 'Fire on the Downline' sound like they would have been perfect for Avantasia. Were they ideas for Avantasia?
TOBIAS: No, because whatever I do, I never work on or think of two projects at the same time. When I compose, I compose for what I have on the table and I compose like there'd be no tomorrow. In general, the first creative process when composing, that spark that ignites the flame that becomes a final song... In this very first inspirational moment, there's no difference between composing for Edguy or Avantasia. I wanna write the best possible melody, or hookline, or riff, or harmony. It's only a few steps later, when the song ideas get worked out in detail, that's when the difference between the projects starts to matter. 'Fire On The Downline' and 'Faces In The Darkness' have both been written for Edguy and "Age of The Joker" in particular.
6. 'Beyond the Gates to the Midnight World' world is one of Edguy's best arrangements, from the heavy riff, to the melodic bridge and chorus, to the Savatage feel of the guitar leads and piano. Are you influenced by Savatage, the Oliva brothers, and Paul ONeil?
TOBIAS: I know Savatage and I really like some of their stuff. In fact Jon Oliva has sung on my latest Avantasia album, he is real nice guy and he has written and sung on plenty of great songs. I cannot say that I tried to pay tribute to Savatage with 'Behind The Gates To Midnight World', but of course it may have happened coincidently. Whatever you listen to, if you like it it may inspire you and it may have an effect on your own creative work. I think this is great, because it would be arrogant to deny your roots. I guess that's the way music and achievements of our creative forefathers remain relevant to us in the long term, and I think we should pay respect of that. If you take a song of our new album for example, "Nobody's Hero", it is clearly inspired by Dio. We didn't do that on purpose, but I love his music so much and it has had such a massive impact on me that later on, when "Nobody's Hero" was completed, I realized how much it must have been influenced by Ronnie Dio. I guess it is good to pay respect and tribute to the ones who have inspired you, as long as you don't steal their legacy and pretend its yours. I think "Nobody's Hero" is definitely our song, but our fans can hear, what inspired me.
7. Touring plans include the U.S.?
TOBIAS: I hope so. We don't have definite plans for the USA at this point, but I expect us to hit the States in 2012, be it as a co-headlining act, or a headliner or a support act, I don't know. But I don't see any reason why it shouldn't happen. It's been too long now, since we've been over for the last time...
8. For the tour, would you like to buddy-up with one of your fellow piers, like Hammerfall again, or Primal Fear, Gamma Ray, Blind Guardian?
TOBIAS: Why not? But it's not just a matter of catching up for a beer and twenty minutes later we can confirm a common 87-dates-US-tour, haha! A lot of business decisions must be settled and all of us bands are much bigger in Europe or South America or Japan, while the distances between cities are so much bigger in the US, which makes touring quite expensive over there, especially when you come with two bands and two crews and two busses and all that. We'll see, I am optimistic we will come over, we'll find a way to do it.
9. There are a few songs I would like to see added to, or back in the setlist for America. I'm curious of your thoughts on them?
a. 'Headless Game' or 'Wake Up The King'
TOBIAS: It's funny you mention this, we thought about including one of those two in our new setlist for the forthcoming tour. I like those songs, although 'Wake Up The King' shows how much we were influenced by Stratovarius at the time.

b. 'Nailed to The Wheel'
TOBIAS: Great song, very aggressive. We have played it on a few occasions and the fans were not crazy about it which I don't understand.

c. 'The Pharaoh' or 'Piper Never Dies'
TOBIAS: We played em both live. 'The Pharaoh' made it back to our setlist on the last tour if I remember right, 'The Piper' was played on the "Hellfire Club" tour and on several shows during the "Rocket Ride" tour as well. I prefer Piper, although I like them both. But we won't play them on this tour. Hey, we got a killer new album out. We have to play those songs for the people.

d. 'Forever'
TOBIAS: Good ballad, but I don't really like the performance of it on the album, it's a bit stiff and could have been done a little better. Great ballad, but not our best I would say. Almost every ballad we have done since then was better, in my humble opinion at least.

e. 'Fucking With Fire'
TOBIAS: Great song, it was meant to be a fun track but we love it and our fans love it as well. You know what? The title comes from the movie Trick Or Treat, a cheesy 80s Heavy Metal Horror movie, the protagonist is a singer who looks like Blackie Lawless and one of his albums in the movie is called "Fuck With Fire". There was another album called "Do It Like A Dog", and I tried to talk my friend Bruce Kulick into calling one song on his solo album that, but Bruce was not to crazy about it, I thought it was a cool idea because Bruce is "the dog", but we changed the title to "I'm The Animal". Anyway, 'Fucking With Fire' is a great tongue in cheek track, which we play live on a regular basis.

f. 'Wasted Time'
TOBIAS: Great song, one of my favorites on "Rocket Ride", for some reason we never played that one live.
10. Since Eric Singer and Alice Cooper have both been part of the Avantasia albums, what are the chances of Kiss or Alice bringing Edguy on tour as openers? And in the U.S.?
TOBIAS: Well, I am good friends with Eric and if he'd be in charge, we'd probably tour the world with them, but it is not his business, it's Gene and Paul and actually we have never even tried to tour with Kiss. Don't ask me why... As for Alice, he is a true gentleman and I feel blessed to have had him on my album, but apart from that we have not really kept in touch. I guess those decisions depend on various points, does it make sense at a certain time, on a certain market, for a certain budget? What do the labels think? What does the management think? We've done amazing arena tours with the Scorpions or Aerosmith, we played stadiums with the Scorpions or Iron Maiden. I guess now it's time to go out on our own again and do our first own headliner tour in three years. And then we'll see...
11. And how about the Scorpions too?
TOBIAS: Well, I just talked to Rudolf about their tour of the States, maybe two weeks ago. But it's so damn difficult to make it economically worthwhile to tour the States as a support act of an arena band, and our label wouldn't see a reason to pump half a million dollars into a support tour in the USA. I guess we'll have to go out on our own again, play the clubs on our own or with another club band and do it the hard way.
12. What new younger band(s) would you like bring with Edguy in America?
TOBIAS: Wow, I haven't heard any younger band recently, except from that Swedish AOR band H.E.A.T! They are absolutely worth checking out!
Official website: http://www.edguy.net