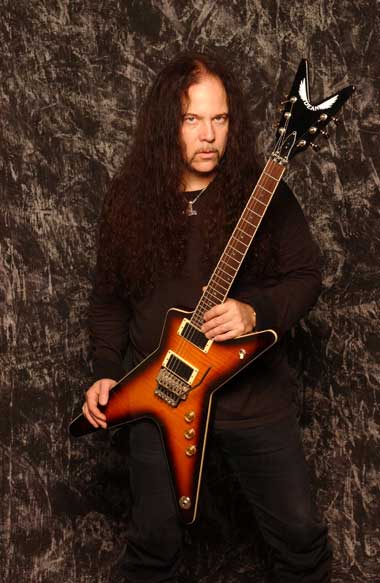 1. Throughout Vicious Rumors long history there have been many lineup changes. Do you find this a positive or negative to the bands existence?
GEOFF: It just turned out that way, I'm very thankful for the long career that I have had and all the talented players that have been in VR over the years. In 2011 we have a killer line up and a real strong new Cd "Razorback Killers". This is our 10th studio album and were playing for blood!!!
2. Vicious Rumors has also had six singers. Which ones have been the better choices for the music?
GEOFF: Carl Albert was the voice of VR. When you start at the top it's hard to raise the bar any higher. Our new singer, Brian Allen, in my opinion is the one guy we have worked with who we feel can do the old stuff and move into the future. It's a very hard job to be the singer in VR! With Brian we are as strong as ever!!
3. The new album, "Razorback Killers", recalls the greatness of the self titled 1990 album and "Welcome To The Ball". Do you hear that as well and why?
GEOFF: Thanks so much!! So glad you like it and feel it's in the ranks of other great VR albums! I do feel this way too! "Razorback Killers" is one of our very best albums!! We're on track to fill up a big space in metal music with Judas Priest and Scorpions saying good bye and the loss of the great Ronnie James Dio. VR is still here to fill your needs. We are one of the last bands of our kind. We wanted to make a classic VR album with all the power of today!! With passion and fire the VR ball rolls on!! This is in our blood!!!
4. Tell us about the new singer Brian Allen and what he contributed to "Razorback Killers"?
GEOFF: Brian brings a wide range of aggressive lows to soaring highs. Brian came in and sang the songs (I wrote) with a ton of power. We did a 5 week tour of Europe at the end of 2010 and his voice holds up on tour. That was a great beginning for us to make this killer album and do the tour. We start again with Europe at the Keep It True Festival April 29, then to the Dokk'Em Festival May 28, all tour dates are at www.viciousrumors.com.
5. Who wrote the music and the lyrics on "Razorback Killers"?
GEOFF: I always write most of the stuff and it was the same with "Razorback". I did most of the music with Larry (6 songs) and 2 with Kiyo . 2 songs on my own and all the lyrics . It was a lot of work and I'm very proud of all the hard work the band did to get to the final Cd.
6. Shooting a promo video? If so, what song?
GEOFF: We will do a couple promo videos. At least 2 songs.
7. What are the touring plans for 2011? Will it include North America?
GEOFF: The first part of the tour as I said is April 29 to May 28 in Europe. We plan on doing the USA, Japan part 2 in Europe and just keep the ball rolling as much as we can!
8. If you could pick three bands to tour with who would they be?
GEOFF: It would be great with Priest, Iron Maiden, The Big 4 (Metallica, Megadeth, Slayer, Anthrax), the list goes on.
9. In the U.S., Vicious Rumors has always been somewhat of an underground band. What other hard rock/metal bands from the States do you think deserve to be more recognized?
GEOFF: Jag Panzer, Helstar, Crimson Glory, and that list goes on too.
10. What are three of the best accomplishments Vicious Rumors have achieved over the years?
GEOFF: a. Staying together for over 30 years and putting out 12 albums, b. Never slowing down or getting weak in our sound or performance. c. 3 Cds on Atlantic Records, 4 MTV Videos , VH1 Classics, performing all over the world.
11. Closing thoughts?
GEOFF: VR is over 30 years of Heavy Metal! We just want to thank all our fans old and new. The ball is back! Vicious Rumors Razorback Killers World Tour in 2011. See ya on the road!! This is Metal!!
Official website: www.viciousrumors.com