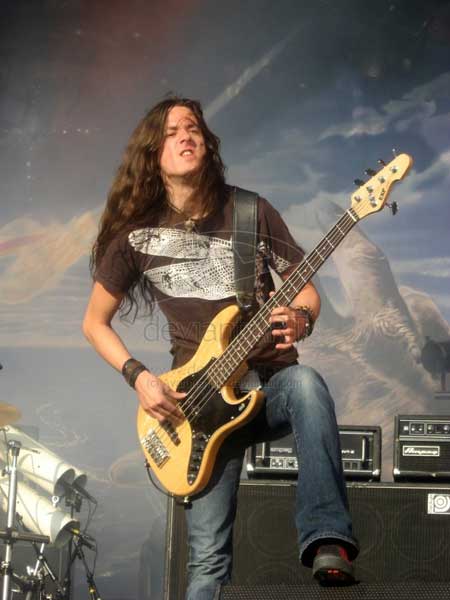 1. The new album "Elysium" sounds like the band has really come together as writers. Was it difficult to capture that Stratovarius magic?
LAURI: When we were putting together our last album, "Polaris", it was the first time we really worked together democratically on an album. With "Elysium" we could use all the things we had learned from the previous session. Also our guitar player Matias was now more integrated into the band since we had toured for a few years together and now we also could use his playing and writing talents a lot more this time around. Even though it definitely was a team effort Matias was a key element in making "Elysium", the last time he was more of a new guy as we were not yet so comfortable with each other.
2. If you had to compare "Elysium" to classic Strato, what album(s) does it remind you of?
LAURI: Maybe "Dreamscape" or "Episode", still I think it is a completely new album for us. But maybe some of the more progressive things may be linked to Stratovarius of that era.
3. Has Matias become 100% comfortable playing in a band with such a long history and back catalogue?
LAURI: Yeah very nicely. It did take a trip around the world and about 100 shows but now he is fully in the band and can be respectful to the tradition of Stratovarius while incorporating his own innovative self at the same time.
4. How much input, or how much music did he write, on "Elysium"?
LAURI: Very much he wrote most of the music that ended on the album and also produced it.
5. Why the title "Elysium"? is there a concept or theme to the lyrics?
LAURI: Not really we just want to find a good title to set the mood of the album. it does not necessarily have to be so tightly connected with all the lyrics. The mood is essential, or at least that is what I think, somebody else might give you another answer.
6. How is Jorg doing? Is he cancer free?
LAURI: Surprisingly good. He still has to go to some treatment for the cancer but he already joined us for the second part of the European tour. It is surprising (to me) how well the doctors have been doing. His kind of cancer is one of the thyroid cancers and it is one of the more manageable cancers, if you can say that. Jorg seemed to have quite a German take on it, he got cancer, took 1 month off and came back to work. Crazy guy.
7. Shooting a promo video for "Elysium"?
LAURI: I don´t think so. We were supposed to at some point but Jorg's illness made us take a little break when we would have done it.
8. How has the critics and fans reception been to Stratovarius carrying on without Timo Tolkki?
LAURI: 99% extremely good. Nevermind the critics opinions, but the opinion of the fans was very important to us, if they would not have wanted for us to continue as Stratovarius, we would not have. When we were recording "Polaris" we didn´t know yet if it is going to be a Strato album. But after listening to it (together) we decided it sounded like a Stratovarius album. And the fans seemed to accept it as such. We went for it. Of course some people miss Timo Tolkki who was of course the main driving force in the band for such long time, but he is still making great music. If you don´t like the new Stratovarius stuff grab some of the many albums Tolkki has put out since his departure. There is always room for all music.
9. Will the Helloween tour come to North America?
LAURI: I´m not sure at this point. Let´s see in the fall.
10. What type of setlist are you playing and have you added any different songs?
LAURI: Due to the size of Stratovarius back catalogue the core of the set always seems to be based in the classics. Songs like 'Hunting High And Low' or 'Black Diamond' you just cannot leave out. Then we try to put new songs here and there in between. Timo Kotipelto had some problems with his vocals on the second part of the European tour so we pulled out an old instrumental called 'Stratosphere'. We try to keep changing the set a bit all the time to keep it interesting but there is a lot of songs to choose from.
11. Playing anything off the first 3 albums?
LAURI: I don´t think so, when we put songs in the set that most people don´t really know, I would just make it new songs...and besides none of us who are currently in the band was there at the time.
12. Recording any shows for DVD?
LAURI: No plans for that. There is a lot of stuff recorded from the earlier days, maybe those will get released sometime. Everybody is always asking this, personally I´m not really interested in live DVD´s, not ours or somebody else's. I´d just rather hear some new music.
13. Will you be releasing any pro shot concert footage from when Tolkki and Jari were in the band?
LAURI: There are a bunch of concerts shot professionally from that era and maybe someday they will get released. Since I wasn´t there at the time I sort of don´t have an opinion on releasing that stuff.
Official website: http://www.stratovarius.com