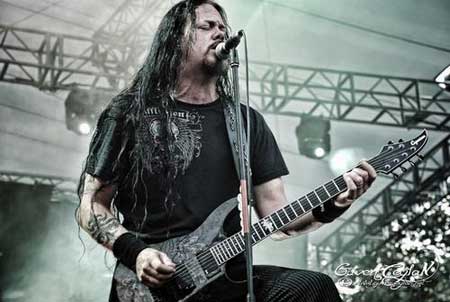 1. The new album, "Glorious Collision", is more of a return to Evergrey's sound and style on "Recreation Day" and "Inner Circle". Was this intentional and why?
TOM: Nothing was intentional for this album. The only intention was to see if we could still write songs at all, trying to see if we could make songs after three members leaving, you know? Because you never know how much of a moral impact something like that could have. So we wrote for a week and wrote faster than ever. And then we started searching for a new guitarist, bassist, and drummer. In the beginning it was like an experiment to see if we (myself and keyboard player Rikard) could write without taking two other guys opinions into consideration. Our new guitarist Marcus wrote two songs, 'You' and 'Fit The Mold', with me. The bass player Johan Niemann and drummer Hannes Van Dahl had some input once we started recording.
2. Evergrey's last two albums, "Torn" and "Monday Morning Apocalypse", had a bit of a different sound. Can you tell us what makes those albums different?
TOM: Well actually I think each and every Evergrey album is a little different and "Monday Morning" maybe differs the most because we worked with a production team we never worked with before and that also came from another genre of music even though they (the guy who mixed the "Monday Morning" album) did work with Rammstein and stuff like that. We wrote the songs for "Monday Morning" and then contacted the production team, people think we let someone come in and write songs for us which is not true. The production team came in and had their opinions about the songs, but if "Monday Morning" would have sounded like "Recreation Day", more like this album now, then people would have not reacted, whether it be positive or negative, the way they did. And we played with that a little too, using the other artists they worked with in our adds like "mixed by Ralf Glaumann who also worked with Britney Spears" and stuff like that. It's fun to goof around a little with the metal audience because they are so strict at times (laughs), its very easy to make the metal fans upset you just have to mention Justine Timberlake and NSYNC and people go fucking nuts.
We try and compose to keep things fresh for ourselves and that's what makes things different the most. For ourselves it's important to keep things interesting and do things in different ways, like to record in a new studio, or doing things by ourselves. Over the years Evergrey have worked with 5 different technicians, engineers and producers so that's a lot for eight albums.
3. What did you have to do to get to the direction on "Glorious Collision"? Anything specific?
TOM: Hahaha, It was enough just adjusting to losing three members and now just having to take into consideration just what one person had to say instead of three others. It made things easier in a way, I just had to turn my head and ask Rikard if he liked it or not and I would do the same with him. We met often, sent files to each other.
4. Evergrey has a new guitarist, bass player, and drummer. How much input did they have on "Glorious Collision"?
TOM: Well not that much except for the two songs Marcus co-wrote with me. Things like an opinion colors the songs during the production and recording, the attitude behind the bassist makes a difference in the sound. It's not only the writing that makes an album. I think they have made a major impact making the album sound like nothing Evergrey has ever sounded like before which is a nice change of pace.
5. Is there a theme or concept to the songs on "Glorious Collision"?
TOM: Nope. The first five songs though do deal with breaking up with old members. Of course we dealt with a lot of stuff and it was great to get those feelings out, I don't know if you read it but there is no hard feelings between us and there still isn't. Just the small issues could have turned into greater problems so we decided to go our separate ways so that it wouldn't affect our friendship, you know.
6. Did you try any new ideas with music this time around?
TOM: (Laughs) I'd like to say yes, but no. I think maybe we incorporated more acoustic guitars, although we have done that before.
7. Were any of these songs on "Glorious Collision" meant for a previous album?
TOM: No, everything was from scratch and we have a bunch of songs not used. Usually we wrote enough songs for the album at the time, this time we over wrote, there was a lot of music in us that wanted to come out.
8. Any idea of the touring plans?
TOM: Yeah we have an American tour coming up in Sept (that I can't talk about yet) after we play the ProgPower festival. Then we do like a month in the States.
9. How many new songs do you want to add to the setlist?
TOM: Yeah that's hard, we discussed that this week. It is a new band and album, it's getting great reviews, maybe we will embrace that. If we are a support band than maybe one or two new ones, if we headline than maybe four or five. It's getting tough to pick songs.
10. How many will you play from the first two albums?
TOM: From the first album the only song we have left in is 'Blackened Dawn', from the second we have been playing two, from the third its three. For this tour I don't know how many we will play from those first few albums.
11. Any particular bands you'd like to tour with?
TOM: O man, there are so many but I'd like to tour with… the Deftones only if they play their new album, hahaha, Katatonia I like. Killswitch Engage, In Flames we toured with before. We have friends in Symphony X and Nevermore. Of course you want to tour with the biggest ones, like Iron Maiden would be great. We did some U.S. shows several years ago with Iced Earth and Children of Bodom and that went well.
12. Does Evergrey have a lot of fans in North America and are you in touch with them on Myspace or Facebook?
TOM: Yeah but we are so fucking lazy, hahaha, we just got on Facebook and didn't realize what a great marketing tool it is. Now we are really busy with Facebook and updates on a daily basis. Like we have webisodes posted from the studio. Keep checking our Facebook for updates on the band and tour dates.
13. Plans to shoot a promo video for "Glorious Collision"?
TOM: Yes we just did one for 'Wrong' and it should be online in a couple weeks. I'd also like to do one for 'Leave It Behind Us' or 'Restoring The Loss'.
Official website: http://evergrey.net