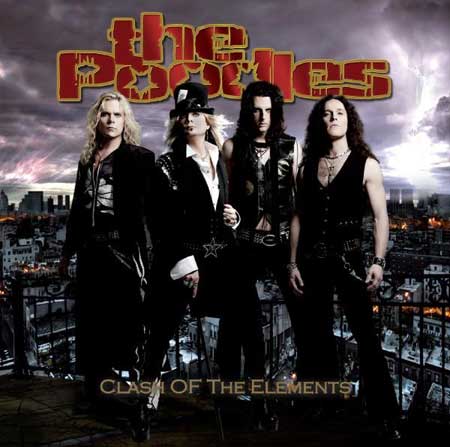 1. The Poodles. A different name for a hard rock band. Why?
PONTUS: The Poodles, what's wrong with it? Just kidding, I know it might seem like a strange name for a hard rock band, actually it's sort of a play with words, what you call Hair Metal in the States goes under the term of "Poodle Rock" back home in Sweden so that's where it comes from initially. In the end though I guess it's up to the band to give meaning to the name. To be honest there are a lot of bands out there with weird names but the music they play is in the end what you associate with the band and that makes the name OK. Hopefully that will be the case with The Poodles as well.
2. With only a couple of albums out, why release a live album/DVD so soon?
PONTUS: The live performance has always been a very big part of what The Poodles are all about and I, personally, have always loved live albums ever since hearing great ones like "If You Want Blood" from AC/DC and Thin Lizzy's "Live And Dangerous" when I was a kid so it was kind of a natural thing to do. Why it happened right now is partly because it felt like a good time right now, after releasing three studio albums and doing a whole lot of touring, sort of a good way to close one chapter and go on with the next. The other reason is that we met, and hit it off really well, with Steve Ravic (director) and Vesna Trokter (producer) and they, as much as anyone, have really been the driving force behind this.
3. Tell us a little bit about the band's successes? What territories have your most fans?
PONTUS: Our home country Sweden is where we have the biggest following, no doubt about it, but we have been doing a lot of touring in other parts of Europe as well and the crowds are growing. We headed out on tour in Europe pretty much the same day that we released our first album there and since then we have done four more tours in three years as well as hundreds of shows in our home country. Now I definitely hope time has come to come over and play for all you guys in the US.
4. Give a description of The Poodles music for the American hard rock listeners who may be unfamiliar with the band.
PONTUS: Well. I guess you would have to call it Melodic Metal or Melodic Hard Rock or something like that, everything from really heavy stuff to ballads but there is always a very strong focus on the melody. Even if it's a song with really heavy riffing guitar and pounding drums and bass there's always a good vocal melody in there I'd say.
5. What bands from the past would you compare The Poodles music to?
PONTUS: We are all pretty much brought up on 70s and 80s Hard Rock and Heavy Metal so I guess that's where a lot of our musical inspiration comes from, bands like Led Zeppelin, Deep Purple, Aerosmith and on to Van Halen, Iron Maiden, Dio, Black Sabbath. I would say we do have a lot of influences from a lot of different styles of music as well though, pop music, jazz, classical music, anything goes. I really can't say any particular band that I think we sound like, I'd say we sound like a good mix of all the great rock bands of the past with a modern touch to it.
6. Give us 5 songs someone should check out if they are curious about The Poodles? And why these songs?
PONTUS:
1. The first one of course would have to be 'Night Of Passion', our break-through song if you will. It was the first single ever released from the band and it opened up a lot of doors.
2. 'Metal Will Stand Tall', the title track from our debut album, also a pretty big hit back home when it came out. It was sort of the title track of our first summer on the road after releasing our first album in 2006, great memories!
3. The third choice is 'Seven Seas', a great rocking tune on which we collaborated with Swedish actor Peter Stormare (Prison Break, Fargo etc). Taken from our second album "Sweet Trade".
4. #4 is 'I Rule The Night" from our latest studio effort "Clash Of The Elements". A stomping, rocking tune with a great, catchy chorus, this is The Poodles, right in your face.
5. And as number five I choose 'Like No Tomorrow'. Also a great rocker from our latest album, if you get a chance check out the video for this song on YouTube or something, a video filmed in about an hour when we had time left in the studio but turned out really great.
7. Best and worst part about being in a band?
PONTUS: The best part is being able to work with and hang out with three other really great guys, to be out on the road exploring, experiencing different adventures together and to create great music together. The bad part I guess is that there are four different people, all with a very strong will and sometimes these go totally separate ways. So sometimes it can be really hard to get these four different people to see things the same way. In our case though we are fortunate enough that usually we're able to work these things out, a bit of give and take from everyone and we're back on track.
8. How has the internet, Myspace, Facebook, helped the bands exposure?
PONTUS: I don't know, you know the Internet is truly both a blessing and a curse for someone in the music business today. Of course it's a lot easier to get recognition all over the globe by using the internet, Facebook and MySpace and sites like that but the illegal downloading of music surely makes it a lot harder as well. What good is worldwide recognition if no one buys the album? Anyways, I think The Poodles have actually gained most of our recognition the old fashioned way, by touring, which is something we have done quite a lot and it's something we really enjoy doing.
9. Tell us one or two of your favorite stories from the road?
PONTUS: There are a lot of great memories from being on the road that comes to mind, first and foremost all the great people in different bands that I've had the privilege of being on tour with. From being support to great acts like Motorhead, Ronnie James Dio, Whitesnake, Hammerfall and Gotthard to having your own tour with guests like H.E.A.T, Treat, Jaded Heart and Dynazty. Tons of great memories, tons of great stories, too many to pick one or two to tell here, sorry!
10. What are The Poodles plans for 2011?
PONTUS: We are actually in the studio right now recording our next studio album. The first part of the year we spent writing a lot of music when we were not on the road and we entered the studio the last week of September. The recording sessions are all done and we are mixing the album right now, we hope to have it all done by the end of the year. Unfortunately I don't have a release date yet but sometime next spring for sure. We are once again working with producer Mats Valentin who did "Clash Of The Elements" and it's going to be a killer album, we are all feeling very happy about the material and the way it's sounding so far. So be on the look out for that next spring.
Thanks a lot!
Pontus
Official website: http://www.poodles.se