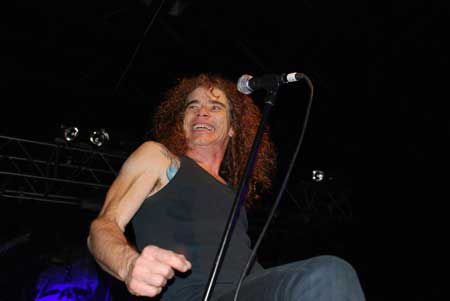 1. Would you say the "Ironbound" album and tour have been your most successful in recent years?
BOBBY: Yeah I would say so, I think "Ironbound" was accepted on a high level. I think you and I talked when it first came out and now I'm a lot more comfortable with the record now and we added a few songs to the live setlist. Plus its just really a healthy scene now for thrash metal because there are these good package tours going around and the bands are releasing strong albums. Like for example we have Forbidden out with us now and their new album "Omega Wave" is really good. So that's where I think "Ironbound" comes into play as being part of the success because of other quality bands and albums.
2. So when was the last time Overkill had this level of success and attention?
BOBBY: Well I think the scene is healthier now, it's hard to say. Around the time of "Horrorscope" and the pre-grunge era it was different and we had a lot of success and there was more attention to thrash bands because many were on major labels, ourselves, Metallica (who obviously were the biggest), Megadeth, Testament, Slayer...but in the 90s the scene kinda went back underground. It never went away and we always made records regardless of what was happening around us, and there were some great albums over that period of time but they didn't have the notoriety because of "popularity". But there is something to say about the underground because there is a purity that comes with it, and even now even with the attention the bands are getting on a larger scale it's still underground which is very nurturing.
3. Has it been a plus to be part of a thrash package for the "Ironbound" tour?
BOBBY: Yeah, this is our third one and it's the only way to fly as far as I'm concerned. You have to give people value for their money. We toured with Exodus, Heathen and Destruction is coming up in Europe, you offer the fans the bloodbath, hahahaha, and that's the idea. Plus, we are all cut from the same cloth and my feeling is it raises the level of competition, maybe because I'm a Jersey guy and there's the attitude you wanna win, but it's just great to have another good band on the road because it brings my game up. I think it's a great thing to keep up because if you offer it to people, and then take it away its wrong, hahaha.
4. How are the younger bands fitting in on the bill with yourselves, Exodus, Forbidden?
BOBBY: We've had Evile with us on two separate tours, Gama Bomb was with us in Europe and they are great guys, Bonded By Blood are good kids too, these younger bands nicely emulate where bands like Overkill and Forbidden come from, so I don't think there's any problem. I mean the drummer from Evil starts the pit every night for us, hahaha, I just can't believe it. And he says "I can't miss it, I love it".
5. What changes have you made to the setlist since the beginning of the tour?
BOBBY: We play four off the new album, dusted off a few old ones, 'Infectious' and 'Horrorscope' are in, Motorhead's 'Overkill', something off "W.F.O." called 'Where It Hurts', so it keeps us interested. We added 'Give a Little' from "Ironbound" so it's pretty eclectic. I mean we were just at the Nokia Theater in NYC not too long ago so who wants to hear the same set again, you know.
6. That Nokia show was the same night as the bomb threat, well actually the bomb.
BOBBY: Yeah right, the only thing I could think as to why they didn't evacuate us is because the venue is underground which could be the safest place. Plus, maybe they thought it's a bad idea to have 1,700 drunken metalheads on the streets, hahahaha.
7. What other classics from 1985-91 would you like to add to the setlist in the future?
BOBBY: There's a couple, 'Blood Money', 'Birth Of Tension' off "Years Of Decay", 'Drunken Wisdom' from "Under The Influence", 'Electro-Violence" from "Taking Over", and maybe 'There's No Tomorrow' or 'Second Son' off "Feel The Fire". I really like to do those old songs and present them in 2010 because it gets refreshed without changing the original arrangement.
8. With 2010 being the 25th anniversary of Overkill, are there plans to record a show for DVD?
BOBBY: We were thinking of it but people are still talking about Overkill because of now and "Ironbound", and not just then, so to change it and talk about just the past may devalue what we are doing now. To celebrate landmark moments in their career a lot of bands recently have played an entire album, and my feelings are if we are still valid, not only here in America but around the world, Australia, Japan...I just confirmed a show in Bangalore India, I mean this is like, its really about now and not what once was. It's not just based on pride of accomplishment, but pride of the day.
9. Well then, would you consider playing "Feel The Fire" or "Taking Over" start to finish?
BOBBY: No, not anymore based on the answer I just gave. For me the thing that always made this energetic to me was its all about today, yesterday doesn't really matter anymore. It's all about the next show.
10. Will Overkill be releasing a Best of or some other type of compilation, or a classic concert on DVD?
BOBBY: The buzz I get, at least from record companies is that DVDs are not worth it anymore. Would I like to do another one, sure, as long as it's a side bar and not our main concern. Right now we are finishing up this tour and working on a new record.
11. Has work begun on the next album?
BOBBY: DD (Verni – bass) is always working on something. As you know DD has his own studio so he's constantly collecting riffs and putting down ideas.
12. Your thoughts on the Big Four (Metallica, Megadeth, Slayer, Anthrax) shows?
BOBBY: I think its kinda cool. I heard they are real expensive tho, hahahaha, I think band #2, 3, and 4 just give more credibility to what band #1 is doing because Scott Ian (Anthrax), Tom Araya (Slayer), and Dave Mustaine (Megadeth) have been thrashing their balls off since the beginning too regardless of popular opinion or pop music. And to some extent it could be Mustaine's crowning achievement because he's giving Metallica the credibility, hahahaha. Its gone full circle.
13. Would you like to do something similar with Exodus and Testament?
BOBBY: That would be great, I mean talk about a bloodbath. I tried to do something like that a few years ago with Kreator too, but it didn't happen financially at the time. But I'd still like to do it.
14. What do you think about remastering music and would you like to do that with any Overkill albums?
BOBBY: I don't have a problem with it, I use to because I use to think "how it was is how it should stay". But I wouldn't remaster everything from Overkill, I'd do "Feel The Fire", "Taking Over", "Under The Influence" and "Years Of Decay" are fine, "Horrorscope" I wouldn't touch. My motivation would be to see if things could be better by fixing levels and a little mixing.
15. Are there any songs from that period that could come out on a reissue?
BOBBY: No, everything is out. A few things may have appeared on traded demos and such over the years but that's only a couple songs.
16. Overkill's plans for 2011?
BOBBY: A tour in Europe, a one off show in April with Accept and Sabaton in New York so you got the scoop first before we announce it tonight on stage. The new Accept album is great so we are looking forward to play with them, we all come from the same roots. Plus I think the fans will really dig it.
We will write over the summer, do South America, come back and record some because when you hit the road you get to recharge the batteries for the studio. We will do Sweden Rock, Bang Your Head, Masters of Rock festivals. Its gonna be a busy year for us.
Official website: http://wreckingcrew.com/Ironbound