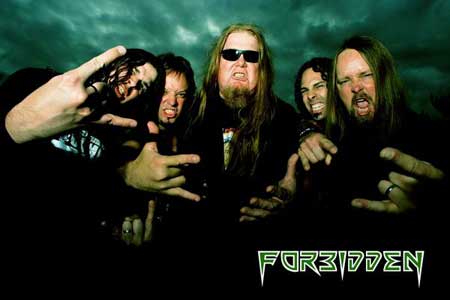 1. Was it hard to recapture Forbidden's classic sound from the 80s for "Omega Wave"?
MATT: When we were out on the reunion shows in 2008 and 2009 a conscious decision was made to write a Thrash Album. The resurgent's of Thrash was already in full swing and I think part of us was thinking that just going back to our roots would be an amazing piece of work comparative to what was out there. Although I contributed to some of the song writing, Craig Locicero and Steve Smyth brought in the majority of the riffs and sometimes watching what Craig brought to the table reminded me of when we were kids. After all, when I first joined Forbidden Exodus was just becoming internationally known and Testament was known as Legacy and hadn't even signed there first record deal. So my belief is that Craig was part of the classic thrash sound, songs like 'Forbidden Evil', 'March Into Fire', and 'Chalice of Blood' was written when thrash music was at the early fledgling stage. So I think it was all about going back to that era and letting it flow through you by doing what was already natural.
2. What are the key ingredients that make up Forbidden's style?
MATT: I think this album has a modern sound but also some of the older elements that I mentioned above keeps this record form sounding old or nostalgic. I think this is primarily contributed to the maturity of some of us as song writers. Craig, Steve, and Mark have all played in well received and respected rock and punk bands in addition to everyone's experience and influence playing Thrash Metal. So I think if you were to take a mixing bowl you would pour in about 2/3rds classic Thrash, 1/3rds Rock and Fusion, and then a few dashes and scoops of abstract and experimental.
3. Are any songs on "Omega Wave" left over from a previous album?
MATT: Nope, that's what I love about the guys I play with, creativity is in huge abundance. When we started writing we brought up in brief conversation some of our previous demo stuff that never made it to record. I'm talking about left over material from the "Distortion" and "Green" era and a few things were considered but every time I was down at the studio it seemed that Mark and Craig were working on a new tune. Steve Smyth contributed riffs and whole songs to this album, while I brought in a half a dozen songs while only a couple of riffs made it to this album.
4. Why the title "Omega Wave"?
MATT: Omega is the last letter in the Greek Alphabet, it symbolizes the end, and some of the song concepts deal with government entities intentionally poisoning our vaccines, a phony and unsustainable economic and political system leading to eventual doom of our society and what life would be like once society falls apart. Even if you're not into the many conspiracy theories flying around out there on the internet there is a general feeling and fear that were cresting like a Wave towards the end of our society, the end times, or even the end of human civilization. Whatever level doom each one of has almost everyone agrees that we can't sustain the way things are going and we seem to be picking up more and more momentum.
5. How has the response been to Forbidden getting back together?
MATT: It's been more than I expected, to hear from so many people that are excited about this record and are still listening to the older albums. When people come up to you and say it was 20 years ago since we seen you last and they are still into metal and still pay to see our shows. We are truly grateful.
6. Looking at the classic thrash bands from the 80s; Metallica, Slayer, Megadeth, Anthrax, Testament, Overkill, Exodus, etc, where do you think Forbidden fit in and who are you more closely related to in sound and style?
MATT: We were definitely influenced by all of these bands when we were kids, and I think you can hear elements of all of them in our music. But it is clear we are a Bay Area Thrash band more closely related to Exodus and Testament, because we were all coming up right after Exodus and closely behind Testament we were happy to latch on to their success and as an effect some of what they did rubbed off on us. However, I'm happy to say that we were able to take it another level and develop a sound of our own.
7. What are the strongest song on "Omega Wave" and why?
MATT: I'm proud to say they are all strong songs. We have tunes that go back to the early sounds of Bay Area Thrash, we have beautiful singing melodies, screaming aggressive vocals, super fast riffs, and doom sounding slow sludgy stuff. I personally love the song 'Dragging My Casket' because it has every element I just spoke of, but there is a plethora of everything metal on this record.
8. How much of the lineup from the 80s returned for "Omega Wave"?
MATT: It is Russ, Craig, and I which have been in Forbidden from the beginning.
9. Tell us about the upcoming tour dates with Overkill and how it came about?
MATT: That was all put together by our booking agent, Front Row Talent. They always try and find the right package that can do well with ticket sales. We're the kind of band that can pack small clubs by ourselves, but if you add us to the bill with a band that is bigger than us, or around the same popularity then the agencies can secure bigger clubs and they make more money. I know Overkill is bigger than we are and we haven't played on the East Coast since the mid 90's so I think it was a good move for Overkill to offer us the opening spot. Also the record company thought it was a great idea since our album comes out a week before the tour starts.
10. Plans to release any promo videos in support of "Omega Wave"?
MATT: We hope to do a video, the label has offered us a small budget but we don't want to do anything cheap or low budget. Our hope is that the album sells better than expected and the label will consider doing something with a higher budget.
11. Will you record a show for DVD?
MATT: Yes, Nuclear Blast included that in our contract, I think it will revolve around the right show. I'm hoping it can be at a huge festival in Europe or maybe a home show in San Francisco.....stay tuned...
Official website: http://www.myspace.com/forbiddenofficial