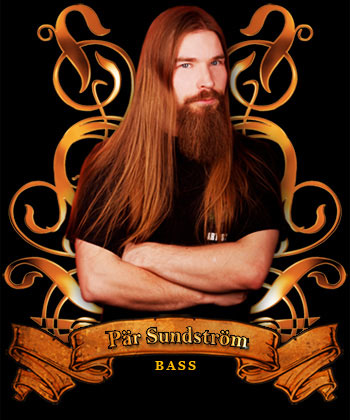 1. I hear influences of Hammerfall, Running Wild, Rhapsody of Fire, Manowar, and Grave Digger in Sabaton's music. Are you influenced by any, or all, of these bands?
PAR: O wow...yeah of course a little bit, but I think more so the classic bands like Iron Maiden, Rainbow, Judas Priest. I guess I can also hear some of the other European bands, like Hammerfall, in our music. I also hear some Accept as well, they are one of our greatest influences and inspirations. I mean we play classic metal so its hard to make something really original. But I think Sabaton has a unique sound. Rainbow and Deep Purple have influenced us a lot.
2. Is there always a theme of battles and war in Sabaton's music?
PAR: Not always, but yes, very often. "Coat Of Arms" is our 5th album and first with Nuclear Blast and the first album to reach outside of Sweden. Our albums before really have not reached an audience outside of Europe. This new one is getting to all parts of the world.
3. On the four previous albums to "Coat of Arms", was the theme of historical battles a topic?
PAR: Yeah, aside from the first album "Metalizer" which was released in 2007 because we hadn't found ourselves yet. This is what we are interested in and we always wanted our songs to mean something.
4. Which historical wars have been the topic and for which albums?
PAR: Well "Coat Of Arms" is based around World War II. The rest of the albums are based on several conflicts but not the Gulf War because it just seems too new for us to be involved in because its still going on. We like to stay to history then, World War I and II have been the topic of many songs. We have also talked about the Vietnam and Six Days wars.
5. Tell us about "Coat of Arms" and what it deals with?
PAR: Every songs is about a different event, like 'Final Solution' is about the Holocaust which is probably one of the strongest subjects. Songs about uprising.
6. The album entered the U.S. Billboard Heatseekers and Top Hard Music charts. What is your reaction and how does that effect the band now?
PAR: Really we were stunned, I think it was when we were at the Frankfurt airport because we were awaiting a flight to Slovenia to the Metalcamp festival when we got the news. And this was really a nice surprise because prior to "Coat of Arms" we really had no distribution or interviews with press in the States. Now I think this might change something for us because we have been talking to a few bands about touring together in the States and now with these chart positions it show that we could draw a crowd. So with this I think there is a good possibility we will come to the U.S.
7. You shot a video for the song 'Uprising'. When will it come out?
PAR: August 1st. It was really cool because normally you go into a room with a lot of lights and play the song over and over again and some effects and things are added later. With 'Uprising' it was like a real movie set with a story and actors like Peter Stormare who is real famous in Sweden and was part of Armageddon, Minority Report, and also had a part in the TV series Prison Break. He likes heavy metal so he wanted to be part of the video. The video is based on the WWII uprising in Warsaw. I'm sure when this video comes out people will see its something special.
8. Has Sabaton's music changed much since the "Fist For Fight" demos in 2001?
PAR: Well our debut was supposed to be "Metalizer" in 2002 but it never came out because the record label delayed it. Since "Primo Victoria" in 2005 no our music hasn't changed much, just a little because we try to stay true to our style.
9. What are the touring plans so far?
PAR: Right now we are doing the festival circuit in Europe which is quite a lot, possibly 20 fests. After we start our headlining tour, 20 countries, 3 months, 70 concerts. That will take us up to Christmas so after we will look to your continent hopefully in early 2011.
10. If you were able to pick the bands Sabaton would tour with, who would they be?
PAR: Maybe Amon Amarth, would love to tour with Hammerfall, we toured with them in Europe and they were great guys. Personally I would love to tour with Iron Maiden but at this time I don't see that happening, hahaha.
11. Doing a second video for "Coat of Arms"?
PAR: Actually we are doing three videos. There is a video already done for the title track and then we are doing one for 'Screaming Eagle', the songs is based on an event that was in the Band of Brothers and I think the guy who built one of the sets from that show may be rebuilding one for this video. I think we are shooting it in a couple weeks. 'Coat Of Arms' should be out in a couple weeks, 'Uprising' should be released like I said early August, and then 'Screaming Eagles' should be out in September.
12. Message for the U.S. fans?
PAR: Thanks so much for the support we didn't expect it, and we will be sure to return the favor and play some show in the States.
13. You did play in the U.S. once at the ProgPower festival. How did that go?
PAR: Yeah we did in 2007, and also for South by Southwest music festival in Texas. Both were good shows but we lacked record label support so there was no music or merch to buy. But this may change now for the future.
Official website: http://www.sabaton.net