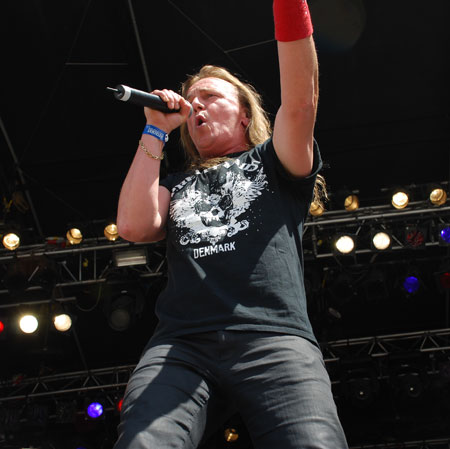 1. After 25 years of making music, do you find it hard to come up with new music that can live up to Pretty Maid's past?
RONNIE: No, well it just comes really, and I can't tell ya where. Really every time you record an album you just and come up with the best you've at that time. Sometimes it's just better than others. But I think Kenny (Hansen – guitars) and I have a hard discipline when it comes to songwriting. And a lot of times we don't even have an idea of what the songs are going to sound like when we start an album, but other times it comes very easy.
2. Tell us about the new album "Pandemonium" and how it stands up against the back-catalogue? Is there an album it reminds you of?
RONNIE: I think, for some reason, the closer we got to the mixing it reminded me a lot of the stuff we did in the 80s, and maybe that's because now we have a permanent keyboard player and he was part of the process when we recorded it. I think "Pandemonium" is the closest thing we did to "Future World" and "Lethal Heroes" in the 80s. but then again at times I do hear moments from our other albums. Even though we try to update ourselves at times, we still always stay close to the original formula we started in the 80s because we of course want to sound like Pretty Maids.
3. Are there are albums where you think Pretty Maids strayed away a bit from the band's formula?
RONNIE: Not really, we never sat down and said we are gonna write a different kind of album. Maybe the album "Planet Panic" from 2002 could be seen as a bit more experimental, but not really. I also think that album maybe has a couple fillers, but I think through the 90s we did some of the best albums we ever did but unfortunately that wasn't a good time for this style of music. But I think the albums "Spooked" and "Scream" were really good and unfortunately went under the radar. Now, these days, the classic 80s hard rock/heavy metal sound has come back.
4. I see Hal Patino (from the King Diamond band) is the newest member. Is that the only lineup change and will Hal be a permanent member?
RONNIE: Well Hal came in after we recorded the album "Pandemonium" and it's still the same lineup that recorded "Wake Up To The Real World". But I think we have a great lineup now with him and will do a lot of touring in support of "Pandemonium". We have known Hal since the 80s. Concerning the King Diamond band, right now King still has problems with his back so at this time Hal can dedicate his time to Pretty Maids.
5. The first video/single from "Pandemonium", 'Little Drops Of Heavy', is a hit waiting to happen. Is the single getting a lot of airplay?
RONNIE: Well actually yeah, its getting a lot of airplay in Denmark and Sweden, I think. The album just came out and so did the video, but really it's so difficult to get this kind of music on the radio as it is, you know? If it was 20 years ago it probably would have a much better chance. Regardless, it's a great song and I hope it gets the attention it deserves. The funny thing about that song is I don't think it really represents the album on a whole. But Pretty Maids has always been about writing both heavy/faster and more melodic catchy songs.
6. Do you have an idea of the touring plans in support of "Pandemonium"?
RONNIE: Right now we will do festivals over the summer in Europe, maybe eight or ten. Then we are setting up a European tour in the fall, and then hopefully some U.S. dates also. It's gonna be our biggest tour in years, really.
7. Usually, when one of the European bands tours the States, they will buddy up with a couple other similar names. Is that part of the plan?
RONNIE: Yeah, we are considering that.
8. Has Pretty Maids ever been asked to play the ProgPower festival in Atlanta?
RONNIE: Yes, if I recall we have. But I think it was a financial thing is why we didn't do it yet.
9. Which Pretty Maids albums, that you know of, are available in the U.S.?
RONNIE: As far as I know, the old stuff, like "Red, Hot and Heavy", "Future World", and "Lethal Heroes", were released by CBS records. After those, everything after was released on a European label. Then "Wake Up To The Real World" was probably the only proper release in the States, along now with "Pandemonium".
10. Do you know if there is a plan to get those unreleased albums available in the U.S.? What about a "Best Of" for America?
RONNIE: Not right now, A "Best Of" would be a good idea to introduce our music to the people.
11. Do you have any official concerts released on DVD?
RONNIE: Nope…but that is the plan for the 30th anniversary of the band next year. Nothing is confirmed yet.
Official website: http://www.prettymaids.dk