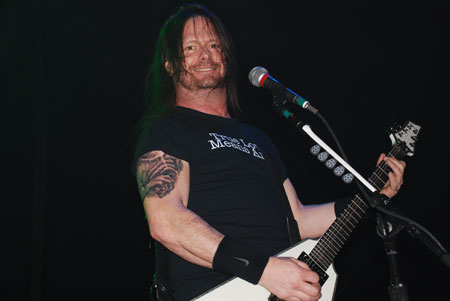 1. Briefly explain what the subject matter is on "Exhibit A: The Atrocity Exhibition"?
GARY: Hahaha…o man, I'm not good at explaining my own music, it's my least favorite thing in the world to do. I like to leave it up to the listener and I can always guide them along, you know. How do I explain "Exhibit A"…well the connection between it and "Exhibit B: The Human Condition" is it has more to do with the music than the subject matter, and the fact that when we were recording "Exhibit A" we had too many songs to fit on one album. We bounced around the option of making it a 2-disc release and once we did the research on how much it cost to do a 2-disc set we decided to do it in two parts. "Exhibit A" and "B" are tied together musically because "B" begins where "A" faded out and "B" ends where "A" came in. But it's not like they are concept albums, more conceptual. It's not like Floyd's "The Wall" or anything.
2. What is "The Human Condition" and what is its relation to "The Atrocity Exhibition"?
GARY: The human condition is so many things, mankind has adapted so many things like sadism, stupidity, arrogance, ignorance, you know, just general bad behavior, hahaha. And lyrically that's the direction the songs started going in. Even when we are not sitting down writing for an album I'm always jotting down ideas and title ideas, and it became apparent that that's where everything was going for this album. Initially it was going to be "Atrocity Exhibition, Exhibit B" and then we said no because I said this album is heading in a direction to be almost entirely based on what I consider the human condition. So we took it from there.
3. What do you think are the most interesting topics to talk about?
GARY: They are all interesting in their own right, I don't really listen to my own records much because after they are mixed I've listened to them to death. Right now I am really digging 'Class Dismissed' because it really paints a portrait of American's favorite past times, school shootings, even dating back to Charles Whitman, through the eyes of the shooter.
4. Who writes the music and who writes the lyrics?
GARY: I write most of the stuff, it's just the way its always been really. When I get down to writing I can be pretty prolific. Rob (Dukes – vocals) and Lee (Altus – Guitar) wrote a few things on the album and they are solid contributions. Lee is more analytical they I am, he says my riffs are like moonshine and his like fine wine, and I'm like "mine's 200 proof motherfucker", hahaha.
5. Are any of the riffs on "Exhibit B: The Human Condition" leftovers from the 80s?
GARY: No. I don't have any riffs that old. I'm sure somewhere in my closet there is a tape of some old riffs but usually when we do an album we record what's required and that's it. We don't really have leftover tracks. When we did "Tempo Of The Damned" we had one extra that ended up as a bonus on "Shovel Headed Kill Machine" called 'Purge The World'. And on this one we had one bonus track. Usually if there are 12 songs on the album we wrote 12 songs. I find it amazing when I hear a band go in the studio and say "we've got 35 songs and were picking the best 10", and I'm like "how do you write 35 good songs?"…there has to be a ton of filler you could weed out before you get to the good stuff.
And I mean I write tons of riffs that I don't use because some of it might be pretty good, others you revisit later and tweak. But for the most part before I present stuff to the band I self edit my work first.
6. Did you try to do anything different with the music on "Exhibit B"?
GARY: We didn't try to do anything different it's just all a natural process for us. I write the same way I always did it depends on my mindset at that particular time when writing the record. And with this album its supper intense yet more melodic, and I think it has a lot of the fire and energy from earlier Exodus. Plus, I think the production is the perfect compliment.
7. How many of these new songs would you like to add to the live show?
GARY: O shit I'd like to add em all. Every album we do it just becomes a far greater task to pick songs for the setlist. You know we're always gonna play those classics from "Bonded By Blood", will throw in 'The Toxic Waltz' from time to time, some of the other classics from the back catalogue. But I'd like to just have enough of the stuff ready so we can switch it at any given time. We will be playing quite a few off the new album and rotate them.
8. What are the touring plans?
GARY: Right now we have two record release shows in June in California, then we go to Europe for a festival run from June 18 to July 10. Then we are off till the second week in August when we play the States. Don't know what the plans are but we would like to do a four or five band package, more bang for your buck. No idea who we are gonna bring out because it comes down to scheduling.
9. Who are some of your favorite modern thrash bands?
GARY: Warbringer I think are awesome and it's not because I produced their last record, I produced their last record cause its awesome. Evile, Gamma Bomb, Municipal Waste, Bonded By Blood. It's great to hear all these new guys as they mature from record to record and they play thrash for the right reasons and the right way.
10. I interviewed Bobby Blitz from Overkill a few months ago and mentioned Lazarus A.D. who I like a lot. He had never heard their music. Have you heard them?
GARY: You know everybody keeps telling me how good they are and I haven't heard much of their music. And another who I hear good things about are Skeletonwitch. But there is a band called Holy Grail who are just killer. It's like New Wave of British Heavy Metal all over again with a modern production.
11. Do you feel The Big Four (Metallica, Megadeth, Slayer, and Anthrax), should have been expanded and considered The Big Seven including Exodus, Testament, and Overkill?
GARY: Well I think it should be The Big Five with Exodus because we were there at the start of Thrash Metal with Metallica in the real early 80s. Same thing with Megadeth because Mustaine was a part of Metallica's birth and he also created Megadeth. And Slayer are Slayer. Anthrax are also great and old friends but if you listen to those first few records they have definitely changed. Testament has every right to be part of the Thrash Metal Legends but it just came down to timing because they came later. And Overkill have been their since the beginning also. But I don't get hung up on that shit because I know how it all started and I know where I was when the shit got created. We (Exodus) certainly deserve to be part of the founding fathers but you know who often gets excluded are the Germans, Kreator, Destruction and Sodom. Everybody looks to America and forgets those guys. Kreator, Destruction, and Sodom all released records in the early 80s.
12. You'd have to call it The Big Ten.
GARY: Yeah if you boil it down but really The Big Four is solely based on sales and the ones who sold the most. But if you compare records I will put Exodus' last few albums up against anybody's shit. Slayer is always awesome, the last Testament album "The Formation of Damnation" was great, the new Megadeth is one of their best, Metallica are still finding their feet again and their last album "Death Magnetic" was a step in the right direction. The new Overkill "Ironbound" is one of their best records ever, it's so good. And Kreator, Destruction, and Sodom still make great new music. What I think it boils down to is the bands who've been doing this the longest still can do it the best.
Metallica are still a mighty force live but they lost their way for quite a while, but then again I've never had to deal with the horrible problem of having millions of dollars, hahaha, maybe if I had that kind of money it would distract my hunger for doing this kind of shit too. But unfortunately for me I have to keep kickin people in the teeth, I don't have the funds to go art shopping. My version of fine art is a new edition of Hustler magazine, hahaha.
13. Speaking of The Big Four (or Big Seven), I have always envisioned fitting places, events, or things with each band. I want to see if you pick the band which fits what I correlate with them.
a. A football game
GARY: Hmmm, I have no idea.
RICH: I said Metallica.
GARY: Really, I don't quite see that but maybe depending on the type of game and how intense it is.
b. A backyard party.
GARY: Anthrax. They have that kind of vibe.
c. War.
GARY: Slayer or Exodus. Slayer because of 'War Ensemble', 'Angel of Death', 'Chemical Warfare'…but actually I would say Exodus would be more like a mugging, or the movie The Warriors.
RICH: I said Megadeth.
RICH: Well, now that you mention The Warriors, I was going to say a street fight, which would be Exodus.
d. The apocalypse.
GARY: Megadeth, they got the term from Senator Alan Cranston's quote about the dangers of nuclear war and stuff.
RICH: I said Slayer.
e. An insane asylum, and giant monsters destroying Japan.
GARY: Wow, that's a hard one, I know a lot of crazy mother fuckers, hahaha. Godzilla versus Rodan…I'd have to give Testament the Godzilla reference and Overkill the insane asylum.
RICH: Well with Chuck Billy's voice it sounds like giant monsters.
GARY: Yeah, Monster Zero versus Godzilla, Mechagodzilla, fuckin awesome, haha.
14. Who do you think is a grossly underappreciated thrash metal band?
GARY: Vio-Lence. Although they are not here anymore in a brief shinning moment were as intense as anybody. They were one of the few bands who could play with Exodus because our crowd was generally unkind.
15. You recently released the DVD/CD set "Shovel Headed Tour Machine: Live at Wacken". Tell us what it was like to play to that massive crowd in Germany.
GARY: It was a show that lead to the DVD, not the other way around. Wacken filmed everything and when they gave us a sample and we saw how phenomenal it was and decided to purchase it. And Rob and his friend did the editing, we added footage Rob had been recording on the road which turned into the "Assorted Atrocities" stuff. It came out great.
Official website: http://exodusattack.com