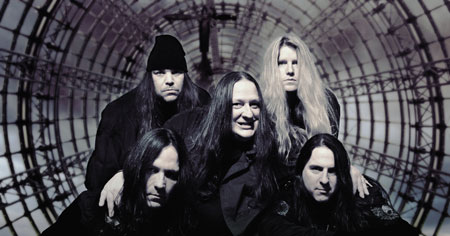 1. Tell us about the new Jon Oliva's Pain album "Festival" and what direction you took the music in this time?
JON: "Festival" is a darker album, one your gonna have to listen to two or three times, a lot of tracks of music on their and things I put in the background to keep you listening for many years to come. So you are gonna have to listen to it a few times to catch everything. Most of the album was written on guitar and I played the guitar on it a lot, and that has given the album a darker, heavier vibe. My style of playing is a little darker and I just wanted that after the last record, "Global Warning", which was more experimental because there were a lot of things I wanted to try on that album. So when I sat down to work on "Festival" it was very fresh to grab the guitar and start workin on heavy stuff.
2. 'Afterglow' I thought is an interesting song, the arrangement has a couple changes. Tell us about what's goin on in that tune?
JON: Sure…'Afterglow' is one of those tracks that has over 120 tracks of instruments on it. It was actually four separate parts of something I was working on when I was on tour last summer in Europe and we had a few days off. We stayed at these lakeshore cottages and just sat there with an acoustic guitar and a portable cassette recorder writing different things. I was working with an open G-tuning with the high E string altered to a different note than normal, tuned to a D, and I started coming up with different parts but never did anything to tie them together until we got back from the tour at our home studio. The little jazz thing came at the end for the ride out and it reminded me of a very Savatage type ride out and I said to myself "man, Savatage use to do these type of left hooks". And my guitarist Mat said "lets try a jazz thing in there" and I was like ok and it fit perfectly. The whole song really came together and its one of my favorite tracks.
3. Why call the album "Festival" and tell us about the creepy carnival themed artwork?
JON: Well that came from a nightmare I had in Holland…I was at this twisted carnival where there were people with no faces, body parts missing, and there was this giant Ferris-wheel in the distance I was trying to get to and when I did it was all rusty, spinning slowly with blood dripping from it, and I wrote some of the things down and told the band about it. So when it came time to write the album I said lets call it "Festival" and I will write all about dreams and nightmares so it won't be anything really reality based. And that's how it all started. It was more like what I was doing in the early days of Savatage when I was writing songs like 'By The Grace Of The Witch' and stuff like that, story telling.
4. Were any of the songs on "Festival" written with your brother Criss?
JON: Not with him but parts of his music are in several songs. 'Lies' has a good chunk of his music in there, 'Winter Haven', 'Livin on the Edge' has a lot of Criss' stuff in it that was a song originally worked up during the "Gutter Ballet" days but never got finished, a few others have a riff or two in there and that's cool because Criss is part of another JOP album. The band is really into having Criss be part of the music, whenever we have a Criss riff to work with the room really lights up. The fact that his name appears on the songs is a very big deal and for the fans its also cool because if it wasn't for Jon Oliva's Pain a lot of Criss' music may have never been heard.
5. The opening to the song "Festival" is very fitting and creepy. Have you ever thought of doing an all instrumental album with sound effects, just atmospheric music with no singing?
JON: Yeah I would love to do something like that. I think I would do a great job on a horror film. That's something maybe in the future. If you know anyone that's looking for someone to score a horror movie send em my way, hahaha.
6. I can see a screenplay based on the "Festival" artwork and lyrics.
JON: Yeah, very easily. That was a twisted dream dude…I woke up sweatin on that one, hahaha. I've always dreamed like that since I was a kid, my mom use to hate when we use to watch Creature Feature on Friday nights cause she knew Criss and I would be up until 3 o clock in the morning. And when Thomas sent me the artwork for "Festival" to approve it and I saw the carnival host/jester I was like "holy shit, is this close".
7. What influenced the song 'Now' and tell us about it?
JON: Well that's another one with Criss' music in it. The chorus was something Criss and I wrote when we were really young…you know, "I can't wait to see your face again"…and then the drums come in. And through the years I tried putting many verses to it but none of em really did the trick, and then I brought it out again for this album. So I found a verse pattern I liked that fit the chorus. It was one of the last songs we did.
What influenced it…the Beatles, if it wasn't for them I wouldn't be a musician, that's how I learned how to sing and play. Then later Black Sabbath and Queen, they were always my biggest influences, a little Deep Purple and Uriah Heap for good measure and you got some great teachers to learn from. Zepplin too, the first three albums I liked a lot, I love Zepplin "III". I don't know if I really hear all those bands when I am writing, but since they are a part of you they always seem to find their way into your own original music.
8. What type of touring will you do for "Festival" and will there be east coast shows?
JON: I got European dates in June, a more extensive tour in October, and trying to fit in U.S. dates in Sept/Oct. but there will be some dates on the east coast. I'm willing to do anything as far as who we tour with, just depends on scheduling.
9. How much work did you do on the latest Trans Siberian Orchestra album "Night Castle"?
JON: O God, 3 years of work, hahaha, I wrote a lot of the material with Paul (O'Neil), I got more songs on there than anybody else does I think (outside of Paul). Did a lot of work in the studio with him, it was a nightmare, hahaha, just a lot of work but the end result well worth it. "Night Castle" was the # 5 album on Billboard, I never had a Top 5 album in my career. I'm just gonna keep doing what I do with Paul and its worked so far, all the old Savatage guys from the "Dead Winter Dead"/"Wake of Magellan" lineup are in the studio/touring band, and that's all you can ask for.
10. Do you ever perform with TSO live?
JON: I did a couple times at the beginning but I found out rather quickly its not me, too much of a controlled environment. It's really not about the band and who the singer is of what song or who the guitar player is, its about the music and presentation of the whole thing. That's why its called the Trans Siberian Orchestra, it's a lot of different people contributing to the recording and the live performance. There's really not one person who is the star of the show.
11. How is it to hear TSO perform the couple Savatage songs and 'Believe'?
JON: You know it's a great show, affordable, the first half of the winter show is the Christmas songs and story, then the second half you get all the pyro and special effects, it just works and every year the thing gets bigger and bigger. I'm just thankful everyone likes it. It's pretty cool to hear 'Believe' done in front of all those people.
12. Have any of the Trans Siberian Orchestra Christmas shows been recorded for DVD?
JON: Yeah they have, they are also filming one of the shows from this spring tour for Beethoven's Last Night in Dallas on May 2nd , which I'm going to. They are talking about putting that show out also. I'm not sure when the Christmas show will be released on DVD, that's something you'd have to ask Paul O'Neil.
13. Where you involved in the song selection for the recently released Savatage "Still The Orchestra Plays: Greatest Hits Vol. 1&2"?
JON: Absolutely, Paul O'Neil and I picked the songs based on their versatility, the performances, and the memory of the recording. We wanted include great guitar solos done by Criss and instead of just picking the "most popular" tunes there are some that weren't really popular but meant something to us and showed something a little different than what we have shown before, the versatility factor. There were a lot of great songs say in the "Power Of The Night" style but I didn't want to have four or five "Power Of The Night" type songs. So, it was very difficult to pick the songs but I think it came out really well.
14. Why was 'Believe' left off and what other songs would you have liked to included?
JON: Boy…about a hundred, haha. I think 'Believe' was left off because that song will be involved in this new TSO project "Gutter Ballet", its gonna be part of that. Plus, 'When The Crowds Are Gone' already has so much of what 'Believe' is also. I picked 'When The Crowds Are Gone' for "Still The Orchestra Plays" because of the memory of the video and the recording, plus the vibe of the song just outweighed 'Believe' just by a little bit.
15. Tell us about the three acoustic songs included on "Still The Orchestra Plays".
JON: Well I did acoustic versions of 'Anymore', 'Not What You See', and 'Out On The Streets', and I just recently did a few more recordings like that for the upcoming Savatage reissues which will have bonus tracks. So far I have done 'Summer's Rain', 'Tonight He Grins Again', 'Walk Upon The Water' which was a song Criss and I used to sit in on and jam with my dad when he used to play at this lounge, and in the middle of it we used to go into that song by Harry Nilsson, 'Without You', and we did it just like Criss and I did it. I found an old tape of my brother and I performing it and played it for the owner (Tom) of Morrisound Studios and he said "You should do it". The song is now called 'Walk Without', that's the working title. And then I did 'Castles Burning' and 'Stare Into The Sun', acoustic versions, and I'm doin a couple more. Maybe 'Handful Of Rain'.
16. So which Savatage albums will be reissued?
JON: From "Mountain King" up to "Poets And Madmen" will be re-released, re-mastered with new liner notes and bonus tracks. They will be reissued a couple at a time over the next couple years.
17.This leads into my next question…what does the future hold for Savatage?
JON: I think what happened was Trans Siberian Orchestra, which is all the guys from Savatage, we all just outgrew the name Savatage. It became a hindrance to us to be able to do what we really wanted to do which was to expand into what TSO does. It's all the same people who worked with Savatage and the band never broke up, but Savatage was the name for a Heavy Metal band and you can only go so far with that name. So we got the offer to reissue the older Savatage albums because a lot of them were out of print and Paul and I decided to put it together as a sort of closer to the whole Savatage name. It's time to move on. If you love "Dead Winter Dead" and "Wake of Magellan" you should be buying TSO albums like "Night Castle", and if you love "Hall of The Mountain King" and "Gutter Ballet" then you should be buying the Jon Oliva's Pain albums. So it's all good really.
18. Will there be a Savatage DVD?
JON: Right now there is a live show from Japan in 1994 included on the "Still The Orchestra Plays" set with Alex Skolnick on guitar from the "Handful Of Rain" tour. And it also includes a nice tribute to my brother at the end of the concert. Other than that as far as live stuff when Criss was in the band there's not much. There was a show recorded with Zak Stevens singing in Germany that was pretty good except the guy who ran the lights got drunk and screwed that up, but the sound quality is good.
19. How far along is the "Gutter Ballet" Broadway show?
JON: That's something we are working on as soon as this TSO "Beethoven's Last Night" tour wraps up in early May, along with Romanov finally. So right now I'm just relaxin until the whole TSO entourage comes back to Florida to infiltrate Morrisound Studios again.
20. What is the idea behind the "Gutter Ballet" production?
JON: It's the Savatage album "Streets" story with some songs from "Gutter Ballet", a couple songs taken out from "Streets" replaced with ones from "Gutter", and a couple from "Handful of Rain". And the stories arealtered, Paul has certain people (vocalists) in mind for certain characters, Paul won't tell me much because he's afraid I may say too much, hahaha.
Official websites:
http://www.jonoliva.net/index2.html
http://www.savatage.com/index3.html
http://www.trans-siberian.com