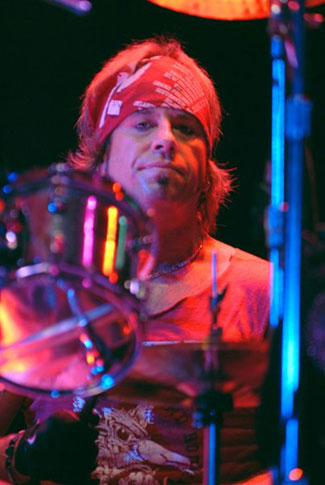 1. The new Ratt album, "Infestation", definitely has that "Out Of The Cellar"/"Invasion Of Your Privacy" vibe. What did the band have to do to get back in that mode?
BOBBY: Really we wanted to go back to that period of the band. Everyone in the band decided to go in that direction once work began on the album. For me, I wrote seven songs and wanted to keep an up tempo, heavy vibe. It wasn't like we blueprinted any one song we just tried to get back to the days of the first E.P.
2. Looking back on the self titled Ratt album from 1999, what are your thoughts and do you like it in 2010?
BOBBY: I like that record, I think there are good songs on it. Unfortunately, I think a few people in the band weren't giving their all at the time, with "Infestation" things were a little more open and reasonable. It's two different breeds, on that album we were only a four piece and that became stale because John Kalodner had us over writing and over thinking on it.
3. Was bassist Juan Croucier approached about coming back to the band for "Infestation" and do you ever see him rejoining Ratt in the future?
BOBBY: He was not approached about being a part of "Infestation" ever, we asked him about rejoining in 2007 but it was way difficult to achieve and I don't ever see Juan being part of Ratt ever again. I do appreciate his writing and what he contributed to the band but I don't see him returning.
4. How is Carlos Cavazo fitting into the band and how much did he contribute to "Infestation"?
BOBBY: Carlos is fitting in great and it really has brought the band back to its roots, being a two guitar band. More double lead stuff is goin on again and he is a really easy guy to get along with. It's really refreshing. Carlos had a few riff/song ideas which we turned into Ratt music…one of em is the single 'Best of Me' he wrote the riff and Stephen (Pearcy) wrote the lyrics and melody and we arranged it up. Another great one 'Eat Me Up Alive'. So two of my favorite songs on the album he wrote.
5. Who writes the music and who writes the lyrics? Is it divided amongst everyone in the band?
BOBBY: Well everyone writes, I write music and lyrics, demo and play everything myself. Stephen usually has to write his own music and melodies, sometimes he takes pieces of what I contribute, he re-did 'Look Out Below' and 'Don't Let Go' and came up with good stuff. I wasn't totally married to my way but I try to be open minded to what the other guys want to do with it to make improvements. Robbie (Crane, bass) had a couple song ideas, one was 'Lost Weekend', Warren had a bunch of riff ideas which we used and he had some co-writes. Really, this band doesn't collaborate in the sense of lets meet at my house and write songs. Everyone does their own thing separately and then we come together and tweak it.
6. What do you think are the strongest tracks on "Infestation" and why?
BOBBY: 'Best of me' is a great summer song, real catchy and radio friendly. 'Look Out Below' is real heavy yet catchy enough for the radio. 'Eat Me Up Alive' is like a mix of "Screaming For Vengeance" (Judas Priest) meets "Out of The Cellar", has the heavy parts of metal with the hookiness of hard rock. 'Little Too Much' is very "Dancing Undercover' catchy Ratt, 'As Good As it' gets has a real swagger, it makes my upper lip want to lift up like Elvis, hahaha. 'Don't Let Go' I really like, one of the tunes I wrote, fast up tempo with a great bridge.
7. You did a video for 'Best of Me', what other song would you like to do one for?
BOBBY: Any one they want to do. I would suspect one of the aforementioned songs a minute ago will be the next video, if there is one. Luckily there is a lot of buzz on this record around the world, I haven't heard this kind of attention from journalists since probably "Out Of The Cellar" or "Invasion".
8. Any plans to release a pro shot concert for DVD of Ratt in the 80s?
BOBBY: Ummm, we have some stuff in the can but unfortunately nothing great. Unfortunately we never did that, did a proper live recording. In our vaults there is a bunch of footage, one show was done properly and that was at Irving Meadows in 1991 but unfortunately Robbin Crosby was not with us, Michael Schenker was filling in on second guitar.
And the show in 1983 shot for the TV show Rock Palace was only four songs, we used the stage where Motley Crue and Ozzy were on tour after sound check and blasted through it.
9. Interested in re-mastering the Ratt back catalogue?
BOBBY: I'm interested in doing anything that brings business in. Some of our songs were remastered for the most recent Greatest Hits album "Tell The World: The Very Best Of Ratt". As far as individual records that hasn't been done yet.
10. What are the touring plans and as you have previously mentioned in another interview, are you still goin out with the Scorpions?
BOBBY: Well there are some problems that have come up considering the Scorpions tour. At the time I made that announcement I was told that tour was happening. As of now we are doing a CD release run in May, so far we are playing a show April 20th at the Key Club in Hollywood and some others shows in areas where the single 'Best Of Me' is doing real well at radio. Then we go to Europe where we are playing these huge festivals for three weeks, then we come back for Stateside dates. The Scorpion shows are pending, I hope it gets rectified because when I previously said that Ratt was gonna be part of the Scorpions tour our manager said it was a go. But if that doesn't happen we will have a plan B.
11. There are some songs I would like to hear live. What do you think of them?
'Never Use Love'
BOBBY: We did that one on the last tour, I'm not too crazy about it but I'm glad we did it for something different. If it was up to me you wouldn't hear 2/3rds of what we already play because I'm just tired of playing the same shit. But I just can't get Stephen and Warren to agree because they are afraid too many people won't know these "less popular" songs. And I'm like ""dude…the album sold 3 million copies, the fans are gonna know these songs".
'Got Me On The Line'
BOBBY: No, I would rather play 'What You Give Is What You Get' or 'You Should Know By Now', you know.
'Looking For Love'
BOBBY: I would love to play that. That's one, and 'One Good Lover', that I want to play, Stephen seems to be up for those two but Warren not so much. People need to start rattlin his cage. We were doing 'Drive Me Crazy' on the 2007 tour and the other guys thought the crowd just weren't reacting with enough excitement and I'm like "dude, the people sometimes just like to listen without jumping up and down to be into it".
'Don't Bite The Hand That Feeds'
BOBBY: I like it, that would be a fun one to do.
'Heads I Win, Tales You Lose'
BOBBY: Ehhh…I wouldn't want to play that one.
'Top Secret'
BOBBY: No, personally not into that one.
12. Aside from the songs include on the "Collage" album, are there any other Ratt B–sides or unreleased songs that have yet to be, or you would like to have, released?
BOBBY: Yeah there is all kinds of stuff and maybe at some time it will surface.
13. Did Jake E. Lee play on the version of 'Tell The World' that appeared on the 1982 Metal Massacre Compilation?
BOBBY: Ohh, I don't know. That was actually in 1981 but I joined in March of 82' and that was already out by then.
14. Do you know if there is anything in the Ratt archives with Jake playing guitar?
BOBBY: Stephen puts out all kinds of stuff through his website so I don't really know what is available.
15. Aside from your book coming out, do you get involved in any side projects?
BOBBY: I did that Saints of the Underground record with Jani Lane from Warrant and Kerri Kelly which is a great record available on Warrior Records. Its really a shame we didn't have a chance to tour behind it. I was producing a lot when I had my studio in Houston in 2006/07 and as of right now that's it. I'm probably going to do a solo record after the tour for "Infestation", I started my own website when I am doing special edition pre orders of my book because it comes out April 20th. Its available at www.bobbyblotzer.com.
16. Tell us about the book.
BOBBY: It's called Tales of a Ratt: Things You Shouldn't Know, just because I was looking to get people's attention, haha. It's a fun book, goes through my childhood, the band's I was in before Ratt, my time with Ratt, all the records and the recording of each, it's a rollercoaster ride. I think people will dig it. I was trepidatious at first but after writing a few chapters and working with a guy named Jim Clayton who helped me put it together the right way it came out great. It has a lot of my verbage in it but Jim made it more geared to a biography. It touches on tours, recordings, personal relationships…but it's not the Enquirer magazine or designed to embarrass anybody. You can buy it at my website already and its doing really well so far. A couple people have said there are similarities to Rudy Sarzo's book which I wanna read also.
17. Is there anything you would like to see Ratt achieve that the band has yet to?
BOBBY: Yeah, I'd like to see the band achieve a more happy existence within. Ratt has always had a lot of chiefs and very few Indians, which makes it harder to get things done. I wish we could somehow get on the same plain but that goes for any relationship. I would really like to see the band get another gold or platinum record again, we had five consecutive multi platinum albums already which I am super proud of, but it would be like what Mickey Rourke did with The Wrestler.
And thanks to all the Ratt fans, hope you enjoy the new album its classic Ratt.
Official website: www.therattpack.com
www.bobbyblotzer.com