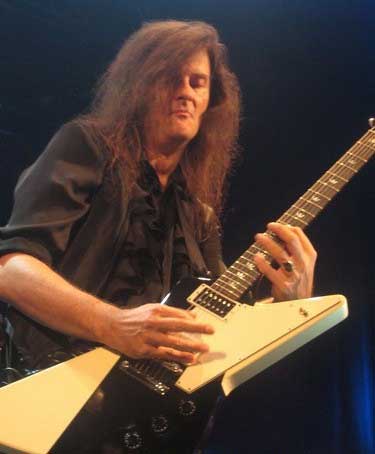 1. "Unarmed" celebrates Helloween's 25th anniversary with 12 re-recorded and rearranged songs. Why these particular songs?
MICHAEL: We had a list of songs we thought were feasible for what we were trying to do with this album. What we didn't want to do was the typical unplugged album. It's been done so much and I mean other bands like Tesla, Queensryche, they really did well but we never really wanted to do that. I myself am not the best acoustic guitarist so to do what we did with "Unarmed" worked well for Helloween. After the Hellish Rock Tour we wanted to take a little break because we had been touring and recording for many years. The management wanted to do this 25th anniversary record and we said ok but lets do something that's not gonna take up too much time. Then we said it would be good if we could have arrangers who do this on a day to day basis, people who do classical or orchestral arrangements. So we had to look for people who were willing to do so and had the time.
Our producer Charlie Bauerfeind he knows so many people but it worked out that Andreas Becker and Matthias Ulmur (who works for many famous German acts) did the re arrangements. Andreas has worked with Peter Maffay who is a real famous Romanian singer and became a platinum selling pop act. Andreas and Matthias did the arrangements for these songs separately, 'Dr. Stein', 'Keeper's Trilogy', 'Forever and One', 'Falling to Pieces', Matthias did those tracks. Andreas took four or five tracks and actually sat down with the band and came up with these strange chord changes where I would usually get up and say "No no no", but that's' part of the process and I let him have his way. Matthias sits there with his equipment, gets input from us as far as arrangement ideas, etc, and he's perfect for taking ideas out of the sky and combining them. He's already done work on our previous record "Gambling With The Devil", he did some piano and keyboard arrangements. 'Falling To Pieces' wasn't on the list and Matthias presented us a few ideas that we really liked so it made it to the album.
2. What songs did you want to include that did not make the album?
MICHAEL: Not a lot, really the list is at it is especially because the 'Keepers Trilogy' took a lot of time to arrange and had the most intricate work to be done to deliver it the way it stands now. There were ideas to do 'Ride The Sky' but that didn't happen. I wanted to do 'Giants' from the "Chameleon" album and have different singers performing the track and was a slight misunderstanding on my end, I thought of like a Barbara Streisand voice with a Swing Orchestra but that was skipped. I also thought of doing 'How Many Tears' performed in the original version of my old school band which was my band, and that was skipped because our manager said the song was not well known enough, right?
3. How long did it take to rework these songs and did all the members of Helloween perform on them?
MICHAEL: My input was minimal, most of the guitars were done by Sascha Gerstner (Helloween), a few solos were done by Andreas but Sascha is really energetic and talented. Andi did the singing, Dani did the drums, Markus the bass. The process took a little more than a year.
4. Playing any shows in support of "Unarmed"?
MICHAEL: Nope…well we did do some strange in store appearances to do autograph sessions and played in an acoustic setting and played through guitar processors. That was basically it. Really we are focusing on writing the next record.
5. That was my next question, has work begun on the next album?
MICHAEL: We started collecting ideas but have not begun recording anything yet. But the spirit behind it is to deliver something impressive, something heavy metal, something Helloween. Now that we are a Sony recoding artist we want to produce something great.
6. When Helloween were part of the Headbangers Ball tour in the 80s a show was professionally shot and broadcast on TV. Any plans to have the show released on DVD?
MICHAEL: Really I don't know. Most likely the resolution may need some work since it was recorded so long ago. Even though I have seen those cuts on older TVs and it looks fine it probably needs some work to meet today's standards. Also I don't know who owns the rights and we sold the Helloween LTD company to a division of Universal Records so they would be responsible for digging out the material and doing something with it.
7. Any plans to release a live show with the old lineup?
MICHAEL: Really I wouldn't know. I'm not so concerned with things that have been, I'm more concerned with the present. But really there are a lot of problems that come with old footage and rights, like who's going to pay for it, who's going to do the work, and who's going to release it.
8. What are your 3 favorite Helloween albums and why?
MICHAEL: O…I can't tell you because everyone stands as a collection of pictures in a photo album. Needless to say it's combined with memories which makes each one special. Like having the Helloween mini LP now included on the CD version of "Walls Of Jericho" they were different records in comparison to "Gambling With The Devil" and the ways of production today. "Walls Of Jericho" is as important as "Gambling".
9. What Helloween songs would you like to add to the setlist next time you go on tour?
MICHAEL: Well its really too early to think about what the setlist will be for the next album but there is talk of adding 'Midnight Sun' from "Better Than Raw". A few band members like that one. I would like to play 'Kings Will Be Kings'. Usually Sascha is a great guy to come up with ideas because he's still rather new in the band and in the past he has come up with a few nice choices because he's not so connected like the rest of us are. But I know something like 'I Live For Your Pain' off "The Dark Ride" would not be something I would want to touch on because I didn't feel too well then. Same with the title track to "The Dark Ride".
10. How about 'Still We Go' from "Master Of The Rings"?
MICHAEL: O, really…I don't know. We have played that on that tour and the reception from the fans was not that good which is why we dropped it.
11. Was the Hellish Rock U.S. tour with Gamma Ray a success?
MICHAEL: Yes definitely. The interest to play the States prior to this tour with Gamma Ray was not always that good. This time we had this guy Frank who is a German and lives in Tennessee, and he use to work for Accept. And so he knows his way around the States and we were so surprised the way he set up the tour that we consider it an honor to work with him. We stayed in the best hotels, played the best clubs, took the best routes to go by bus, selected a great bus driver. Everything went great and he was the mastermind behind the whole tour, he did it the German way, almost accused of being not such a nice guy to play with in certain situations but it was clear he was a professional. It was in direct contrast to previous experiences touring in the States. The shows were great, the fans were great.
12. Any plans to return to the States anytime soon?
MICHAEL: Under these circumstances, absolutely.
13. Who are some of your favorite Heavy Metal bands coming out today?
MICHAEL: Well right now I am preparing a playlist for someone in the States who wants to put it on a website. Abingdon Boys School which is a Japanese band, they are a mix of Faith No More, Helloween, Loudness, it's a strange mix. The singer use to be a dance pop artist before. I listen to Soilwork, I recently downloaded a band called Lucifer's Friend, they are a Hamburg based band from the 70s with John Lawton who later would sing for Uriah Heep. They were really ahead of other German bands, they had orchestral arrangements, jazzy, souful funky stuff, typical Rainbow (Ritchie Blackmore). And Curt Cress, (one of the world's most well know drummers who played on Rick Springfield's "Rock Of Life") for some time played in Lucifer's Friend. Paul Mc Cartney's "Good Evening New York City" I just got on DVD because I thought "Back In The U.S." was amazing. Really I have not been keeping up with what new Heavy Metal bands are out there. Unfortunately I don't keep up like that.
Official website: www.helloween.org