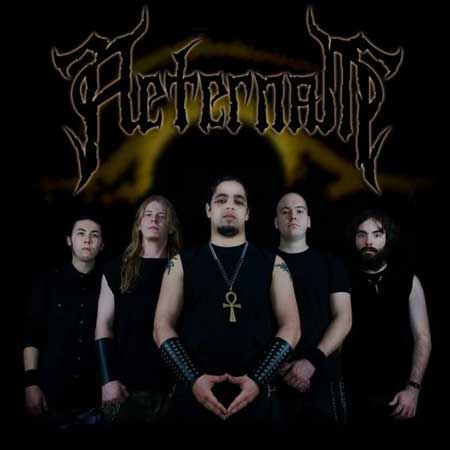 1. Tell us about the name of the band.
SAMUEL: Actually, Ash, Alex, Remi (our former bass player) and Antoine chose the name before I joined the band. Ash wanted to write about the ancient civilizations in his lyrics. To them, Aeternam, meaning "eternity" in Latin seemed a perfect fit since we, humanity, still talk about the Mayan, Egyptian, Sumerian cultures. People have built entire countries and civilizations based on what our ancestors have learned and believed in. In a way, our past creates our future, thus giving us a felling of eternity and progress.
2. Did the band come up with the artwork and what are your thoughts on the finished product?
SAMUEL: Antoine and Ash came up with the idea of having an Arabic demon called a "Djinn" on the cover to express the "Unseen" part of the title. The priest in the corner represents the "Disciples" and the eye of Horus that's being eaten signifies evil because you just can't make a metal album if you don't have any evil in you haha! Once the basic idea was found, we contacted Pascal Laquerre. He actually did the artwork for Kataklysm's "Prevail", so we knew he was great. He sent us a few sketches and soon enough, we had our design and it turned out awesome.
3. What direction are you taking the music in?
SAMUEL: We're a little all over the place. We want the songs to be a musical journey, that's why lyrically and musically the songs connect. If Ash sings of violence, our sound is going to be a little more intense. We want to keep people on the edge of their seats and the way we do it is by changing our songs as they go. For example, you'll have a great riff like the headbanging one in 'Corronation of Seth' and then you get to the mellow, kind of ambient verse to then just right back into headbang mode. Same thing goes for 'Goddess of Masr' in which we have a "break" so to speak. The song kind of dies off in the middle, and comes back stronger at the end. If a part fits even though it's unexpected, it fits. That's it. Our music is in constant evolution, which means you will find surprises in it and we think that this will keep you wanting some more.
4. Who are some of you favorite newer metal bands?
SAMUEL: Oh, tough one! With all the good stuff coming out these days it's hard to name just a few... Allegaeon, newly signed to Metal Blade hehe, are really good. I can't wait to see them live some day. The next one is a band from our area called Southern Cross. I know, I know, I have to like them since Antoine is also drumming for them now, but they are really worth taking a look. They're prog/power and give one hell of a show. The songs are catchy and tasteful. I could go on and on with new bands but you'd just end up bored from reading me haha. Check these two bands out, you'll be amazed!
5. How did you get a deal with Metal Blade?
SAMUEL: We put up some of our finished tracks on our Myspace page and that's where they heard from us first. I think they were impressed by the overall quality of our music and our page design. We're such a young band that no one had ever heard of us and I guess people expected us to have some regular, low-budget tracks online. We really invested as much time and effort as possible in Aeternam to put every chance on our side and in the end, it paid off! Being on the Metal Blade roster is such an honor, we couldn't let the opportunity pass us by.
6. Has the band done much touring prior to the release of the debut album?
SAMUEL: Unfortunately, no. Like I said, we're a really fresh band. We have only done some shows so far and most of them were in our area. Don't be fooled though, we step it up a notch every time we hit the stage. Plus, opening for great bands like Behemoth and Suffocation let's us learn how to react on and off stage. Now that the album is coming out, we will be promoting it as much as we can and hope to hit the road this summer for our very first official tour!
7. What opportunities have been offered since signing to Metal Blade?
SAMUEL: Obviously worldwide visibility is the main thing! We also got the chance to answer some interviews, just like the one I'm doing right now, which is something we hadn't really ever done before. It's pretty cool. Another awesome thing is having people coming straight up to us and wanting to talk with us. It's always nice to have fans, and when you can get involved with them after the show and just hang out and have a drink, it's great.
8. Shooting a promo video and if so for what song?
SAMUEL: Unfortunately not yet. We'll have to see if we can afford it first! There is so much imagery in our music that we don't want to settle for a low-budget clip. If I could choose the 1st song to be in a video, I'd choose Angel Horned. It's short, brutal, melodic, epic, and it really sticks in your head. Plus the final part with the female choir over the music is fantastic!
9. With so many heavy metal bands out there, what do you think makes your band different from others?
SAMUEL: It's the overall mix of violence and beauty that sets up apart. Our scales have been used in Metal before, but it's either been in an all-out brutal setting or sometimes in a manner that's too soft. We fit in the middle with our Death Metal riffs, melodic leads, evil growls and the clean singing. It makes us appealing to pretty much everyone in some aspect. People have to give us a listen to discover our musical journey and get into Aeternam.
10. Plans for the rest of 2010 into 2011?
SAMUEL: Hopefully some touring. We're actually working on our summer booking right now but nothing is set yet. We're also going to continue to write new stuff because, let's be honest, in Metal there are so many bands that come up with great stuff that you can't afford to just sit back and do nothing. We will be hard at work trying to blow your minds with a second album as soon as possible!
Official MySpace: www.myspace.com/aeternammetal