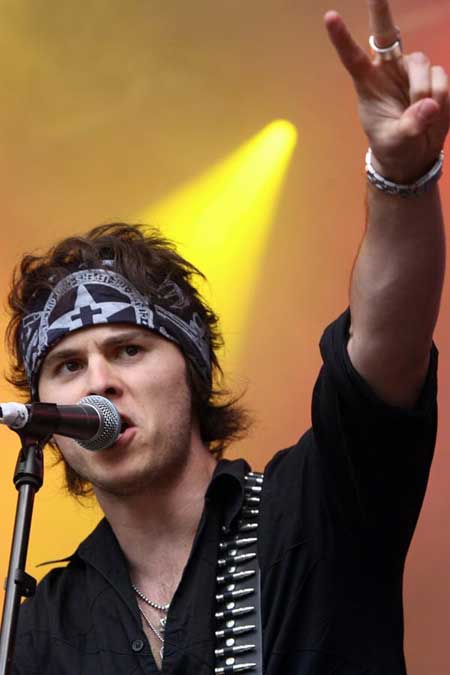 1. Age Of Evil are a fairly new band. Tell us a little bit about your history.
JEREMY: Yeah we are rather new, we have been playing music for a long time, and Age Of Evil started in 2007. Oddly enough the band is made up us two sets of brothers; its myself with my brother Jacob on bass, Garrett Ziff on drums and his brother Jordan on lead guitar. We live in Arizona and have known each other since grammar school, were under different names five years ago, and then in 2006 things got serious and we settled on Age Of Evil.
2. Is the recently released Age Of Evil "Get Dead" E.P. from 2009 your first release?
JEREMY: No, there was a full length album previously released in 2007 called "Living The Sick Dream" and ex Megadeth guitarist Marty Freedman played on the title track. That was very cool. There is even a music video on YouTube for one of the songs. But with our new E.P. "Get Dead" that's where we have gotten more of a noticeable buzz at least here in the States. Our first album got us a lot of recognition in Europe.
3. Why does the "Get Dead" E.P. include two originals, two covers, and two live tracks?
JEREMY: We recorded the E.P. in between tour dates when we were in Europe over the summer and we knew we had studio time but didn't know what we were gonna do with it. We had some new songs and we knew already how to play 'Electric Eye' by Judas Priest because we played it in London about a year ago with Girlschool. And that was all we actually had planned, then we were touring, we got some live tracks back, and then we decided to top it off with another cover, 'Slave To The Grind' from Skid Row, which was a last minute decision and we learned and recorded it in one day.
The reason we did the two, two, and two, setup is because the E.P. really just shows have far we have come since the debut especially with the new songs. And the cover songs are just fun to play and we recorded them as if we were playing them live which showed our credibility that we can hang with the big leagues, and the live tracks are originals and obviously gives everybody a taste of what we are like live. The live tracks we picked just flowed with the rest of the tunes on the E.P. It was also good to do especially with our new PR firm Chipster (http://www.chipsterpr.com/cei/index.html ) and just to build a buzz for the next album. You can buy "Get Dead" at our official website (www.ageofevil.com).
4. Do you have enough material for your second full length album?
JEREMY: Yes we do, we've been working really hard even when we were working on "Get Dead" and we have a lot of demos for the next full length album. We are leaving for NAMM tomorrow so we are trying to finish some things before we leave, plus we are playing some shows with Hail! on the east coast so we have to practice for that. We have about 10 to 12 songs ready and its our best material yet. The newer stuff is blending the line between traditional heavy metal and rock n roll, and some stuff sounds like it was the next evolution of our "Get Dead" E.P. We take from so many of our influences and that's good because then you don't sound exactly like those influences.
5. What type of music style do you think Age Of Evil like to play?
JEREMY: We really try not to limit ourselves in a genre. We like to play music we enjoy listening to, the "Get Dead" E.P. is rather heavy yet still has melody, its pretty thrashy especially the tile track. What's cool is when we were touring in Europe we played with Jon Oliva's Pain, then Tesla, and then Soulfly, so we can really mix it up. We also played with Manowar, W.A.S.P., and Arch Enemy on other festivals, so we can really mix it up with what and how we play our music. I'd say we are a heavy metal band with an 80s edge.
6. How did you get the opening slot for Hail!?
JEREMY: We were playing a local show in Arizona and David Ellefson (ex Megadeth bassist) came out to the show and he really liked us and said we would be perfect for the Hail! shows. We are really excited for them (Hail!) and its their first shows in the U.S. I'm really excited to meet the guys and see what they are like live. I would say live shows are really important to us, its one of our stronger aspects because we never write songs we can't play as good or better live. If you listened to the "Get Dead" E.P. you will notice we don't use too many studio tricks, not so polished.
7. What type of touring has Age Of Evil done in the past and have you opened for any national acts?
JEREMY: We have played more in Europe than in our own country, hahahaha, we toured Europe four times. First time was for the Bang Your Head festival in Germany in 2007, that really opened the door for us, then we did the same thing next year because we got such a good response the first time. The first time we played Bang Your Head we were part of the warm up show and we were so good they wanted us to play the main stage, and then we played it again with Judas Priest, Yngwie Malmsteen, it was great and made all kinds of friends. Because of those two festivals that got us a label in Germany which then lead to some shows in London and then this past summer we were there for two months. Bang Your Head in 2007 was the door opener and that was really only a couple months after our first album came out and we got that gig because we shot it over to magazines and webzines in Europe. The label (Evil Eye Ent.) in Europe will put the "Get Dead" out digitally and then releasing it physical in March, but right now we are focusing on the States. 2010 will hopefully be a good year for us.
8. Plans for 2010?
JEREMY: The two main things are the touring and writing the new songs. We are already kicking off 2010 with those Hail! shows, there are a lot of different tours we are looking at to be part of but nothing we can confirm yet. Getting some great songs are really important right now, hopefully a few singles will be released by the summer.
9. When you play these shows with Hail!, since they play covers will you include any in the Age Of Evil set?
JEREMY: Yeah we will probably do one, if we play under an hour we do one, longer than that, two. People really like covers because they don't always get to see the bands we are covering and so people like them because the younger generation is playing them. And I think we do a great job with our covers. We pretty much play 'Electric Eye' and 'Slave To the Grind', the Priest cover is really fun to play overseas. In the future I can see us doing a few more covers, in the past we use to do 'The Trooper' by Iron Maiden, when we were younger like all bands we started out playing covers and we listened to all kinds of stuff so we played all kinds of music. That really helped us with the artist development and artist growth in the early stages. I don't know about recording any more covers but for live sets we may add a couple more.
10. Plans to record a music video?
JEREMY: We have one official video for the song 'Living The Sick Dream' from our first album which is on YouTube and I think it will be debuting on Headbangers Ball soon. There are plans to record another video, its in the back of our minds, but with all the other expenses that come with staring a band its hard to dedicate funds for a promo clip.
11. Who are some of the band influences?
JEREMY: Man, there are so many. We all really only listen to music from the 60s, 70s, 80s, and 90s. None of us are really up to date too much with the modern stuff, unfortunately, Jordan doesn't listen really to radio. Any good music from those decades we listen to. Bands from Alcatrazz, to Deep Purple, Whitesnake, Boston, Foreigner, Iron Maiden, Juas Priest, Dio of course, Savatage, Extreme, to The Beatles, Led Zepplin, Pink Floyd, Queen. Muse is a newer band I really like, they are like a modern day Queen. But most of the time on our IPods we listen to a lot of hard rock, and our guitarist Jordan listens to a lot of classical music.
Official website: http://www.ageofevil.com