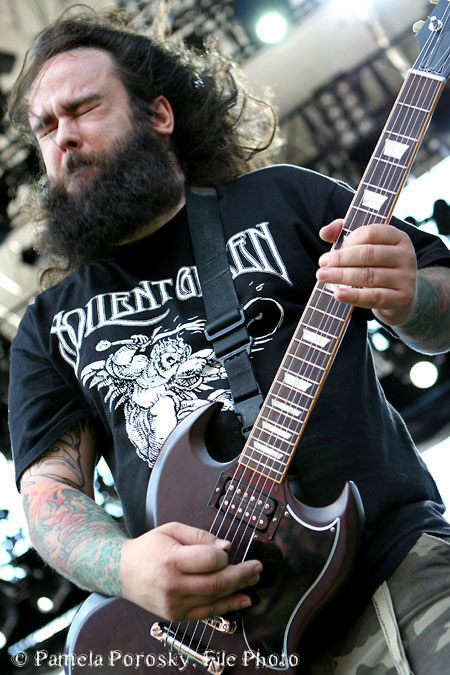 1. Tell us about the new album and how it fits into the evolution of the band?
SHANE: The new album is the most focused album we've done, spending years on the road together made this really easy to write and record.
2. Any story or reason behind the title and artwork for "Here Lies Thy Doom"?
SHANE: We wanted to try a photographed album cover this time. Partly because we couldn't agree on artists to draw or paint something, but also to be different. We gave the album title to a couple of photographers and got them to interpret it in their own way.
3. 3 Inches vocals at times have been compared to King Diamond. Do you hear that as well and are you a fan of Mercyful Fate or the King Diamond band?
SHANE: We are all big Mercyful Fate fans and consider it a compliment when people hear our influences in the music.
4. Who are some of the band's biggest influences?
SHANE: The biggest would be New Wave Of British Heavy Metal bands, but in general, good honest hard rock and heavy metal.
5. What type of bands do you like to tour with?
SHANE: Its always great to tour with like minded people who do their own thing, Toxic Holocast, Saviours, and Early Man come to mind this second but there are many out there.
6. What is the best tour 3 Inches has been part of?
SHANE: We've been lucky to be a part of many great tours, Ozzfest in 2007 and the off dates that went with it are a highlight for me, Hatebreed and Type O Negative, Black Dahlia Murder, Early Man and Toxic Holocaust was a killer tour.
7. What has been the best medium to promote the band? The record label, touring, Myspace, official website, videos?
SHANE: Touring is the best medium, bringing the music to the people is above and beyond anything else.
8. Do you ever include covers in the live show? Is so, which ones? If not, what songs would you like to cover?
SHANE: We've been playing a few covers on this tour, Blue Oyster Cult and BTO are ones we play depending on the show and how we feel.
9. 3 Inches of Blood's plans for the rest of the year?
SHANE: The rest of the year will be us on our American leg of our headlining tour with Saviours, we are just finishing the Canadian leg today.
10. Who are some of your favorite bands of today?
SHANE: Melvins, Pig Destroyer, Cephalic Carnage, Saviours, High On Fire.
Official website: http://www.3inchesofblood.com