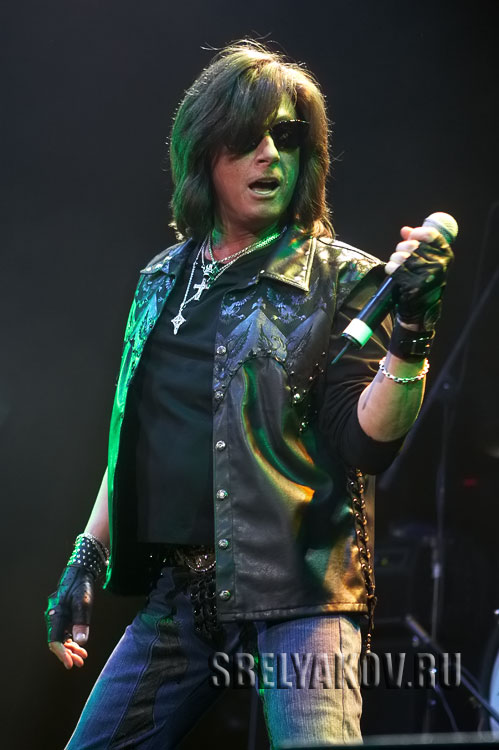 1. Before I ask about the new Sunstorm album, tell us how the Over the Rainbow shows have been goin? Where have you played so far with Over the Rainbow and how far will this tour take the band?  Will you play some shows in the  States?
JOE: The reception by the audience has been amazing! We have played mostly arenas and theatres, not clubs and have performed for near-capacity crowds. So far, we have been to Russia, The Ukraine, Belarus, Japan and Sweden. We have several dates coming up later this summer in the USA. The fans really wanted to hear this music again played by the guys who were actually in the band at one time and we have Jurgen Blackmore, the son of Ritchie, on guitar.
If you go to www.myspace.com/overtherainbowrocks  you will see all of our confirmed shows so far. There are a lot more in the works but not confirmed yet. It's still a new band and new concept even though we play classic Rainbow songs from all the band's eras in the shows.
2.  Are you playing the same setlist throughout the tour or will you add and take away some songs?
JOE: I consider a setlist as something that is always evolving/changing. One thing that we definitely do is to include songs from all eras of Rainbow. Our setlist for the USA may be a bit different than it was in Japan and Russia. This could be due to time restrictions (since we are playing some festivals with other bands in the lineup) or it might be due to the fact that some songs were very big on the radio and on MTV in the USA.
3.  How is it singing the Ronnie James Dio stuff and what are you favorites?
JOE: I love singing all of the songs from all eras and it makes things more interesting and allows me to grow as a professional. I have sung some Dio material in Big Noize so this is not the first time. I have done some Dio era songs in my past solo shows because the audience loves them. As for favorites, I do not have any because I like all the songs for different reasons. The sound of the Dio era songs are very different from the Bonnet era, my era and the Doogie era. So, trying to compare them is impossible.
4.  Tell us about the Sunstorm project.  What direction is the music going in? 
JOE: The Sunstorm concept was all Frontiers Records idea.  Mario and Serafino used to trade tapes before they started their record company. They obtained a tape with some of my demos from the early and mid-80s and thought it might be an interesting idea to release this music because it never came out on a major label when the follow up to "Rescue You" never came out.
Additionally, they knew I had writing connections with great melodic rock songwriters such as Jim Peterik (Survivor) and they also had their own connections that they could involve on this project. Dennis Ward was called in and he gathered some great musicians together and the first Sunstorm was came out a few years ago. This is our second and the music is best described as melodic rock. This is the term used by music journalists these days to describe music that is in the same vein as Journey, Foreigner, Survivor, Boston---big vocals, big sound and melodies/hooks that are hard to get out of your head after one listen.
5.  Who are you collaborating with?
JOE: Producer-Pink Cream 69s Dennis Ward. He also played bass and sung background vocals. Musicians; Uwe Reitenauer and Thorsten Koehne on guitars, Chris Schmidt on drums and Gunter Werno on keys.
As for some of the other writers, this list includes Paul Sabu, Desmond Child Jim Peterik, Jon Lind, Russ Ballard, brothers Tom and James Martin. There is Mikey Wilson, Patrick Cowden Hyde, James House, Neal Debrah, Bob Held, Jon Lind, Mark Muller. I probably even forgot someone but that was not intentional...LOL...so many great writers!
6.  What do you get to do in Sunstorm that you don't with your solo work?
JOE: Do a wide variety of songs that do not necessarily sound like the bands that I am most associated with: Rainbow, Deep Purple and Yngwie Malmsteen. I am not a one-dimensional artist and never have been. Although I am very proud of the music I made with those bands I can sing and write in so many other styles.
 7. Plans to release a DVD performing with Rainbow, or Over the Rainbow, or solo, or all the above?
JOE: Let's clarify something...Over the Rainbow is NOT Rainbow. There cannot be Rainbow without Ritchie Blackmore. As for a DVD...I get asked about this a lot and my thought is that if we do put something out, I want it to be a quality product.
I have been so busy that I have not had time to organize the making of a DVD for any of my projects...solo or otherwise. Sure, a DVD would be great but it has to be the right situation, the right musicians have to be available to be on it, etc.
8.  What Hard Rock and Heavy Metal bands are you currently listening to?
JOE: I listen to all kinds of music and not as much hard rock or metal as you might think. Too many artists to name. I keep my mind and ears open at all times.
9.  Who would you like to collaborate with in the future that you never have before?
JOE: Chad Kroeger and Nickelback, Chris Daughtery and Daughtery, Rob Thomas and Matchbox 20, Johnny Lang. There are even country and hip hop artists that I would like to work with.
10.  Who are some of your favorite vocalists?
JOE: Too many to name-Paul Rogers, Mark Farner, all the singers in Deep Purple as that band was truly a major influence. I grew up playing Deep Purple covers as a teenager!
Official website: http://www.joelynnturner.com